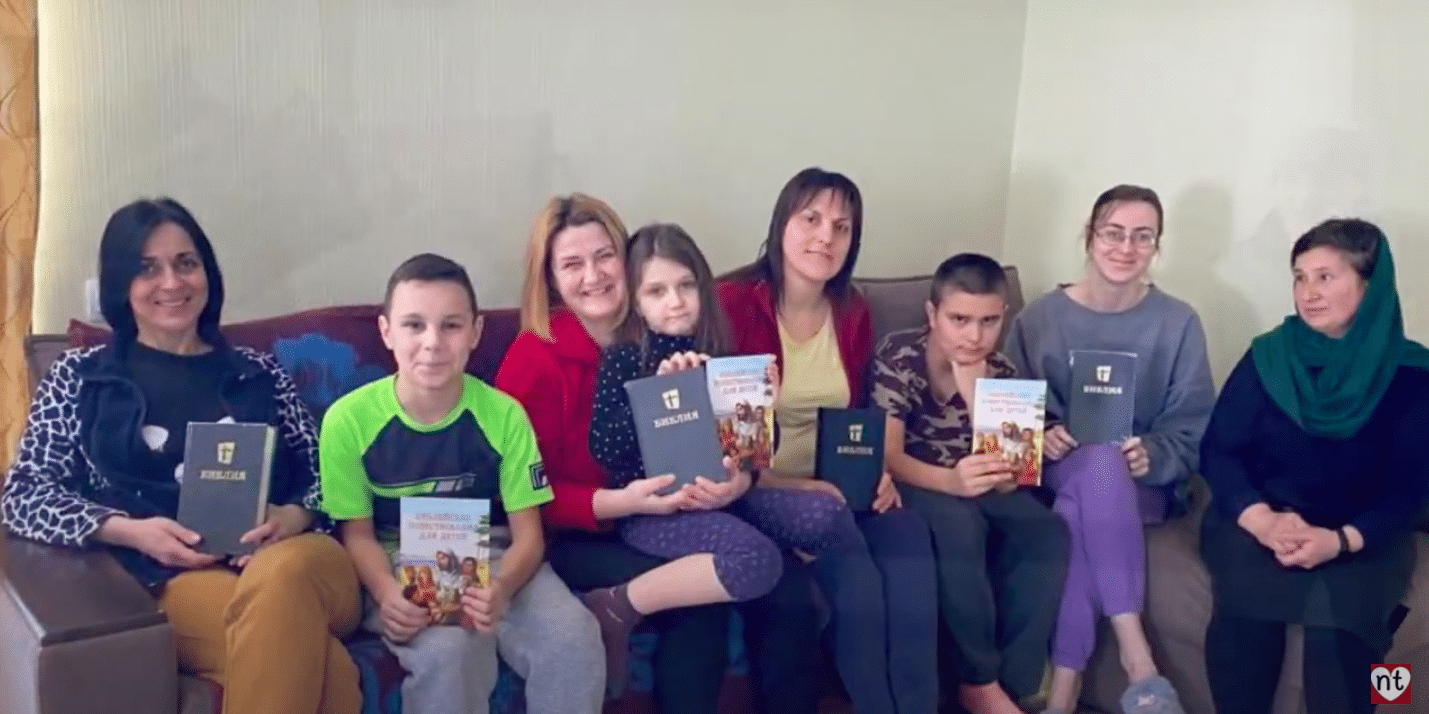 Ukrainian refugees receiving Bibles after finding refuge in Romania. Screenshot from Naty Tully's YouTube page.
Like the millions of Ukrainians who have fled their homes, 38-year-old Natasha was forced to leave everything she had behind – save for her daughter and French bulldog – when Russian forces besieged her city in northeastern Ukraine.
But she never expected to find something far more precious.
As she travelled west, she stopped in the city of Svitlovodsk in central Ukraine, where she was taken in and cared for by members of Calvary Chapel of Svitlovodsk, whose love and hospitality moved her.
She accepted their invitation to attend the Sunday service, during which she experienced the presence of the Holy Spirit for the very first time.
"For 38 years I was basically an atheist, but something just hit my heart and I started weeping."
"It was completely incomparable to anything else I've experienced before. For 38 years I was basically an atheist, but something just hit my heart and I started weeping," said Natasha.
She decided to put her faith in Jesus. "I always felt shame previously if I needed to ask for help, or that I'm somehow in debt if I receive help. But now I've received God's grace for free," she said.
While Svitlovodsk had initially meant to be just a stop on their way further west, Natasha and her daughter have since decided to remain in the city to help the church care for other refugees passing through its doors.
"The church has become my family, like a bolt out of the blue. Just the total openness of people's hearts for which I don't need to pay back anything amazes me," she said. "Turns out, with God, this kind of thing is possible!"
Doors flung open for the Gospel
Even as the war in Ukraine rages on for the fifth week, people on the ground – from Ukraine and Germany to Moldova and Romania – have been telling Salt&Light about how doors are being flung open to the Gospel during this time of crisis, especially as churches step up to offer aid and hope.
Apart from Natasha, four other refugees who have passed through the doors of Calvary Church of Svitlovodsk have accepted Jesus, said Pastor Benjamin Morrison, who pastors the church.
Countless others have heard the Gospel and been prayed for, he added.
"I see it every day now. People are becoming more open to God … They are praying together even though they are not really Christians."
"You don't know when the seed that has been planted will be watered, so we're trusting in the Lord's work. It is encouraging to see that all the intentions the enemy has for evil, God is using for good, just as Scripture says (Genesis 50:20)," he told Salt&Light.
Over at Kraków, Poland, Pastor Roman Danylyshyn, who has been receiving and aiding refugees in Ukraine, added: "I see it every day now. People are becoming more open to God. More are coming to church. They are praying together even though they are not really Christians."
It is not only refugees who are turning to God during this time. Even those working alongside the Church to provide aid are seeing glimpses of God's heart.
Susanne Chmell, base leader of Youth With A Mission (Bad Blankenburg) in Germany, recounted how a volunteer, who was disillusioned with religion, had told her: "This is really acting out God's love. If I choose to believe again, I want to believe like you guys."
Salt&Light retells the stories we've heard from those on the ground, in their words, of how hearts are being turned to Christ.
Sowing seeds of hope: Pastor Benjamin Morrison of Ukraine
There has just been an openness to the Gospel during this time. When death is staring you in the face, you think about these things.
People like Natasha have come to faith. We've heard stories of people who were hardened atheist now asking questions about faith. Maybe they have not believed in the Gospel yet, but hopefully they're on the way. 
Sergey and Tanya were two refugees from Kharkiv that came through our church. They had great questions, and most of our conversations have been around the essence of the Gospel.
They were curious to find out how our church is different than what they're used to. Sergey was particularly interested to find out "why we were so joyful" when they are used to the very sombre mood often found in Eastern Orthodox churches.
"There has just been an openness to the Gospel during this time. When death is staring you in the face, you think about these things."
As I explained the good news of grace and the heart of the Gospel, he turned to his wife and said: "Now I get why they're so joyful! Because it's not something you have to do but something that has already been done for us! Christ already accomplished it all!"
His wife smiled and said to me: "I think he's already yours." I was smiling, too. We're praying they will all soon be His and really grasp the beauty of the Gospel.
Another couple, Nikolay and Olga, arrived to our church late at night a few weeks ago from Kharkiv as well. Half of the windows of their car had been blown out by rockets. There were multiple bullet holes in the sides of the car.
When they arrived, we tried to offer them food, but they were too shaken to eat. All they wanted was to get their car inside the gates of our church territory. They didn't actually have many belongings in their car – but it was all they had left in this world.
As Nikolay said: "If we lose (our remaining belongings) to people who might take it during the night, we will be emotionally devastated. We won't be able to go on."
They agreed to at least have some tea – because no real Ukrainian refuses tea at almost any hour of the day.
Nikolay began to tell me his story. He was incredibly well-read (not rare for the Soviet intelligentsia) and had a lot of questions about Protestantism. He was eager to understand more about our church and beliefs. I was impressed by how familiar he was with figures such as theologians Jan Hus, Martin Luther and John Wycliffe.
Eventually we got through the historical trappings and to the essence of what set the Protestant Reformation apart: "The just shall live by faith."
After an hour or two of conversation, Nikolay – a Soviet man from a military family brought up as an atheist – made three conclusions:
"I hope I won't offend you with my directness: I always thought the Bible was for imbeciles, I now realise I was wrong and need to read it."
"Discussing these things – the Scriptures – really brings an unexplainable peace to my soul."
"I want to understand more. Do you have some books you can give me?"
The next evening, his wife, Olga, called me from western Ukraine where they arrived safely to thank me again for the conversation. In her words: "It really brought peace to my husband's heart."
I have no doubt that Christ will continue to work in his heart. Pray for the seed that was sown in both their hearts to be watered.
"What else can you do but pray?": Susanne Chmell of Germany
When refugees started pouring out of Ukraine and into Germany, the team at Youth With A Mission (Bad Blankenburg) had a time of prayer and fasting and felt strongly from the Lord to open up our base to house them.
So we cleaned everything and made the beds ready. The moment we had them ready, I received a phone call late at night from someone from the county's council, which I'm also part of.
"This is really acting out God's love. If I choose to believe again, I want to believe like you guys."
He said: "Suse, you're the only person I thought of to call. We are in a really difficult situation. We brought some refugees from the Ukrainian border, and we were supposed to bring them to a place, but this place looks very sketchy and very strange. We cannot leave them in this place."
I said: "Well, you can bring them all to us because the whole house is ready to receive people! We even have soup that just needs to be warmed up on the stove."
When they came to the base, it was the greatest shock to them that at 11.30pm, our base was all ready. Later he called and said: "How could you have been ready so quickly?"
I shared with them that we had prayed and this is what God had shown us to do. They asked how we were going to pay for it. I told them: "I don't know yet, but God provides. He always provides."
So we were really able to be a testimony in our whole region because of this.
One volunteer, who had been from another religion but was disappointed with the faith, told us: "This is really acting out God's love. If I choose to believe again, I want to believe like you guys."
I just see that so much has come out of prayer. When you watch the news and you pray, the Lord will show you what to do. We just do the little bit that we can, and then God will make bigger things with it.
We now have some 50 Ukrainian women and children living with us in our base.
Our team has prayer and worship nights, and the Ukrainian refugees would come and just be a part of it. A lot of people – almost all of them – are so, so open, because what else can you do but pray?
During one worship session, one Ukrainian lady stood up and said: "This is a place that God has brought us to and we're so grateful." Then she started praying in Ukrainian.
These are the things that are happening and I know that we will see much more. I just know God will use this for good. 
Starting new home churches: Naty Tully of Romania
As we care for the refugees, I hear the same message from all our Ukrainian guests:
"We've never seen this kind of love."
"We've never seen this kind of love."
"Mom, come out of Ukraine, these people are unbelievably kind."
"I feel safe here."
"I've never heard these things about Jesus."
"I want to read the Bible now."
"Your love impacted my son-in-law. I think it's changed his perspective about Christians."
One of the refugees who came to Moldova three days ago decided to be baptised today. There have also been more and more requests coming to us for Russian Bibles. We have given out about 100 Bibles so far and have purchased 2,000 more. People are spiritually hungry.
My dad's village in Moldova has started its first Russian service in a home group format. We were praying for the same possibility in Bucharest, Romania.
After contacting a Moldovan pastor in the city, we got a phone call from a Christian refugee who is a businessman.
We didn't waste time and asked if he could preach. He shared: "I was a pastor in Ukraine for five years!" Let's keep on praying daring prayers that God will plant new churches.
We have started to create a database from all international churches in Europe so that they can water the seeds that were planted here. We have at the moment lots of refugees going to Germany, Spain, Vienna. Some are waiting to connect with the United States or Canadian embassies to receive visas.
These families will be in Romania for longer than those in transit, possibly months. May we not waste opportunities to minister with excellence.
We're more than a charity, we're a ministry – meaning we want to minister to physical needs, legal issues, but also attend to spiritual hunger too. That's what Jesus did.
---
To support the relief work that Pastor Benjamin is doing, tap here. Readers may also give via Pastor Benjamin's personal Wise account.
Benjamin David Morrison
[email protected]
Bank name:
Wise Asia-Pacific Pte. Ltd. (Formerly TransferWise)
Bank code:
0516
Account number:
382-584-1
For those who would like to support the relief work that Youth With A Mission (Bad Blankenburg) is doing, please find more details below:
Name of Corporation: photogenX europe e.V
Name of Bank: Raiffeisenbank Calw eG
SWIFT/BIC: GENODES1RCW
IBAN: DE35 6066 3084 0041 9840 13
Memo: Ukraine refugees
To support the work of Naty Tully, click here.
---
RELATED STORIES:
"Even war cannot stamp out love": Ukraine pastor conducts wedding, leads Lord's Prayer, as fighter jets zoom overhead
Romanian Christians driving through snow storms and risking lives to help refugees from Ukraine
Poland seeing solidarity like never before over Ukrainian refugee crisis, says pastor as churches, NGOs, authorities rise up to help
If you have enjoyed reading Salt&Light...
We are an independent, non-profit organisation that relies on the generosity of our readers, such as yourself, to continue serving the kingdom. Every dollar donated goes directly back into our editorial coverage.
Would you consider partnering with us in our kingdom work by supporting us financially, either as a one-off donation, or a recurring pledge?
Support Salt&Light