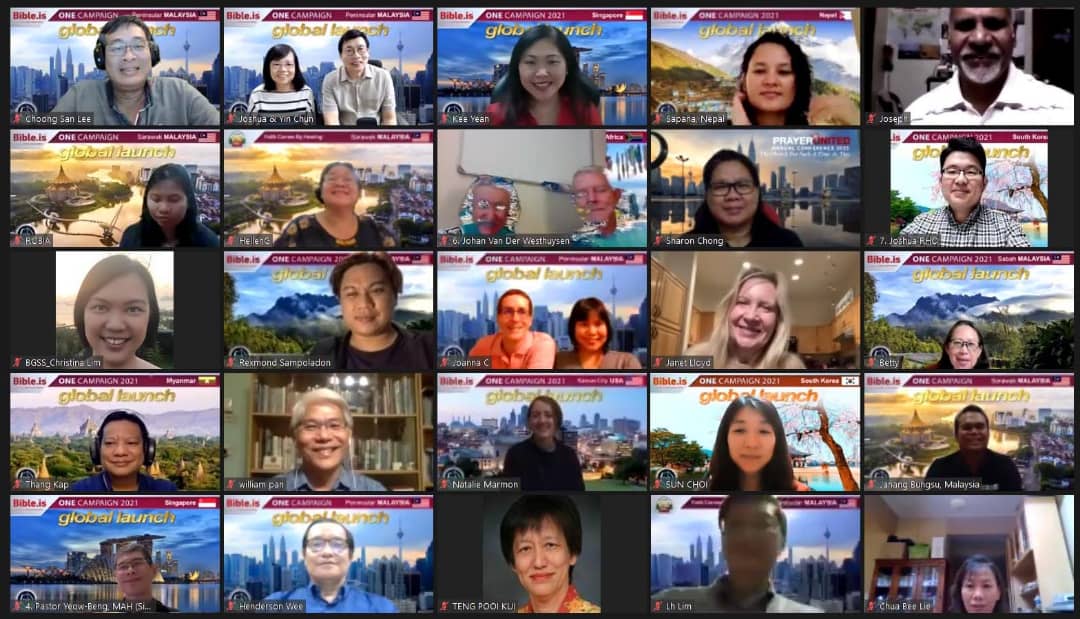 At the global launch of the ONECampaign in early February this year. To date, over 22 countries are represented. All photos courtesy of ONE Campaign/FCBH Asia.
For 40 days during Lent this year, join believers across 22 countries from around the world and listen to the Word of God in the language that your heart knows best.
The ONE campaign is a Bible listening plan starting February 17 that covers the Gospels of Matthew, Luke and John with each day's passage lasting between six to 14 minutes.
The recordings are available in over 1,400 languages, so even the dialect-speaking elderly are included in this initiative. Youth and children's plans are also available.
A believer's daily bread
First launched during Lent 2019 in Hong Kong, ONE was a collaboration between the English-speaking evangelical churches in Hong Kong and  Faith Comes By Hearing Asia (FCBH Asia), an organisation which specialises in producing recordings of new Bible translations and audio Bibles.
There is a two-fold objective to the campaign, said Wong Kok Yang, a board member of FCBH Asia and one of the key initiators behind it.
"It promotes the most basic thing of a daily intake of God's Word that we need as believers."
First, to help believers cultivate the habit of a daily intake of God's Word and second, to unify the Church by functioning as a platform for churches and pastors to interact with each other on common ground.
"It promotes the most basic thing that we need as believers," said Wong, referring to the habit of a daily intake of God's Word.
"City people are busy people. But you can participate in this anytime and anywhere – on the bus, on the train, in the car. Just for that 10-15 minutes."
The listening plan was designed in a manner to "make it easier" for people to join and complete the allocated Bible passages, recognising the common challenges that many face in completing regular reading plans.
Putting the Word into hearts
"It is about putting the Word of God into the heart of the recipient," said Eddie Tan, who is the vice chair of FCBH Asia and is in charge of the ONE campaign in Singapore.
 "See it as a tool," he urged, pointing out that is especially useful for the elderly in Singapore, many of whom are dialect-speakers and illiterate.
"Listening to God's word is very important and it's more meaningful for us to do this together."
"It may not be for everyone, but we want people to know about it. This is a free resource and we will do what we can to help the churches to implement it."
Pastor Billy Lee, founder and senior pastor of Blessed Grace Church, said that he found the plan to be "easy and suitable" for his church of about 700 people split across four congregations.
"It will be a good start. I hope that my members will develop a good habit of listening to the Word and they will carry on with this after the campaign," he said.
For added accountability, the church will be running the campaign through cell groups across the English, Mandarin, Hokkien and Filipino congregations.
"Listening to God's Word is very important and it's more meaningful for us to do this together," he said, adding that the church has never embarked on any reading or listening plan that the entire church could engage in together.
Common heritage in the Word
But unity is also a key feature of the campaign.
The campaign would function as an avenue for churches to move towards unity by doing things in solidarity with other churches in the city.
It is significant when churches "actively pursue the unity of the body of Christ", said Wong.
"The enemy seeks to separate and divide – during the (social) unrest in 2019, even now in Covid. But the ONE campaign reminds us that we are one Body," Wong said.
"The Word is a 'double-edged sword' – so sharp that it can change things. The challenge is, do we believe that?"
Reading, or listening, to the Word of God is a "safe and non-controversial" topic which people can rally behind, he pointed out. "It helps us to remember our common heritage in the Word."
Getting buy-in at the start was hard, Wong admitted, but eventually more than 170 volunteers from over 30 churches pitched in.
"That was the true success," Wong stated unequivocally. "The organisation and production of the campaign itself was an act of unity."
Now in its third run in Hong Kong, Wong thinks the ONE campaign has been a "catalyst" in inter-church relations with pastors being more responsive to city-wide initiatives.
"Imagine all of God's people listening to the Bible like the time of Josiah (2 Kings 23:3)," said Tan. "The Word is a 'double-edged sword' – so sharp that it can change things.
"The challenge is, do we believe that?"
---
A promo video for the campaign in Singapore by Blessed Grace Church: 
ONE 2021 runs from February 17 to April 4, 2021. Download the Bible.is app to join. For more information or general enquiries, please email: [email protected].
---
RELATED STORIES:
Free daily phone devotionals launched for elderly dialect speakers
"God wants to speak in their heart language": A Bible translator describes the joy of sharing Scripture in native tongue
If you have enjoyed reading Salt&Light...
We are an independent, non-profit organisation that relies on the generosity of our readers, such as yourself, to continue serving the kingdom. Every dollar donated goes directly back into our editorial coverage.
Would you consider partnering with us in our kingdom work by supporting us financially, either as a one-off donation, or a recurring pledge?
Support Salt&Light