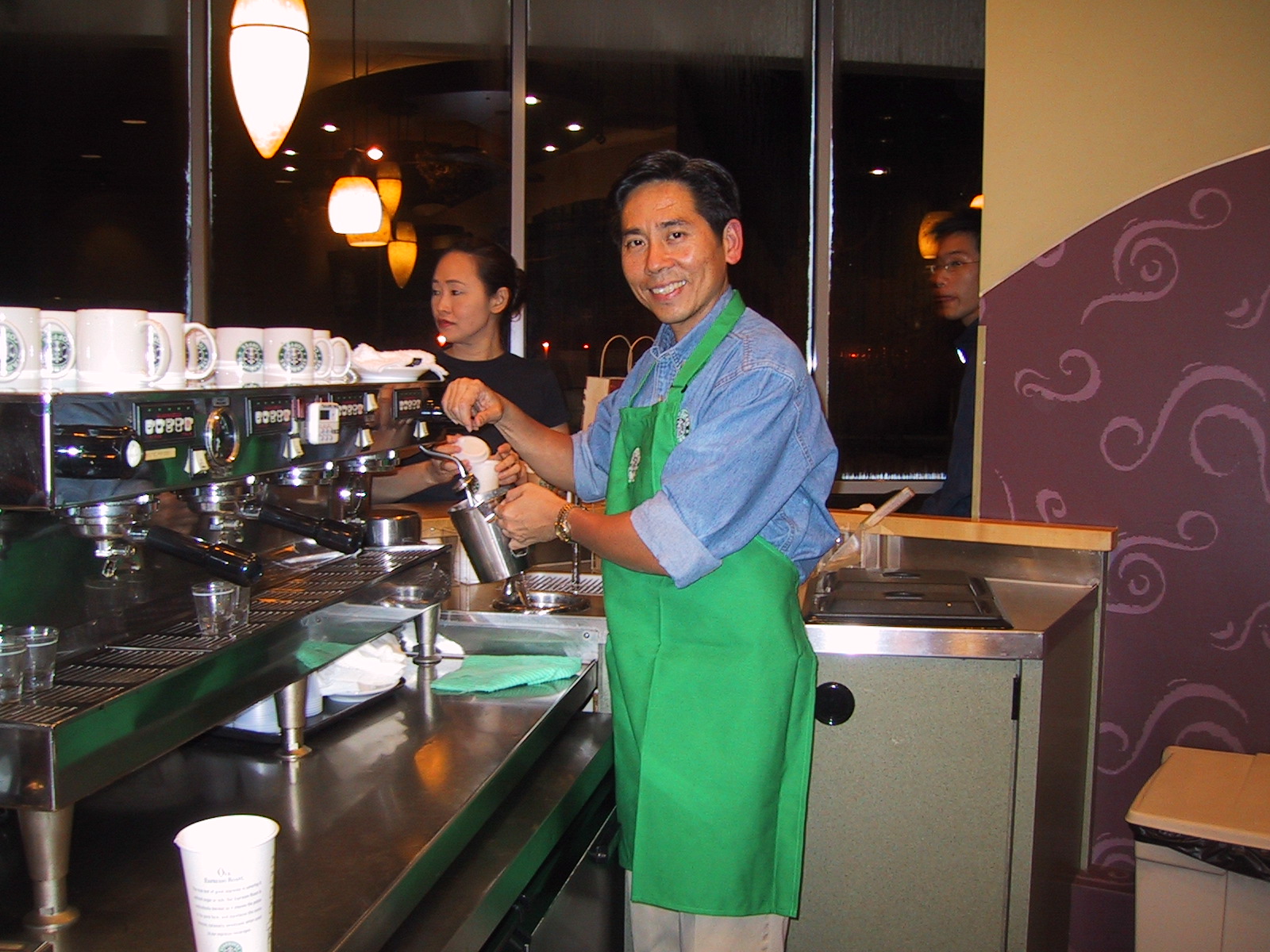 "Trust that He will provide and seek God for next steps," Michael Lee encourages F&B owners struggling in the pandemic. All photos courtesy of Michael Lee.
"But when He saw the multitudes, He was moved with compassion for them, because they were weary and scattered, like having no shepherd. Then He said to His disciples, 'The harvest truly is plentiful, but the labourers are few. Therefore, pray the Lord of the harvest to send out labourers into His harvest.'" (Matthew 9: 36)
Throughout his four-decade long career in the F&B industry, Michael Lee, 63, had a hand in multiple exciting ventures. He was part of the pioneering team that brought brands like Burger King, Starbucks, Orange Julius and Dairy Queen into Singapore.  
Bringing in American coffee chain Starbucks was a "pivotal moment" in his career, said Michael.
Lessons on servant leadership and loving people were highlights that left an indelible mark on him.
In 1993, specialty coffee was a rarity in Singapore and the only place to get a steaming mug of "liquid gold" was in hotel cafés. Seeing this gap in the F&B scene, Michael, together with his MD and a colleague, decided to make a trip to the US to do a study on the sector. They chanced upon Starbucks in Seattle. The rest is history.
The first Starbucks in Singapore was opened in December 1996.
During Michael's immersion and training in the Starbucks HQ in Seattle, he was struck by the Starbucks culture the moment he arrived.
"Everyone wants to have a place to belong, wants to be recognised and treated with respect."
He recalled: "Everyone from the chairman to (frontline) staff, they all seemed to know each other and the whole place was very lively … this was something new to me."
He soon got a glimpse into the key elements cultivated in the Starbucks culture. This included a "culture or mission review" every quarter, where staff from all ranks would be invited to share their views alongside the senior management team. Questions and concerns were raised, and it was the senior management's responsibility to provide answers at the next culture review.
In particular, staff were asked to share whether their work experiences lined up with the Starbucks mission "to inspire and nurture the human spirit – one person, one cup and one neighbourhood at a time". The opportunity resulted in an open and communicative culture across Starbucks which permeated all ranks and positions.
Said Michael: "It is all about providing people with a great work environment, treating each other with respect and dignity and embracing diversity. Everyone wants to have a place to belong, wants to be recognised and treated with respect. This was the biggest lesson I got working at Starbucks."
Respect over fear
Unbeknownst to him at the time, Michael was being prepared by God for the next career season beyond the shores of Singapore.  
In 2003, Michael left for Shanghai, China. He was tasked to bring American brands into China's rapidly developing F&B landscape. He first took on the role of MD, North Asia, for Papa John's Pizza International, one of the top three global American pizza chains at the time. 
From there he became Group CEO, introducing brands like Papa John's Pizza, Dairy Queen and Orange Julius to cities all across  China.
The role was intense. "In my job, I was evaluated based on how many restaurants I could open and how fast I could open them," Michael recounted to Salt&Light. To add to the strain, he was without his family. He had relocated to China on his own – his wife and kids (then 13 and 7) remained in Singapore to minimise disruptions to the children's schooling.
In the workplace, he faced the pressures of managing staff who came from a whole different culture from what he had experienced at Starbucks.
He demonstrated patience and kindness in speaking with his staff, as well as spent extra hours mentoring them one on one.
Chinese society at the time was made up of workers who hailed from one-child families, explained Michael. Many had an "every man for himself" mentality. This could come off as selfish and individualistic, which did not bode well for a collaborative team culture.
The company chairman was also accustomed to the "traditional" way of working, often urging Michael to scold the staff during training, so as to instil the fear necessary to develop well-behaved workers.
Nonetheless Michael, who had been a Christian since he was 14, believed in showing Jesus' heart for the people.
Coupled with lessons gleaned from his time at Starbucks to honour staff working for him, Michael decided to stick by his values of treating people well.
"A leader must go the extra mile for our people," he stressed.
Navigating a fine balance between respecting his boss' instructions and caring for his staff, he held meetings and group discussions with his subordinates and invited his boss to sit in. He continued to demonstrate patience and kindness in speaking with his staff during the meetings, as well as spending extra hours mentoring them one on one.
At the end of his 10-year stint in China, his boss conceded that he was wrong in his thinking, acknowledging that Michael's gentle leadership had a more lasting positive effect on the team.
"It also heartened me to know that I left a good team behind who had learnt to look out for one another," said Michael.
Weaving corporate experience into Kingdom work
Back in Singapore, Michael was hungry to return to regular worship at his home church, Wesley Methodist Church.
Ten years of working in China had made it difficult for him to attend church consistently and he had counted on his daily personal devotions for spiritual nourishment.
At this point, he had a strong tugging in his heart to serve and give back to the church. He was led to take up multiple duties ranging from being the president of the Wesley Herald choir, steward of the local church executive committee, committee member of the worship and music ministry and committee for lay personnel.
God continued to tap on Michael's experience of strategic planning and leadership in his service. For instance, in the church choir, he noticed that the senior and junior choir members had little opportunity to interact with one another. So he organised yearly outings and an annual retreat for the members to participate in team bonding activities and to fellowship with one another.
In 2014, God opened another door for him to serve, once again leveraging on his skills to build up teams to advance Kingdom work.
This time round, it was through a school gathering where Michael met an old school mate, Pastor Andrew Khoo, and came to know about New Hope Community Services ( NHCS ).
He was immediately drawn into Pastor Andrew's vision for NHCS and later, Kampung Siglap Lifeskills Centre, which provides temporary shelter for the homeless as well as a space that allows these individuals to hone their skills in a training kitchen and café.
The space is open to other organisations, social agencies and churches to hold retreats or team bonding activities for their clients or members.
Despite the pandemic, he is confident that this season of serving God will have its fruit.
Michael was quickly involved in all aspects of the ministry, tapping on his corporate experience to helm the social enterprise as chairman, overseeing Kampung Siglap Café as well as Jumping Singapore, which helped raise funds through Jump Fest.
When the Covid-19 pandemic hit, halting all activities, the café was also affected by the ban in dine-in service. Michael chose to see this as a time to focus on people management.
"A building is cold, concrete walls without the people", he said. "If we don't invest in the people, they will not be able to bring NHCS and Kampung Siglap Lifeskills Centre to the next level, or run with you. Our progress will ultimately be very slow."
So with the pandemic forcing a pause in plans, NHCS Fellow Board Members, together with Michael and CEO Pastor Andrew, decided to upskill the staff in digital skills. Using his former F&B experience, Michael relooked at the café operations to introduce services such as takeaway and delivery.
Michael has also personally learnt to go with the flow and abide in God's timing during this pandemic period. He had received a job offer to work as group CEO for a large F&B corporation in Vietnam and was due to join them early last year.
However, the pandemic did not abate and he saw this as God's sign to stay on to focus on serving in church, NHCS and Kampung Siglap.
He is deeply confident that this season of serving God will have its fruit; God is simply preparing him for his next assignment in life.
"I reflected back and saw that all the work I had done in F&B in the corporate world, in Singapore, and in gaining regional experience in China – these experiences now provide me with added resources when I am doing His work," said Michael.
"Trust that He will provide. He may not give you (what you ask) now, but He will give you something better in the future."
He urged F&B owners to hang onto God during this difficult period. He is currently involved in a Whatsapp group of F&B owners, where he observes frequent messages from F&B owners needing to sell their kitchenware cheap as a result of an exodus in the industry.
Michael stressed that this is a challenging, but precious, time for F&B bosses to involve staff in the decision-making processes of the business.
"Remember that this discussion is not just for the boss but for everybody. You will be surprised at the ideas your people can give you," he said.
Have faith and continually seek God on the next steps, he urged F&B owners. 
Michael cited Jeremiah 29:11: "'For I know the plans I have for you,' declares the Lord, 'plans to prosper you and not to harm you, plans to give you a hope and a future. '"
"Trust that He will provide," he said. "He may not give you (what you ask) now, but He will give you something better in the future."
---
RELATED STORIES:
"For 30 years I asked for help. Now I can help someone else": The story behind The Helping Hand's pineapple tarts
"We may serve bread, but we want to share the true Bread of Life": Thrina Low of Bakery Brera
The Peranakan's Raymond Khoo loves his neighbours with belacan and pineapple tarts
By divine appointment: Penang Place's Paul Ooi reveals his CEO
If you have enjoyed reading Salt&Light...
We are an independent, non-profit organisation that relies on the generosity of our readers, such as yourself, to continue serving the kingdom. Every dollar donated goes directly back into our editorial coverage.
Would you consider partnering with us in our kingdom work by supporting us financially, either as a one-off donation, or a recurring pledge?
Support Salt&Light