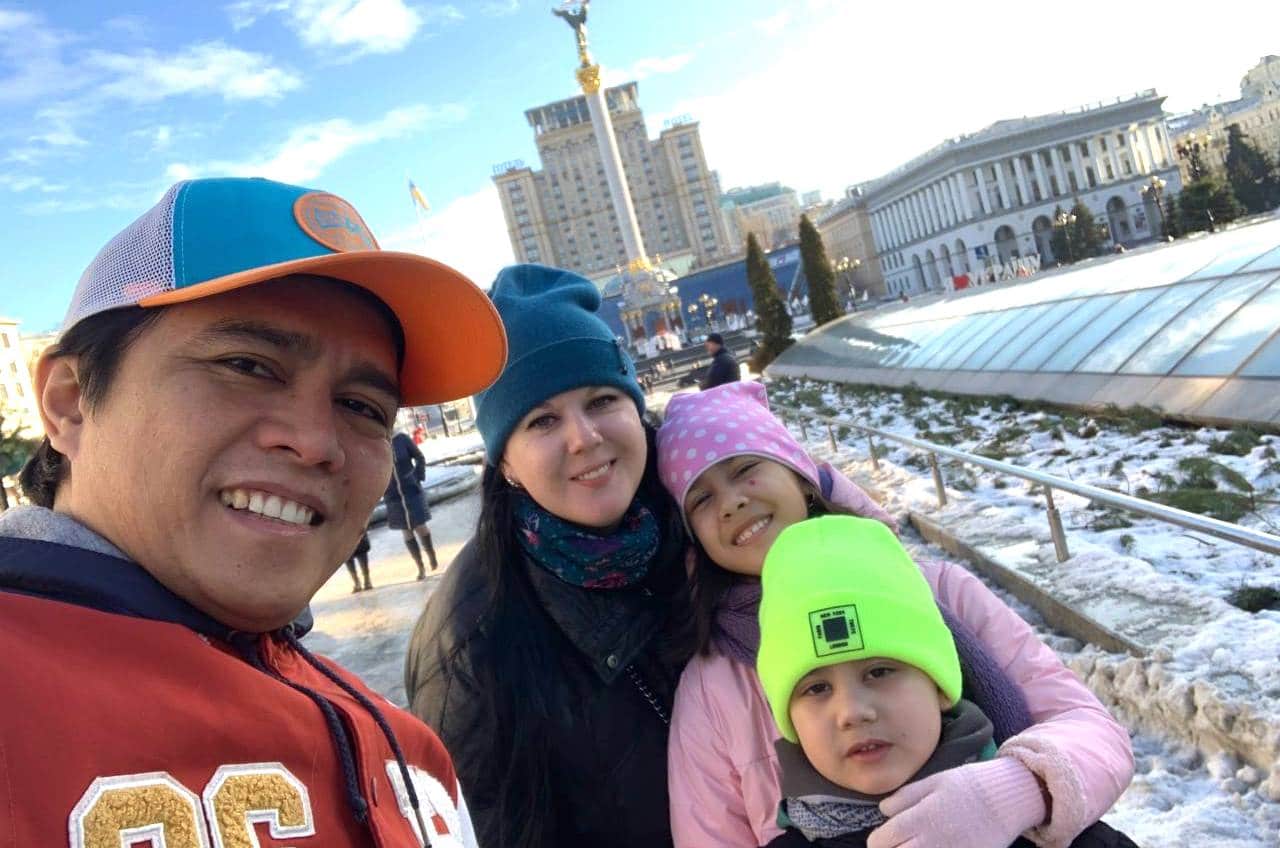 Eric, Ivana, Sonia and Vlad in better times. Eric, who is Filipino, has lived in Ukraine since 2013. The family, including Vlad who is on the autism spectrum, went through harrowing moments as they fled when war began. Photo courtesy of Eric Guillermo.
Seven-year-old Vlad Guillermo is autistic. He is also one of over 800,000 children out of over 2 million refugees fleeing the invasion of Ukraine.
A non-verbal child on the autism spectrum, Vlad has required therapy since he was three years old. But since his family fled the capital on the first morning of the Russian invasion, he has been unable to attend therapy.
With the intensifying conflict, the tally by the UNHCR changes daily. Over four million Ukrainians are expected to become refugees in the coming weeks, with even more who are internally displaced within Ukraine.
Though Vlad and his family have, like many, been forced to leave their home in Kyiv, spent nights in basements hiding during air raid warnings and even queued unsuccessfully for 20 hours at a Polish border crossing, they are one of the more fortunate ones.
The family has since made it safely to a Polish city near the German border and are sheltering there with a friend before continuing further west.
Eric Guillermo, Vlad's father, shared their journey with Salt&Light over the course of the last two weeks.
Fleeing on two bars of petrol
Eric, who is Filipino, married his wife, Ivana, in 2013 and moved to Ukraine that year. Awoken by explosions on the night of the invasion, the couple decided to leave Kyiv once Vlad and his older sister Sonia were up.
Russia had begun its full-fledged assault on Ukraine after months of troop buildup along its borders. Kyiv was a prime target; Eric and Ivana felt it was safer to leave as soon as they could.
But with only two bars left in the petrol gauge and long queues for petrol kiosks, it took Eric over three hours before he managed to get the car refuelled.
It was almost 1.30pm by the time they left and the roads out of Kyiv were in gridlock – images of which were seen worldwide, accompanied by news that Russia had conducted airstrikes on major Ukraine cities.
"We saw a lot of people on the road, desperate. Trying to ask people to take them. Children walking. Adults with luggages. We wanted to stop, but we didn't have the space in our car," Eric told Salt&Light.
They were headed west, to a small village in Rivne near the Belarus border, where they intended to take shelter with Ivana's grandmother. "It was supposed to be about a 3.5-hour drive, but it took us almost 20 hours," he added.
Leaving home 
Whenever air raid sirens went off, the whole family would hurry into the basement to take shelter from rocket fire. These were sounded nationwide so as the attacks on the major cities intensified, the frequency increased as well.
"I am scared," nine-year-old Sonia told Salt&Light over one of the videos filmed while they were huddled in the toilet. They'd been woken up by yet another air raid. Vlad frowns at the camera and then averts his gaze.
"Our situation is not desperate," Eric shared, about a week into the conflict. The place they were in was self-sufficient as people grew their own crops and they were far from the areas of fighting. "The only threat we are facing right now is the danger of indiscriminate rocket attack. But so far, by God's grace, we never encountered such thing," he said.
By the end of the week, however, Kyiv and major cities like Kharkiv, Mariupol and Kherson were under heavy attack. Peace talks in Belarus failed, with Putin demanding Ukraine's "denazification" and "demilitarisation".
Evacuation ceasefire deals were breached and airstrikes were targeting civilian infrastructure.
"We are leaving Ukraine for good," Eric told Salt&Light through a Telegram message on March 4. "We will leave tomorrow morning to Lviv then Poland. Then we file asylum anywhere possible."
Tired families
Three days later, the update from Eric comes via video. In it, he breaks down.
"I'm so freaking tired. Several days, I didn't have sleep. Running here and there without any success. Especially with the children in the car, hearing them crying, complaining," he said.
"It's even worse than the first day when we left Kyiv."
At the border to Poland, they had estimated the wait to be six hours, but ended up queuing for 21 hours before making the hard decision to give up and turn around. On the way back, they passed cars lined up behind them.
"It's even worse than the first day when we left Kyiv," Eric said.
"Most of the time you see me, I'm smiling. But now, it's really started to get on my senses – it is so difficult, very hard. Not because of our circumstances, but because of what I'm seeing in this beautiful country."
Fellow crew members who used to serve onboard OM's missionary ship, MV Doulos, with Eric, started galvanising help for the family. Assistance poured in, and another ex-Douloid suggested a different border crossing into Poland.
This time, the crossing went smoothly.
While they've had to leave a life behind, Eric knows that they are privileged to be able to leave as a family. Ukrainian men between 18 and 60 have been conscripted and are increasingly being mobilised. For those who are able to escort their families to the borders, there are often tearful farewells.
Tearful farewells
"Children and their families are bearing the brunt of the crisis," World Vision Romania executive director, Mihaela Nabar, told Salt&Light.
"I saw a lot of fear and I saw a lot of pain," she said of her visit to Siret, a border crossing between Ukraine and Romania. Many lack their own transport and have to queue for up to five days in the harsh elements.
Children are thrown into situations with immediate threats to safety and shelter, the loss of loved ones, interruption in education, and the destruction of homes and family livelihoods, resulting in mental and emotional stress. This affects their ability to achieve their God-given potential.
"Only God can help the Ukrainian people have a country that is safe once more," Nabar said, echoing UNHCR's statement that the exodus of people from Ukraine is the "fastest-growing refugee crisis in Europe since World War II". 
"This is not a classical conflict," Nabar pointed out. Aside from those who are fleeing the country and families who have to leave fathers and brothers of conscription age behind, she sees a unique trend of refugees who only wish to "transit" through the country.
Believers around the world can help
"We have a lot of families, mothers and children, that want to stay at the border, because they're hoping that the conflict will end and they will be able to go back in in Ukraine," she said.
"Prayer and support from believers across the globe will show them that they are not alone and abandoned."
Another significant group who cross the border are young mothers voluntarily leave their children as refugees in a new country and return to Ukraine. "They fear for their children, but not for themselves. They don't want to leave their home or their husbands," said Nabar.
While World Vision is already involved in providing emergency assistance to refugees on the border, the spectrum of needs that different categories of people face are adding to the complexity of relief efforts.
"Before working to intervene and help them, first we need to communicate with them, to help them to understand where they are," said Nabar, adding that World Vision's aid to children and women includes medical, psychological and even educational aid.
"We hope that we will be guided by His hand to provide timely and much-needed support to all children in need, their families and communities," World Vision told Salt&Light.
"God's love will stand in the way of suffering. Prayer and support from believers across the globe will show them that they are not alone and abandoned, that God's love surrounds them through us, even in the most challenging times."
If you have enjoyed reading Salt&Light...
We are an independent, non-profit organisation that relies on the generosity of our readers, such as yourself, to continue serving the kingdom. Every dollar donated goes directly back into our editorial coverage.
Would you consider partnering with us in our kingdom work by supporting us financially, either as a one-off donation, or a recurring pledge?
Support Salt&Light