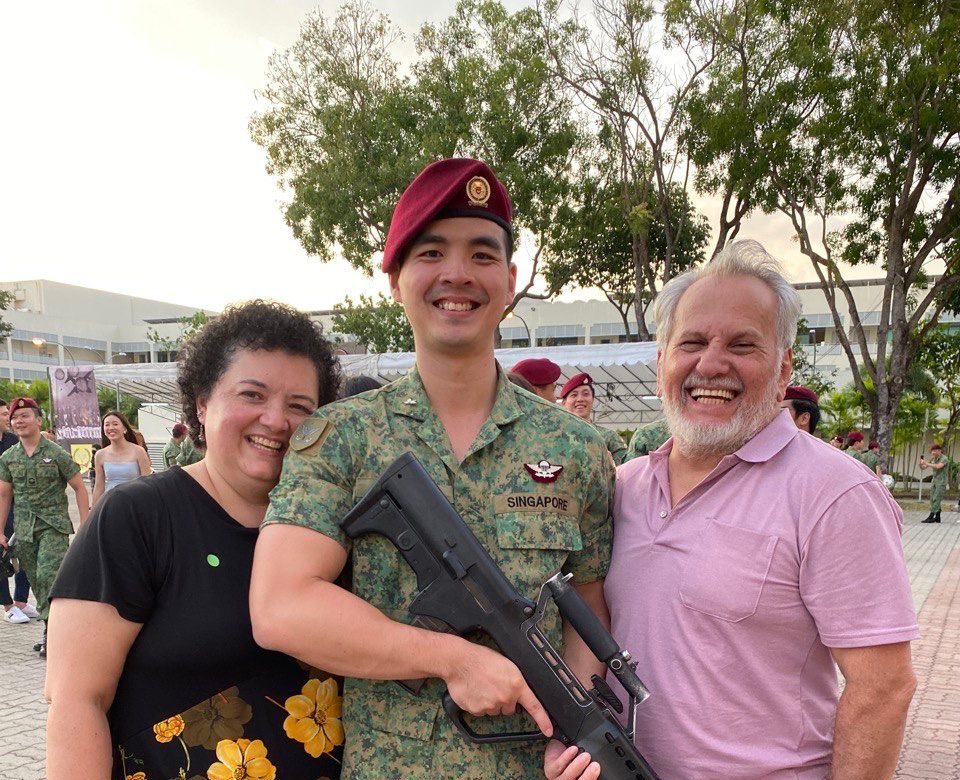 Nicholas Tay with Elizabeth and Fernando Jimenez. Nicholas lost control of the car he was driving and crashed into a road divider. The accident killed his then girlfriend, Maria Jimenez, who was Elizabeth and Fernando's daughter. All photos courtesy of Nicholas Tay.
They sit around the breakfast counter in his five-room HDB flat, talking and laughing like any family would. This, however, is no ordinary family. In fact, it is complicated. Nicholas Tay and his wife, Yvonne, are with Fernando Jimenez and his wife Elizabeth. The Jimenezes are parents of Nicholas' former girlfriend, Maria.
There is more.
Five years ago, while studying in the United Kingdom, Nicholas took Maria for a spin in her car after they each had downed an equivalent of 10 shots of alcohol. Speeding at 160km per hour, he skidded while rounding a bend and crashed into a concrete road divider. He emerged largely unscathed. Maria died.
"I forgive you. I hold absolutely nothing against you."
When Nicholas, then 25, went to see Maria's parents to explain himself and tell them he was sorry, they hugged him, prayed for him and told him they forgave him. It was a response he did not expect and one he did not feel he deserved.
Theirs was not just a one-moment act of Christian charity either. They kept in touch with Nicholas after that through daily phone calls.
When they found out that he had no place to stay because the school semester had come to an end (together with the lease on his student accommodation), they invited him to live with them. For the few weeks till he could move into his rented home, he did just that.
When he moved out, Fernando helped him furnish his new place and trim the trees in the garden. When it looked likely that Nicholas would be sentenced to the maximum of 15 years for causing Maria's death, her parents wrote letters and petitions, fighting for the charges to be dropped.
Eventually, Nicholas was sentenced to two years in prison. Fernando and Elizabeth visited him every week, driving nearly 100km each way to do so.
"I really, really see now what unconditional love means."
Said Fernando, 64: "My main aim was to make it clear to him that he didn't belong in prison. Those situations can break anyone. That was my concern. I wanted to make sure he was emotionally healthy, that he knew we were behind him, praying for him."
Each time they visited, they also assured him that they had forgiven him and that they loved him.
Added Elizabeth, 52: "I wanted him to hear it from me that I had nothing against him. So, I told him, 'I'm going to say it for your sake.' I held him by his cheeks and told him, 'I forgive you. I hold absolutely nothing against you.'"
This radical love was like nothing Nicholas had ever experienced.
"Growing up, I didn't understand what unconditional love looked like. With my parents, I had the expectation that they would love me. With Fernando and Elizabeth, I am completely undeserving, but they still do. I really, really see now what unconditional love means," he said. 
When Nicholas was released from prison, he returned to Singapore. But he and the Jimenezes continued to stay in touch. Last month, Fernando and Elizabeth came to Singapore to visit Nicholas and Yvonne, and to meet the young couple's nearly year-old son, Kairos.
They stayed with them for six weeks, when Salt&Light caught up with them.
"Because God forgave me"
Fernando and Elizabeth had gone from their home in Costa Rica to the United Kingdom in 1995 to be missionaries. Their children – Maria and Joshua – grew up there.
But after losing their daughter, Maria, Fernando slowed down his ministry work.
"When Nick asked me for forgiveness, he asked with his whole heart. He was in tears."
"I didn't have the energy after her death. To lose a daughter of 24 years, my only daughter, you feel very disappointed, angry a bit."
He and Maria had a particularly close relationship. She knew everything about him, he said, and travelled with him often for his work.
"But I knew the Lord 10 years before I got married, 12 years before Maria was born. So, I know the goodness of God. I understand how good and how faithful God is, that He is merciful. He has helped me in many ways."
That faith was what guided his response to Nicholas. He had known his daughter was dating Nicholas but had never formally met him. The day Nicholas came to explain himself after the accident was the first time they really spoke to each other.
"When Nick asked me for forgiveness, he asked with his whole heart. He was in tears. He hugged me and cried, 'Please forgive me.'"
For a moment, Fernando debated with himself. "Should I kill him? Should I say something bad?
"Then, I felt that response from God to say, 'I forgive you, son. I forgive you.' God forgave me and loved me. So, I forgive Nick."
But it was his love for Maria that motivated him to do what he has done for Nicholas.
"The only thing that Maria left me was this man. And I choose to love him.
"What I do for him is all that I would have done for her. God was good to me to make me love him. For me, he is my son. I buried a child and I got another."
"I loved him even before I met him"
Elizabeth and her daughter also shared a very close bond. Though Maria lived away from home because of school, mother and daughter talked regularly and deeply.
"She used to come back and tell me all about him. I loved Nick before I met him. When I look back, I can see that God gave me a gift of not having any unforgiveness and resentment.
"I don't have one single drop of it. I just never stopped loving him. I know it's unique. It is something only God can do."
Elizabeth thinks that God had prepared her years before for a time such as this. Growing up a Christian involved in church, she has seen her fair share of church disputes.
"It made me ask, 'What does it mean to forgive?'"
On one occasion, in the church where she was serving, the pastor had an indiscretion. There was so much anger against him. But Elizabeth asked: "What if it were your own son, your own husband or yourself? How would you have wanted people to react?"
This was exactly what she did when Maria died. She had not known at first that Nicholas had been behind the wheel. But she put herself in the driver's shoes.
"If you want to get rid of depression, help somebody who cannot repay you."
"I asked myself: How would I react if the person behind the wheel was my own husband, my son or myself? That prepared me for my reaction.
"So, the first conversation we had after the accident, I told him, 'I don't want Satan to carve one more inch of this situation.'"
That is not to say there was no pain.
"You don't get out of pain. I miss her every minute. When it is too much, I have my little cry, and then I quickly remember something good about her. She was very affectionate. She would always be around me hugging and kissing me."
Her journey with Nicholas gave her such insights and heart for inmates that Elizabeth became a staff at Beating Time, a non-profit organisation that helps ex-offenders find jobs upon their release.
"I used to have such bad backaches and I was clinically depressed because of it. The funny thing is that after all this with Maria and Nick in prison, I suddenly noticed that I was not depressed anymore.
"I was once told, 'If you want to get rid of depression, help somebody who cannot repay you.'"
Forgiveness that transformed
The forgiveness the Jimenezes extended to Nicholas and the love they lavished on him totally transformed his life.
"A huge part of me forgiving myself was them forgiving me."
"I've never seen forgiveness like this. Never seen love like this. It's something I will probably never understand," he said.
But in the beginning, he also could not accept their generosity.
"When they released forgiveness, I still couldn't get over it. It's not something that anyone would be able to forgive and forget. It took them many, many times of telling me that they loved me, forgave me and that I didn't have to feel bad or guilty before I could accept it."
To this day, he still feels guilty.
"Everyone should feel guilt for the things that they have done wrong. What guilt does is that it reminds me of the mistake and to never commit it again.
"What I don't feel is shame. Shame puts us in a very bad mental place. It started from when they forgave me. Maybe three years after the accident, the shame went away.
"A huge part of me forgiving myself was them forgiving me. It helped me see how God has forgiven me."
The accident also derailed all of Nicholas' plans.
He had gone to the United Kingdom to study sports nutrition so he could team up with his brother, who had gone there to take up sports therapy. They had intended to open a gym when they returned to Singapore. Nicholas never completed his studies.
"Growing up, I am the guy who likes to plan ahead my day, my life. They were all sorted out.
"God told me then to use the gift that I had in music to serve Him."
"The accident changed everything. It was a complete turn-around for me. If not for the accident, I would not even have thought to stop and think through my decision to open a gym.
"All this made me realise that man can plan but it would amount to nothing if it is not within God's plan." (Proverbs 16:9)
The detour, however, is one Nicholas appreciates. He had, until the accident, been an "upstanding Christian boy on the outside, but dead on the inside".
Today, he is a pastoral staff at Good Gifts City Church, a church pioneered by Pastor Derek Hong who used to be the Senior Pastor of Church of Our Saviour. Nicholas has been serving in full-time ministry since May 2020.
"In prison in UK, I was mentored by the chaplain. He did this thing called a Silent Retreat with me. The purpose was to find my calling and my identity in Christ. God told me then to use the gift that I had in music to serve Him."
Second chances
His life now is a fulfilment of a vision Elizabeth had while Nicholas was still in prison.
She visited one day and told him that she had a vision in which she saw him wrapped tightly with linen before being launched out of a canon and landing on his feet on a grass patch. The linen then fell away and Nicholas was wearing work shoes.
"Everything from that vision has come to pass."
"Both Elizabeth and Fernando interpreted the work shoes to mean ministry. The grass represented lush crop and harvest. The launching movement of the canon was God taking me out of where I was and launching me straight into ministry. Elizabeth also said that I was in nice clothes. So, everything I needed would be provided for.
"Can you imagine receiving that vision while I was in prison having nothing, having no one, not knowing if I was returning to Singapore? I said, 'Thank you for that vision.' I accepted it on surface. But in my spirit, I couldn't accept it. I didn't believe it."
Yet, when Nicholas returned to Singapore, everything fell into place. An old friend invited him to visit her church. That opened the door for him to meet its senior pastor, Ps Derek, and the meeting later turned into a job opportunity.
"Everything from that vision has come to pass," said Nicholas.
Shortly after he came home, he was also introduced to Yvonne. They had been acquaintances many years ago when he was in Boys' Brigade in secondary school and she was a volunteer.
"She was a ball of sunshine," said Nicholas.
"He was like a joke. He was a year younger than me and I thought he was such an immature guy," confessed Yvonne of his impression of young Nicholas.
"If she is from God, she will accept everything about you."
By the time they re-connected, things were a little different.
Her friend had hoped that Nicholas would share his testimony to encourage Yvonne because she had gone through a terrible heartbreak and was feeling down.
Said Yvonne: "When he started sharing things with me, it was so godly that I knew this is from God. Something lit up in in my whole sorrowful state.
"He had it worse but he was listening to what I was going through and accepting who I was. He has this ability to carry the pain of other people."
It did not take long for Nicholas to realise that this was the woman he wanted to date. When he did, he sought the Jimenezes' advice. As always, they supported and encouraged him.
Said Fernando: "When we used to visit Nick in prison, we would talk as men. And once, he had said, 'Papi, I don't know if I can ever get married.'
"I told him, 'If she is from God, she will accept everything about you.'"
When Nicholas and Yvonne became a couple, the Jimenezes welcomed her into their fold with the same unstinting love they had showered on Nicholas.
Asked if she had ever looked at Yvonne and been bitter or sad that she had taken Maria's place in Nicholas' heart and life, Elizabeth said: "I never thought that. I see her in her own right. I see Nicholas as if he were my own child. I see their son like my own grandson."
The generosity of their spirit and magnitude of their love moved Yvonne, too.
"What is alive to me is the hope. What they did, in faith, gave us hope in the future," she said. "That grace they extended into Nick's life touched my life as well and healed me of my own past hurts.
"Am I bothered by his past? If we use our flesh, I would definitely be bothered. If you look at it through God's purposes, it's hope, love and freedom in Christ. We are free to form this unusual family," said Yvonne, smiling at Elizabeth and Fernando.
Hope through tragedy  
Their story of incredible pain redeemed by radical love and forgiveness has been used again and again by God.  
Right after his release from prison, Nicholas and Fernando travelled to Costa Rico, the Jimenezes' hometown, to share their testimony to hundreds of people.
To hear two sides of the story and how God knit their lives together was unique.
Nicholas also shared a song he had written in prison. The song, Closer, is a winner of two awards – the highest award as well as a first-time entrant award – in a competition organised for prisoners in the United Kingdom.
The song about feeling as though God is far away and wanting to draw closer to God was the cry of Nicholas' heart when he was incarcerated.
Said Fernando: "At the women's Aglow International annual conference where we spoke, people were crying – 400 people."
"Maria is in heaven. I can imagine her saying, 'Papi, take care of him.'"
The Jimenezes firmly believe that Nicholas' life was spared for God's greater purpose.
Said Fernando: "I believe that Nick's ministry is like King David's. King David also started his ministry with music. There is a prophetic apostolic anointing in his life. God will raise Nick to be a mighty minister."
Added Elizabeth: "The fact that God left him here tells me that God has a purpose for his life. For me, that is valuable and I respect that.
"We are here to bring heaven down. Whatever God says, we do whether we understand it or not. My goal is for Nick to never cry again over this situation."
Since the first Salt&Light article on Nicholas' journey was published, many who had read his story have contacted him. Some were strangers; some were old friends who had lost touch with him. All were going through a rough patch and his testimony gave them hope.
Nicholas has also spoken at local churches, and both he and the Jimenezes have done countless interviews to encourage people with their story.
Said Nicholas: "God used the story which I wanted to bury to bless so many people. I made a promise to God when I was in prison that I would share my story to whoever asked."
"She is like a beautiful seed which died and flourished into such a great story." 
As the interview winds to a close, Fernando said: "Maria is in heaven. I can imagine her saying, 'Papi, take care of him. Papi, don't do anything wrong. Love him.'
"I don't feel pain when I talk to people about Maria. I have accepted that Maria has gone ahead. I feel at peace now. I feel great peace and joy knowing that someday I am going to see her again."
Theirs is an unlikely family, but one that is as God intended.
Said Yvonne: "This is what heaven looks like, where we are not bonded by blood but by the blood of Jesus. This is real heavenly love.
"I don't think I have found it anywhere else. It affects how I love my enemies and my family."
"Sometimes, I do feel like I have taken her place. But God says, 'You are yourself. You had nothing to do with the fault of what man has made.
"I do wish I had known her, though. She is like a beautiful seed which died and flourished into such a great story, and has given us a taste of what heaven is like."
---
RELATED STORIES:
"I realised caregiving is an act of worship": Nurse who spent 20 years caring for mother and husband with stroke
"If you heal me, Hallelujah. If you don't heal me, also Hallelujah"
If you have enjoyed reading Salt&Light...
We are an independent, non-profit organisation that relies on the generosity of our readers, such as yourself, to continue serving the kingdom. Every dollar donated goes directly back into our editorial coverage.
Would you consider partnering with us in our kingdom work by supporting us financially, either as a one-off donation, or a recurring pledge?
Support Salt&Light