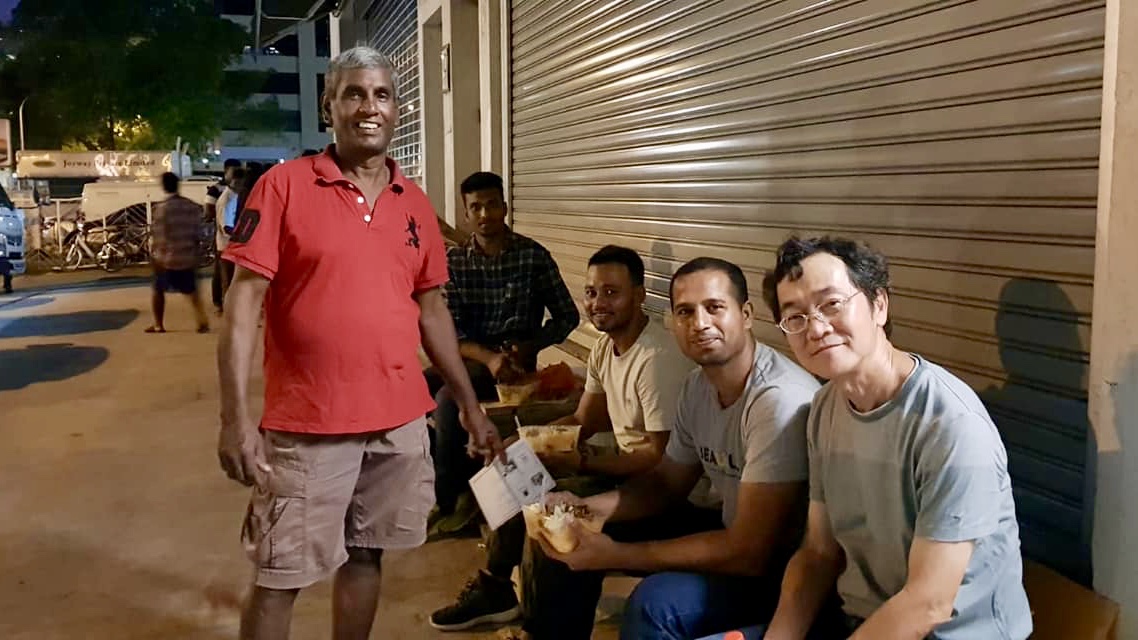 Volunteers from SG Care Welcome Centre sharing a briyani meal with migrant workers living in the dormitories located in Tai Seng. It is estimated that some 5,000 live in factory-converted dormitories in the area. All photos courtesy of SG Care Welcome Centre.
It was a balmy Sunday evening and many migrant workers were milling around Pereira Road. Some had gathered in small groups, chatting over a simple dinner of curry and rice, while others made video calls to their loved ones back home.
It was a welcome respite from the shared living spaces that they will have to return to as the night draws on. It is estimated that some 5,000 migrant workers are living in the nearby factory-converted dormitories.
"Hi! Would you like to come by for a free health check and makan?" KS Lye, the 45-year-old director of a construction company, asked a migrant worker as he walked by. He is one of a small group of Singaporeans handing out invitations to the opening of the SG Care Welcome Centre on July 28.
His warm smile led to a conversation.
He found out that Jahangir was from Bangladesh and had been working in Singapore for the last seven years, having arrived here at the tender age of 19. He has only been home once since and misses his mother's briyani.
Bonding over briyani
"Come! Join us, there's briyani for dinner!" said Lye cheerfully.
Turning into 8 Pereira Road, where the centre is located, many migrant workers had already gathered, picking up second-hand clothing and signing up for free health checks.
The centre, helmed by SG Accident Help Centre, hopes to be a place where migrant workers can gather to get much needed physical aftercare. Most of them do labour-intensive work, often suffering bodily strain and injury.
"Aftercare, such as physiotherapy and TCM treatments, are a vital part of their recovery process but many of them do not understand this. So, we try to educate them and provide care for injured workers. We have been treating those with small injuries as well so that it doesn't worsen to become a work injury case," said Eric Lee, director of SG Accident Help Centre.
Beyond physiotherapy
On site, too, were 12 student volunteers from Ngee Ann Polytechnic who helped to man the health check stations, taking the blood pressure and blood sugar readings of the nearly 300 migrant workers who turned up.
"They are not just my workers but my friends and family."
High blood pressure and diabetes are common among migrant workers due to their poor nutrition. In order to send as much money as they can back home, they tend scrimp and save on meals.
The majority of those living in factory-converted dormitories do not have access to cooking facilities, leaving them with little choice but to turn to low-cost caterers.
According to a report by the South China Morning Post, most caterers deliver the packed breakfast and lunch together at 6am to avoid making another delivery. But a lack of proper food storage means the packed lunches are usually left in boxes in the open. The food may turn rancid by lunchtime, no thanks to Singapore's heat and humidity.
This was something that volunteers who are familiar with the issues that migrant workers face, attested to.
Many migrant workers turn to caffeine-enhanced energy drinks to get them through the day and to eliminate hunger pangs. These drinks are often high in sugar as well.
Lee hopes that early detection of diabetes and high blood pressure can help the migrant workers better manage their diet as their health insurance often does not offer medical coverage for these chronic diseases. For those with worrisome readings, the centre will arrange visits to other community clinics for follow up.
Migrant workers have much more to offer than just their brute strength.
There is much to be done at SG Care Welcome Centre and Lee is grateful to be able to count on volunteers who hail from around Singapore, with support from Paya Lebar Methodist Church and St Paul's Church, both located less than 4km away from these dormitories.
Pastor Leon Stewart, 49, who oversees St Paul's Church's youth ministry, shared that the church is trying to gather more seniors and youths from its English- and Mandarin-speaking congregations to volunteer at the centre.
Its Tamil-speaking congregation, together with their pastor, Reverend Lawrence Visuvasam, has been visiting migrant workers at the Punggol and Tai Seng dormitories for the past two years, organising parties during holidays like Christmas.
"The migrant workers left families, home and country to come and help build our infrastructure here. The least we can do is reach out to them and meet their needs," said Pastor Leon, referencing Matthew 25:35-40.
It was also this same reason that compels Lee: "Migrant workers are a part of our community. We treat them the same as locals; if they need help, we help them, like loving our neighbour." (Mark 12:30-31)
That Sunday was the first time members from the different congregations came together to volunteer. It was extra special for Lye, who is from the English-speaking congregation.
"As an employer of migrant workers, my livelihood and theirs are deeply intertwined. Some of my workers have been working with me for approximately 20 years! They are not just my fellow workers but my friends and family," said Lye.
He saw volunteering at the centre as an extension of what he is called to do – to love one another as Christ has loved him. (John 15:12)
Lee revealed there is more exciting work in the pipeline. Besides organising more health talks, there are plans to hold English and computer classes, along with a financial planning course as many migrant workers do not have a good grasp on saving.
The plan he is most excited about is the rooftop farm project, which he hopes will encourage interaction between migrant workers and volunteers.
"A lot of the migrant workers grew up in an agrarian society. It is an opportunity for the workers to teach the volunteers about farming, and volunteers can learn from them," explained Lee.
He hopes this initiative will result in a mindset shift, for migrant workers have much more to offer than just their brute strength.
Keen to help?
The SG Care Welcome Centre regularly conducts orientation for potential volunteers. It is looking for volunteers to befriend the workers, as well as trained counsellors, physiotherapists, occupational therapist and TCM practitioners. The centre currently has a physiotherapy and TCM treatment room but is only operating every alternate week due to a manpower shortage.
Click here to find out more.
If you have enjoyed reading Salt&Light...
We are an independent, non-profit organisation that relies on the generosity of our readers, such as yourself, to continue serving the kingdom. Every dollar donated goes directly back into our editorial coverage.
Would you consider partnering with us in our kingdom work by supporting us financially, either as a one-off donation, or a recurring pledge?
Support Salt&Light