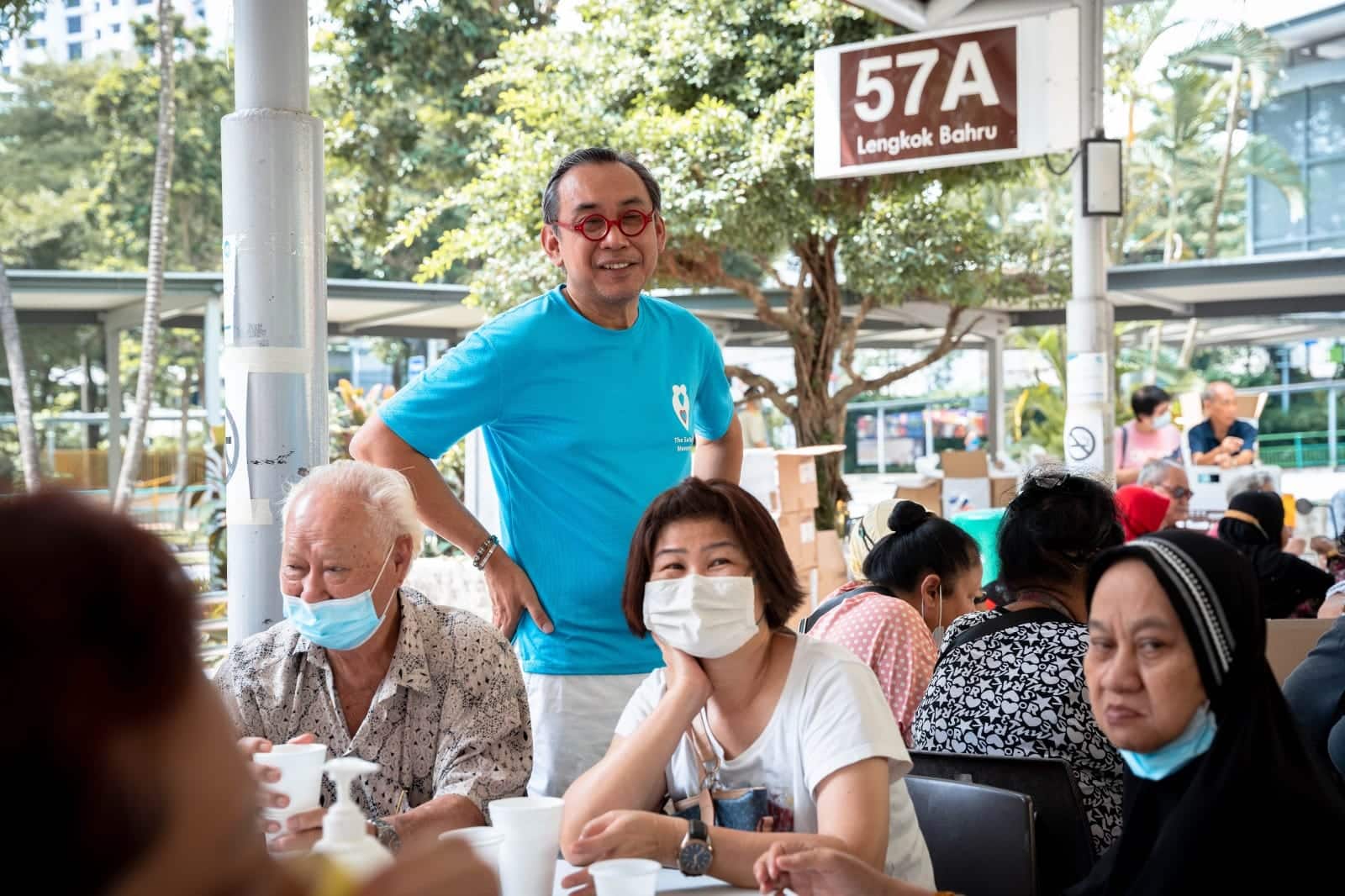 Raymond Khoo (standing) has been feeding the lonely elderly in Lengkok Bahru and providing them with a chance to socialise for 13 years. All photos from The Saturday Movement on Facebook.
At the void deck of block 57 Lengkok Bahru, there is a little eatery that looks like a regular nasi padang restaurant. There, the elderly gather daily. On the afternoon that Salt&Light visit, several are seated at the alfresco dining area, well ahead of the designated three o'clock tea time.
"We are here every day," says one lively 80-something who does not want to give her name but is more than willing to chat in Mandarin.
"This boss is very good, very good. Who else would feed the elderly?"
"I come down several times a day. In the morning, then at lunch, then at tea."
She lifts up her walking stick and tells Salt&Light that her children who live elsewhere do not want her to travel too far on her own. They worry that, given her unsteady gait, she might fall.
So she keeps active by coming to S17 Community Kitchen. Every afternoon from 3pm to 5.30pm, the kitchen serves free snacks and a drink to the elderly from the Lengkok Bahru rental flats. On the afternoon of the visit, the snack offered is freshly fried goreng pisang (deep fried banana), hot and crispy.
S17 Community Kitchen is part of registered charity The Saturday Movement which was started in 2011 by restauranteur and philanthropist Raymond Khoo. The Saturday Movement already runs a befriender's programme that feeds over 500 elderly at eight blocks in the Redhill estate.
Envisioned as an effort by the community for the community, Raymond welcomes volunteers to serve, sponsor, deliver and befriend the beneficiaries.
"We call it The Saturday Movement because it is a movement of people and we started out doing this on Saturday.
"Why Saturday? Because that is when we can get the most volunteers!" explains Raymond, 60.
Kampung spirit
The elderly Salt&Light spoke to are mostly on their own at the low-income flats, although each has a roommate.
But The Saturday Movement has given them a community. Gathering around the lunch table every Saturday for over a decade has allowed them to forge firm friendships.
Though the residents may not always know each other's names, they are familiar with each other's faces and stories, and they look out for each other like family.
"We come down every day. When we don't see someone, we go up to their flat to look for them," said a 70-something gentleman who worked on board ships before he retired.
It is clear there is great warmth and affection for the staff at the S17 Community Kitchen as well.
Ah Hock, the resident team leader in charge of caring for the elderly, gets the most ribbing. This is a sure sign that he is one of the favourites.
"This one is very naughty, very naughty," says one elderly lady, wagging her finger at Ah Hock as she smiles.
"Look at her," Ah Hock retorts in jest. "She is always scolding me."
Naturally, they are the fondest of Raymond.
"This boss is very good, very good," they all say when asked. "Who else would feed the elderly?"
Serving up unconditional love
Raymond started out as a volunteer in his church, handing out care packages in the area on special occasions such as Christmas and Chinese New Year. But he quickly realised that the elderly needed more consistent care.
By providing the elderly with a reason to gather, Raymond hopes their loneliness and depression would be alleviated.
"Many used to have their own homes, their own families. Now they are alone. So there is a lot of angst.
"Some of them have grandchildren living with them because their parents are incarcerated or have disappeared. So the children are stuck with grandparents who can hardly manage themselves.
"I just wanted to show them love. That was the primary goal."
So Raymond started The Saturday Movement with the hope that by providing the elderly with a reason to gather, their loneliness would be alleviated and depression dispelled.
His concerns are not wide off the mark. Elderly suicide in Singapore among those aged between 70 and 79 saw a 60% increase in 2022 – the highest in over two decades.
The top three issues that troubled the elderly according to the Samaritans of Singapore were medical problems, family difficulties and loneliness.
"Their kampung (village) spirit has changed me. The little that they have, the little that we provide, they are still very happy," says Raymond.
"When they come on Saturday, they are all dressed up. I'm really touched by how happy they are. The joy on their faces and the appreciation keeps me going."
Keeping things going has come at no small cost to Raymond. He estimates that it costs over S$300,000 a year to run The Saturday Movement. So far, 80% of it has come from his own pocket.
"When the elderly come on Saturday, they are all dressed up. The joy on their faces and the appreciation keeps me going."
Apart from daily teas and Saturday buffet lunches, there are special meals and programmes on major holidays that he sponsors.
"Holidays are the loneliest times because it's all about families and if the family is not there, then what am I? Who am I?"
This National Day, the elderly will be playing Bingo with prizes to be won. During Christmas, turkey is served.
"The very first year we had turkey, everyone rushed to see the turkey because they had not seen a whole turkey before.
"And here we are, most of us usually give turkey a miss or have just one small slice because the meat is usually a bit hard and not so tasty. It brought tears to my eyes to see them so excited."
For Chinese New Year, Raymond serves yusheng (raw fish salad) at every table and gives everyone a small tin of abalone to take home. There are birthday celebrations as well at least twice a year and a durian party once a year during the season when the prices are more affordable.
"Because it's something they long for but would never be able to buy for themselves," says Raymond.
He and his team of 100 or so volunteers also go door to door giving out bread and fruits on Saturday mornings to some 300 households.
"Bread is something they can eat any time they are hungry and fruits is something they don't usually buy because they don't have enough money."
Every month, Raymond gives out 4,000 meal vouchers. This works out to two meals per person per week. These vouchers can be redeemed for meals consisting of one protein and two vegetable dishes worth about S$6.50 from S17 Community Kitchen. In this way, he ensures that they at least eat well a few times a week.
Touching lives one at a time
That Raymond has such a heart for the underserved should come as no surprise. 
"Everyone rushed to see the Christmas turkey because they had not seen a whole turkey before. It brought tears to my eyes to see them so excited."
His grandfather was the late Rev Khoo Siaw Hua, Singapore's first prison chaplain.
Home for Rev Khoo was a two-storey house where the first storey served as a half-way house for ex-offenders who had nowhere to go.
"He would sometimes be scolded by them, verbally abused by them, but he still loved them," says Raymond who spent his childhood weekends at that bungalow.
"I saw his heart. He demonstrated love like Jesus who loves everybody. I saw from there how he went out of his way to help people."
Just as his grandfather had done, so Raymond now does, touching lives one at a time. He does not need to share the Gospel. He lives it and people come to him, asking about the God he loves.
"It is through acts of love that we show them that Jesus loves with no strings attached."
There is Auntie Vali, in her 60s and living alone. Touched by the love she has been shown all these years, she became a Christian last Christmas.
"She saw what we did and started asking questions about Christianity. It is through such acts of love that we show them that Jesus loves with no strings attached," says Raymond.
There is Tony who is in his 60s. He, too, became a Christian a few years ago because he saw God's love in action through The Saturday Movement.
Several residents now are bussed to Grace Assembly of God or New Creation Church every Sunday.
Raymond's plans do not end here. In March this year, he launched the S17 Café. He plans to eventually make it a dementia-friendly café, pending funding approval.
In the pipeline are programmes to stimulate the mind of the elderly, plans to play live retro music, and organise games from the past, as well as serve nostalgic food like ice balls and kana (preserved plums). When it comes to caring for the elderly, Raymond is brimming with ideas. 
"The lives that we touch, the things that we do, are very meaningful. How can I stop? We must continue to press on."
---
The Saturday Movement's First Charity Gala Dinner 
It has been 13 years and this is The Saturday Movement's first fundraiser to support its growing ministry of unconditional love towards the elderly living in rental flats.
Besides providing good quality food at S17 Community Kitchen, weekly lunch buffets, daily coffee breaks and weekly door-to-door visits with bread and fresh fruit, the most important aspect has been offering the pioneers of Singapore love and care in a humble act of love and kindness.
As the average Singaporean feels the pressures of raising costs, what more the vulnerable elderly residents.
During Circuit Breaker, The Saturday Movement provided two meals per person per day including Sundays and public holidays. Each pack was hand delivered by a small team of volunteers determined to ensure the residents stay indoors and not be exposed to the virus. A total of 103,000 food packs were delivered during the three months. The food was cooked by The Peranakan Restaurant and halal food catered from Orchard Hotel at a special price.
As the average Singaporean feels the pressures of raising costs, what more the vulnerable elderly residents. The Saturday Movement welcomes individuals and organisations to step forward to help this on-going support for the elderly.
For the first time, regional Peranakan chefs from Indonesia, Malaysia and Thailand will come together to cook a Peranakan feast that is not to be missed. Gather your friends and families to join the gala dinner.
For enquires, contact [email protected]
Date: August 27, 2023
Time: 6pm
Cost: Buy a table of 10 in denominations of S$3,000, S$5,000 & S$10,000
Venue: ParkRoyal Collection Marina Bay
               Garden Ballroom
Click here to register.  
About the organiser:
Founded in 2011, The Saturday Movement is a registered charity that befriends and cares for more than 500 needy elderly in Singapore.
Today, it provides 4,000 bread, fruit and meals every month and hosts a weekly in-person free lunch every Saturday for its beneficiaries.
---
RELATED STORIES:
The Peranakan's Raymond Khoo loves his neighbours with belacan and pineapple tarts
Business down by up to 97%, yet these restaurant owners are still giving to the community
If you have enjoyed reading Salt&Light...
We are an independent, non-profit organisation that relies on the generosity of our readers, such as yourself, to continue serving the kingdom. Every dollar donated goes directly back into our editorial coverage.
Would you consider partnering with us in our kingdom work by supporting us financially, either as a one-off donation, or a recurring pledge?
Support Salt&Light