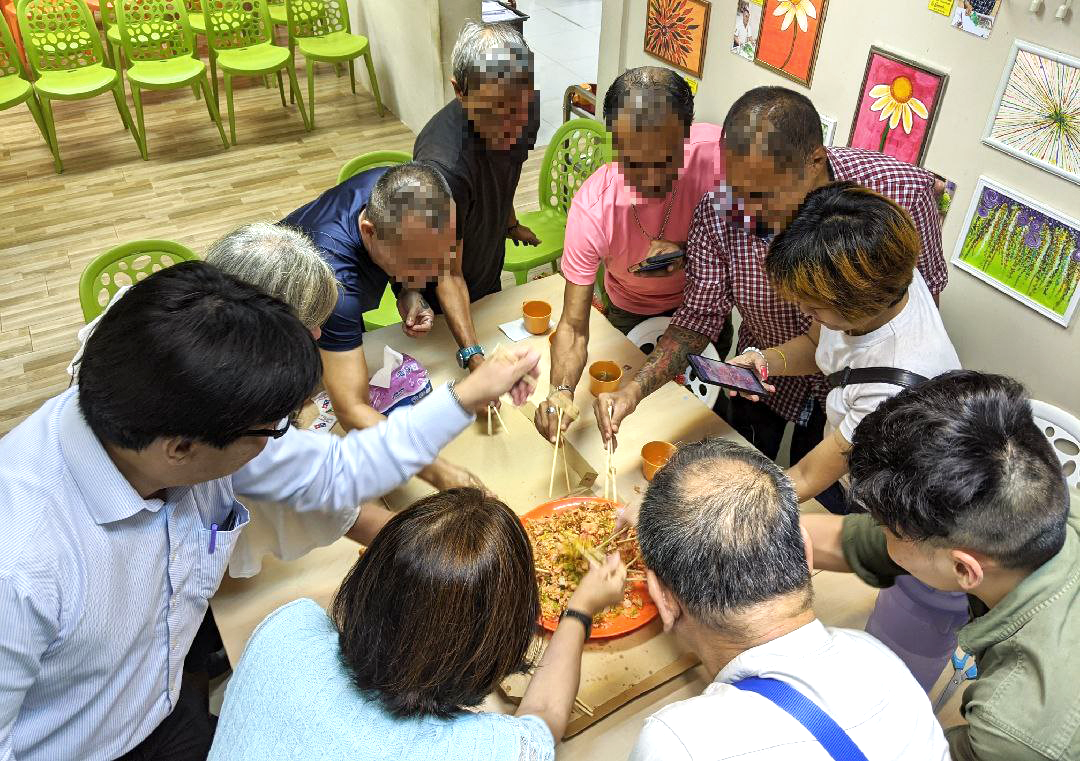 A group of seven homeless persons and three social workers and volunteers celebrated the Lunar New Year on January 29 by tossing a yu sheng at the Homeless Night Cafe run by Presbyterian Community Services and Homeless Hearts of Singapore. Faces have been blurred out to protect their identities. Photo by Gracia Lee.
When the colourful yu sheng was ready, everyone crowded around the table, chopsticks at the ready.
After a countdown from three, the tossing began, accompanied by boisterous calls for blessings: "Happiness! Good health! Huat!"
It was hard to tell that most of them at the gathering, which was held on Wednesday (January 29), were strangers to each other not too long ago.
They just want someone to be genuinely concerned about them and to see them as a person.
These were the seven homeless people who had been invited to the Homeless Night Cafe, run in partnership by voluntary welfare organisation Presbyterian Community Services (PCS) and Homeless Hearts of Singapore (HHOS), which befriends the homeless.
Since July 2019, PCS has opened up Sarah Seniors Activity Centre, which it runs, every fortnight for the homeless to hang out in and socialise. Together with one to two PCS staff members or HHOS volunteers, they bond over a simple dinner from 7pm to 9pm after the day activities programme at the centre has ended.
The visitors are also free to use the facilities at the centre, such as the television and computers. On average, about three to four homeless people attend each session, said PCS senior social worker Tristan Gwee, who is in charge of the cafe.
Caring and sharing
The cafe's goal is, first and foremost, to offer friendship.
"It's not about throwing resources at them. Sometimes they don't want it. They just want someone to be genuinely concerned about them and to see them as a person, not as a case. That's our starting point," said Gwee.
"If we do gain their trust and they start to ask for their help and assistance, we try to provide it if we can. If we can't, we'll try to link them to whoever can."
"This gathering … It's like a family. I'm very happy."
Gwee shared that PCS had responded to the call to do more for the poor and needy after listening to a sharing by HHOS at a conference last year.
It was Matthew 25:40 that resonated with him and, after some discussion, PCS decided to take on the task of setting up the cafe.
"We just want to do our little part," Gwee said, adding that he has been impressed with how "resilient and motivated (the homeless) are to improve their lot".
One gentleman at the gathering, who said he has not celebrated Chinese New Year in a long time, shared that it was his first time tossing the yu sheng in years.
As the evening drew on and the chatter quietened, another said: "This gathering … It's like a family. I'm very happy."
Ps Andrew Khoo, founder of S'pore's first homeless shelter, has given refuge to over 900
I was a failure but a family gave me a home; today I'm the National Director of YWAM Singapore
If you have enjoyed reading Salt&Light...
We are an independent, non-profit organisation that relies on the generosity of our readers, such as yourself, to continue serving the kingdom. Every dollar donated goes directly back into our editorial coverage.
Would you consider partnering with us in our kingdom work by supporting us financially, either as a one-off donation, or a recurring pledge?
Support Salt&Light