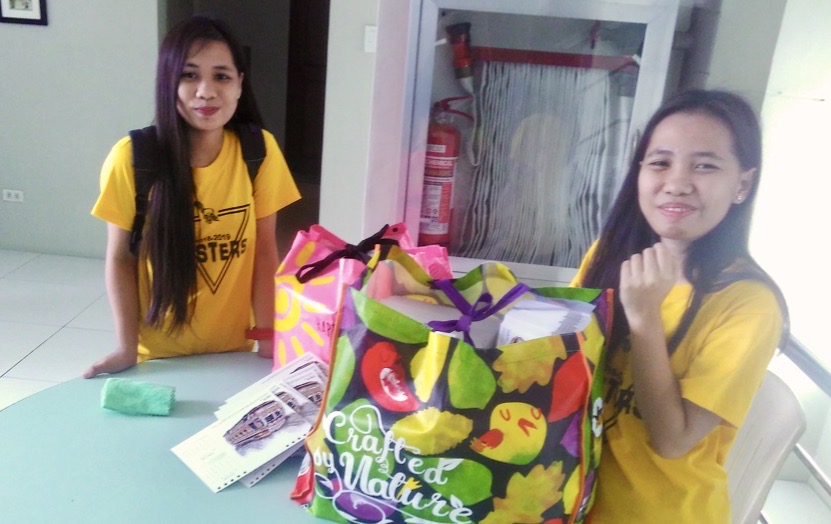 Cyra's family lost everything in deadly flooding caused by Typhoon Ketsana in the Philippines in 2009. But through programmes run by Christian NGO, Care Channels International (CCI), they received not only food and a livelihood, but also an introduction to God and the Bible. Cyra (right) with younger sister, Cyrine, delivering completed crafwork to CCI. All photos from Care Channels International.
When Filipina Crya Reonisto arrived in Antipolo City in 2010, her family had just lost their home in Marikina City following the deadly flooding caused by Typhoon Ketsana (known in the Philippines as "Ondoy")  in 2009. 
"As a youth, there are a lot of problems ­– depression, stress. So it's good to have family to talk to."
The eldest of five siblings, Crya was just nine years old then.
Her father, Norly, found work as a construction worker and her mother, Gina, as a part-time seamstress. But their meagre income was not enough to feed the family of seven.
Crya, now 19, said: "That same year, my younger siblings and I got enrolled in a daily feeding programme at the Delightful Inheritance Centre. We were blessed. Many of the families at that time did not have enough to survive on." 
The Delightful Inheritance Centre is one of the centres in Care Channels International's (CCI's) regional network. The non-profit organisation has been working to alleviate poverty among the poor and marginalised in Asia for the past 20 years.
Hot breakfast
"Cyra and her siblings were our first batch," said Digna Ravara, one of the livelihood coordinators at the centre. "At that time, many of the children were still underweight and many would go to school on an empty stomach."
But the Reonisto children would head to the centre for breakfast every morning before they headed to school. The warm food helped them to concentrate better in class.
The centre was also where the family learnt about God through language lessons using the Bible.
Over time, the entire family came to know the Lord and started attending church services together. As their relationship with the Lord deepened, the family also grew closer to one another.
"Now, we frequently have heart-to-heart talks and when we eat together, we can openly share about our personal happenings. As a youth, there are a lot of problems ­– depression, stress. So it's good to have family to talk to," said Crya.
Growing confidence
The Reonisto children flourished and fared so well in their studies that, today, all five siblings have been integrated into public schools.
"Although it is financially difficult for my parents to sustain our schooling, it is by God's grace and provision that all five of us are enrolled in public school," Crya said. "I now have a future and a hope."
To help supplement household expenses, Cyra and her younger sister, Cyrine, started doing cross stitch cards in a livelihood programme introduced by CCI. 
"I plan to take up a bachelor's degree in Social Work so that I can help others, especially those who are needy."
"We share with my parents our earnings, which goes towards the daily allowance for the younger siblings," said Cyra, a senior high student.
When Cyra volunteered at the centre, teaching younger children and helping out in the feeding programme, Digna noticed her dedication to others. Her giving nature, focus on her studies, and familiarity with the livelihood programme inspired Digna to invite Cyra to join CCI as a coordinator.
After consulting with her parents, she agreed to be a coordinator for the paper craft calendar livelihood programme in April 2019.
Cyra and Cyrine were even sent to Care Channels Manila, where they got to observe the process of assembling the calendars.
"The crafting process was hard and we were very nervous when the trainers checked on our work. But when they said it's good, we were overjoyed! Thank God we passed the training!" exclaimed Cyrine, 18.
When they returned to Antipolo City, they taught others the craft. Cyra receives the materials weekly and distributes them to her team of five to eight students, all aged between 12 and 20 years old – many of whom are from families struggling to cope, just like hers.
She oversees the quality control and makes any necessary repairs before submitting the finished products to CCI. The payment is given to her and her co-workers together with a new set of raw materials.
The new role has brought more than just monetary gains.
"I am naturally very shy so I don't usually go out. As a coordinator now, I need to go around and talk to different people to ask how's the progress. My confidence has grown and my social skills have also improved," said Cyra.
"When I go to college next school year, I pray that I can stay as a coordinator. I plan to take up a bachelor's degree in Social Work so that I can help others, especially those who are needy."