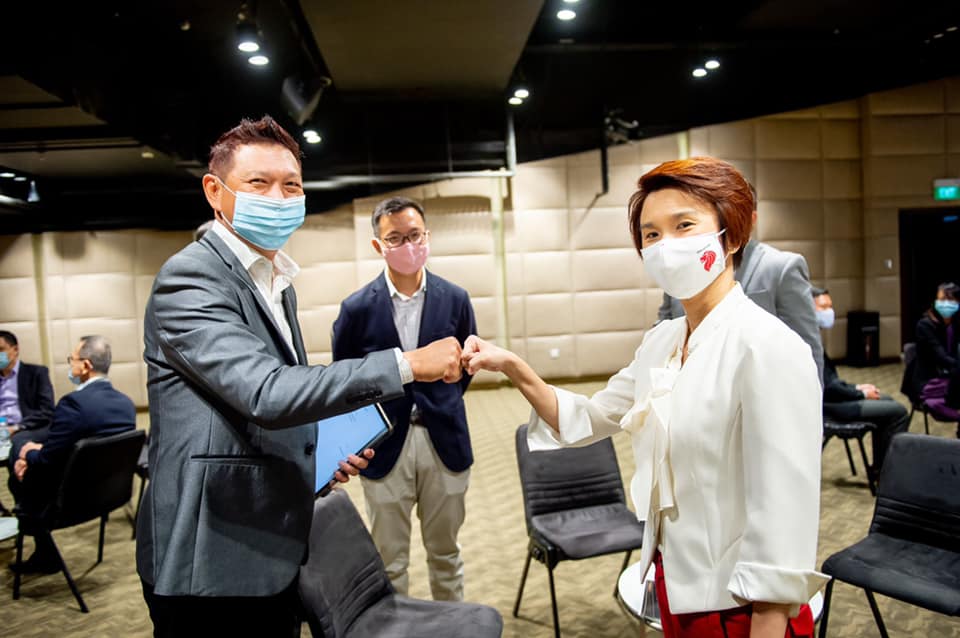 "The Church is not only about spiritual help; it has to offer holistic help," said Rev Dominic Yeo, Lead Pastor of Trinity Christian Centre (left) with South West CDC Mayor Low Yen Ling. Trinity donated a total of half a million to five community organisations, including South West CDC in August this year. Photo courtesy of Trinity Christian Centre.
"If there is a famine in the land, there will be food in the House," said Senior Pastor of Trinity Christian Centre, Rev Dominic Yeo. "In every crisis, there will be people whom God has raised as Daniels and Josephs."
In August, Trinity donated half a million dollars to five community organisations as a tangible expression of being a blessing to their neighbours and to mark their 50th anniversary. This was over and above the one million set aside in the church's Benevolent Fund meant to help church members and their friends and family tide through this global COVID-induced downturn.
They are not alone. The Methodist Church in Singapore (MCS) has also fundraised $1.5 million from members for the same objective. The "Donate-to-Bless" campaign was part of MCS' 135th anniversary celebrations and Methodist Welfare Services (MWS) which administers the funds, channelled more than $160,000 to 12 charity organisations in October.
Both initiatives were raised at a time when many are overwhelmed by news of a severe and extended recession, thanks to the Covid pandemic.
Can we be a beacon of hope?
According to the Ministry of Manpower's report released on October 30, there are over 112,500 unemployed residents and over 20,000 have been retrenched so far. 
"Throughout history, the Church has always been a beacon of hope in times of crisis."
The unemployment rate in Singapore has already exceeded the highs recorded during the last recession in 2008-2009 Global Financial Crisis.
"Throughout history, the Church has always been a beacon of hope in times of crisis," Rev Dominic told Salt&Light. He shared that the funds had been earmarked since the Board's approval in April.
The biblical basis for this is in the book of Acts where the early believers gave all that they had to the apostles, who were then able to distribute the resources.
In 2009, Trinity disbursed over $1 million in aid during the Global Financial Crisis. At MCS' 125th anniversary in 2010, over $1.8 million was raised for a similar blessing campaign with its distribution reaching 1,020 chronically poor families in Singapore.
"But it's not just about financial handouts," clarified Rev Dominic. "Nor is the Church is only about spiritual help; it has to offer holistic help and we must address the stress and worry of those affected.
 "If we can do that well, we become an inspiration."
Indiscriminate effects of Covid
Counselling, equipping talks and even a job bank are made available to financial aid recipients at Trinity. Also, because applications for the aid come through the cell group and are screened by pastors, there is a de facto community made available as well.
In a similar vein, the MCS' financial assistance funded by the Donate-to-Bless campaign is administered by MWS centres, Methodist churches, schools as well as the 12 selected charities where holistic support is offered based on the needs presented by the 900 over applicants.
The effects of the pandemic are indiscriminate, resulting in a surge of mental health issues.
Caregivers Alliance Limited (CAL), one of the 12 charities, is a social service agency dedicated to meeting the needs of caregivers of persons with mental health issues.
CAL does not provide financial assistance to caregivers; those who seek help with CAL come from all walks of life and they usually look for emotional support or training to provide better care to loved ones.
However, the effects of the COVID-19 pandemic are indiscriminate. And the disruption to both lives and livelihoods have resulted in a surge of mental health issues.
Jared Goh, head of operations and partnerships at CAL, told Salt&Light that there are almost three times more caregivers who require training and support in this period compared to 2019.
Some have lost jobs or have had to give up jobs due to their caregiving duties, resulting in the need for financial assistance.
The "new poor"
At Beyond Social Services (BSS), recipients of the MWS funds are low-income earners who were already struggling financially, pre-Covid.
But Assistant Director Lim Shaw Hui has also noticed a rise in cases of first-time applicants for assistance provided by BSS.
These make up one part of a group of a people termed the "new poor", which is a relatively recent phrase that is circulating now.
Beyond Social Services has noticed a rise in cases of first-time applicants for assistance.
In March 2020, BSS set up a Covid-19 Family Assistance Fund, that would provide financial help to residents. It was initially meant for vulnerable clients in rental flat units, but they have been receiving calls even from those living in purchased flats, said Lim, who observed that people in this category had held stable jobs before Covid but are now unable to service their loans and mortgages because of the loss, or drop, in income.
Anecdotally, there appears to be a pushback and a general lack of sympathy towards this particular demographic.
Such circumstances could give rise to psychological distress and health issues as well as associated challenges in familial relationships and job performance/security, including having a negative impact on young children.
"This group may not have as much access to financial assistance due to their housing type and household income," said Junie Foo, MWS Group Executive Director, who noted that these families are often inadequately prepared for such situations.
Christ in us
Rev Dominic agrees that this is a layer that few talk about.
He explained Trinity's approach to financial aid which caters to more than just the traditional low-income earners: "We are not helping people to continue living an 'opulent' lifestyle – we have to be very clear on that – but pre-Covid, these individuals had good jobs and steady incomes.
"The Church needs to extend grace rather than point fingers. We need to help first, then bring transformation."
"To me, it's not wrong to look for progression – but I think it is wrong for us to criticise them at a bad moment. We need to help them first, and then bring transformation into their life.
"They are already under a lot of stress and the Church needs to learn to extend grace rather than point fingers."
As Methodist Bishop Rev Dr Chong Chin Chung said at MCS' 135th anniversary celebrations: "In Luke 10:23-37, the scribe asks Jesus, 'Who is my neighbour?'
"Anyone who is in need is our neighbour."
Rev Dominic concluded: "If we are going to be the Church, then we must ask ourselves how would Jesus respond. And I think, He would meet the need first.
"We always believe that Jesus is the answer; and the Church is where Jesus is — the answers are in the Church: Christ in us, the hope of glory."
---
MORE STORIES ON BLESSING THE COMMUNITY:
When a quiet prophecy to a Singapore healthcare worker led to a 6-year-old Filipino child's heart surgery
If you have enjoyed reading Salt&Light...
We are an independent, non-profit organisation that relies on the generosity of our readers, such as yourself, to continue serving the kingdom. Every dollar donated goes directly back into our editorial coverage.
Would you consider partnering with us in our kingdom work by supporting us financially, either as a one-off donation, or a recurring pledge?
Support Salt&Light