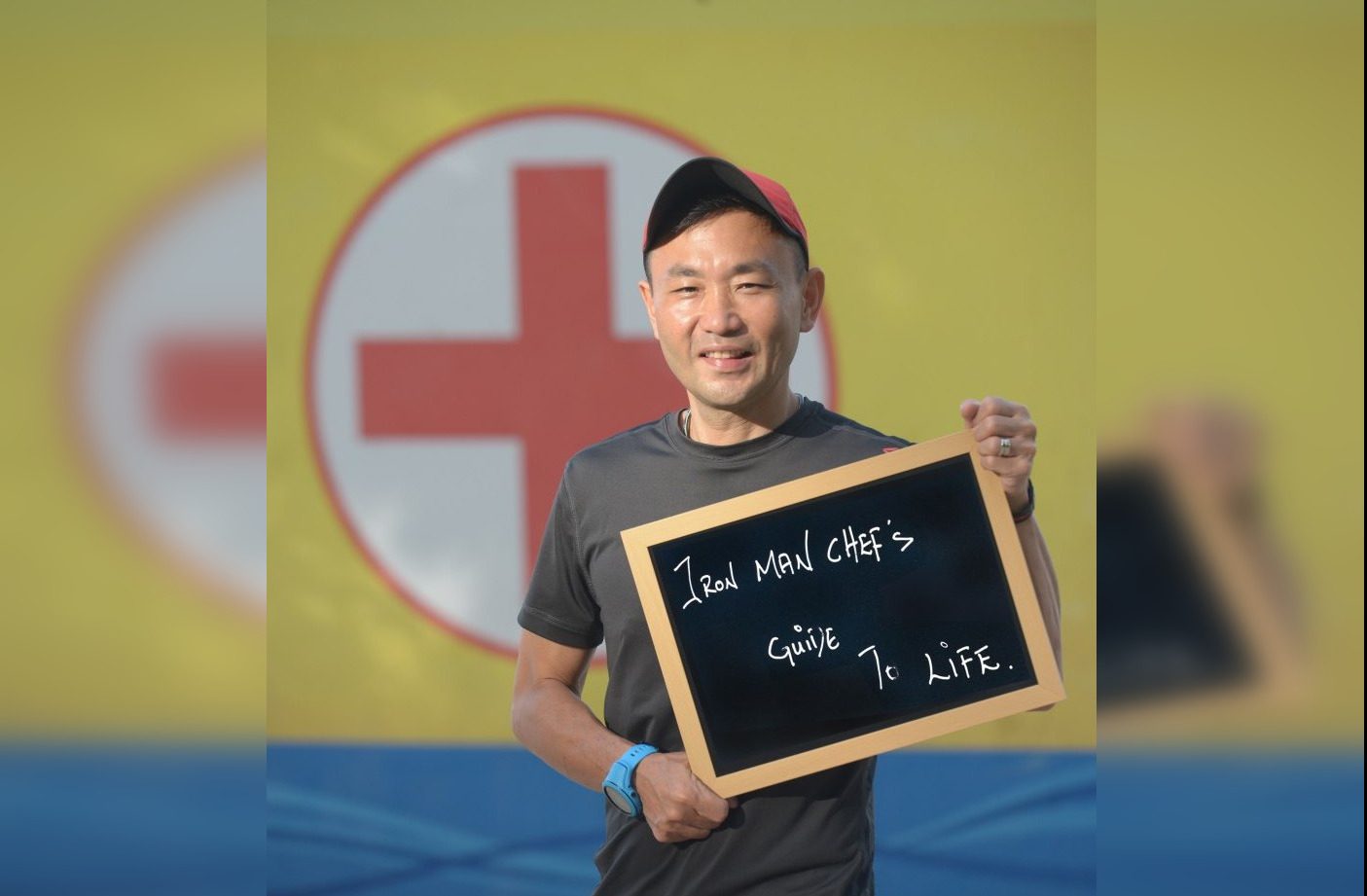 Chef Heman Tan's business has tanked not once but twice – from SARS and now Covid. But the Iron Man Chef (named for his participation in triathlons) now looks to a higher power. Photo courtesy of Heman Tan.
A teenage schoolgirl invites her friends to her house for a sleepover. Armed men break in and rape them.
A mother misses countless calls from her husband: Their two sons have just been killed in a traffic accident.
An infectious diseases doctor contracts a mysterious illness and is terrified by the breathlessness.
Two F&B entrepreneurs pour their hearts and savings into their businesses. Only to see them decimated. 
Very different individuals. Very different stories of how their lives were put through the wringer and ripped apart.
Yet through their greatest personal valleys, they had one thing in common: They moved closer to a higher power who gave them hope and more:
SARS brought an infectious diseases doctor to God: Dr Leong Hoe Nam
In 2003, Dr Leong Hoe Nam and his wife, were quarantined for two-and-a-half weeks in Frankfurt, Germany, on their way back from New York City.
A patient with a mysterious illness had just been identified as Singapore's first SARS patient.  
Dr Leong happened to be the infectious diseases doctor on-call the day she was admitted. 
He suffered badly. He recalled in an earlier interview with Salt&Light: "I had to cope with hacking bouts of cough. Every single attempt to adjust my posture would result in my coughing out blood."
"I felt suffocated – as if the air had no oxygen – even though I had on a full-face 100% oxygen mask.
"The sensation of breathlessness was terrifying."
He soon recovered, but the self-declared workaholic needed to find something to occupy his mind.
The only English text that he could get his hands on was the Bible. His wife suggested he start with the Gospel of Luke, since they were both physicians, as was Luke.
"If I hadn't been infected with SARS, I wouldn't have read the Bible."
Dr Leong was confronted with the person of Jesus: "Jesus was either an incredibly charismatic and influential leader with a bunch of fools for followers, or there is indeed a true God and Jesus is the Son of God."
After Singapore was declared SARS-free, life went back to normal. The couple moved to London the next year, where a cell member answered Dr Leong's questions about faith and directed him to resources on Christianity. 
Later in 2006, Dr Leong was having trouble in his research. And he could not find anyone to ask for advice and guidance. 
He decided to pray and ask for help, even bargaining with God. Nothing happened.
Then one day, he prayed a different prayer: "If the experiments work, then they work. If they don't work, I still submit to Your authority in my life.
Suddenly, he said: "I literally felt the warmth of God's presence … God said to me, 'You are my son, you are my beloved son.' And all my stress and anxiety about work, everything, just melted away."
Looking back on his journey, Dr Leong surmises: "If I hadn't been infected with SARS, I wouldn't have read the Bible. If I hadn't gotten away from work in Singapore, I wouldn't have known God.
"God is very, very, very dear to me. If I had to go through SARS a hundred times over just to know the God whom I love, I'd do it."
When business froze, she found spiritual and relational healing: Lee Li Ping
Lee Li Ping was just 23 and fresh out of university when she opened her first Sogurt store in 2010. At its peak, her frozen yoghurt business had eight stores and more than 100 part-timers. Her success flamed the fire of her pride, convincing her that she did not need God.
Then Lee made a few bad calls. She also faced a declining frozen yogurt trend and competition from other stores. In 2015, her business hit rock bottom. 
Her confidence from her image as a young, successful entrepreneur was "completely wrecked," she told Salt&Light in an earlier interview.
It strained her relationship with her parents – especially her father – who were funding her business.  
At her lowest point, God led her to Sonship, a small community church.
"I felt so safe that I could just drop off all the masks and all the pretences and say: I need help."
As Lee read the Word and journeyed with her new community,  she stopped trying to wrest control over her life. She surrendered everything to God. The spiritual healing came.
"I felt so safe that I could just drop off all the masks and all the pretences and say: I need help."
With the help of a Christian mentor, she also worked through the deep emotional issues and her tense relationship with her father.
The spiritual and relational healing paved the way for the restoration of her business.
They set out to rebrand Sogurt, not just by attempting to increase revenue by selling food and drinks.
It is "a journey of partnering with the Holy Spirit for ideas and inspiration". And so different from her previous journey where she had been doing it by herself.
Defeating a rape by choosing hope: Joy Tan-Chi Mendoza
She wanted to hang out in school with her friends. But her parents, concerned for her safety, suggested that she invite her two friends over to spend the night. 
A band of robbers armed with guns broke into the house.
"I was raped and sexually abused on my very own bed, in my bathroom, in my brother's room by a total of seven men," wrote Joy Tan-Chi Mendoza. Salt&Light earlier featured an extract her book, When A Good God Allows Rape.
Her friends were not spared from the same fate. 
She felt that her "innocence and purity had been stolen".  
"The loss I felt was like a cavity, a depression that no human person or human solution could fill or remedy." 
"While I trusted that God had a plan for what happened, I was still confronted by the reality of what had been taken from me."
As her mum wrestled with the reality of the rape, she recognised that the only way to survive was to turn to the Lord, not away from Him. 
"The only way to survive was to turn to the Lord, not away from Him."
Deep down, Joy trusted that God had a plan to use what happened to her for good, even if she couldn't understand why at the moment.
She clung to the hope in Jesus: Of eternal life, of peace and of a new beginning.
"Therefore, if anyone is in Christ, he is new creation. The old has passed away, behold, the new has come." (2 Corinthians 5:17)
"This verse reminded me that in Christ all things could be new again.
"I wanted new memories. I wanted to move on and move past what happened to me. Even if I was victimised, I didn't want to live like a victim."
Eventually, Joy and her two friends, shared their experience with a community of faith.
"We wanted our story and God's safekeeping of our lives to be a testimony to others." 
While comforting and encouraging each other, they believed that bringing their story to the light would weaken the capacity of the devil to use this tragedy against them. 
Finding peace when their sons were killed: Francis and Suliani Yap
Suliani Yap was working at McDonald's when she noticed that she had several missed calls from her husband and a text message: "The Traffic Police called and said our two boys have died in a traffic accident."
Their sons, Nigel and Donavan, had been hit by a cement mixer while cycling across the road.
Suliani dropped everything and cycled to the accident scene. 
"It was only when I reached the scene that I realised it really happened. My children had died and they had no more breath …  my mind went completely blank and numb. I couldn't accept it," she told Salt&Light in an earlier interview.  "My whole world fell into darkness." 
The accident made headlines across the local news. At the boys' wake, strangers came to pay their respects, including parents who had lost their own children, who came to share stories of loss and grief. Many others held them and prayed for them. They are among the "many angels" God sent to surround and comfort them. Their church pastor who journeyed with them.
At the funeral, Francis was prompted to share how the family came to know to the Lord to those present – many of different backgrounds and religions.
It was too painful for the couple to continue living at their Tampines flat. The memories of their sons were everywhere.
"I pray and thank God that I'm still alive and can see the sun rise … that I can still be with my wife."
They moved. But still could not escape the pain, and wrestled with God to find answers to the tragedy.
Then one of many nights when Francis cried until he fell asleep, he had a dream. "My elder son was dancing. My younger son came and told me, 'Ah Pa, don't cry anymore. We are very happy here. Don't worry.'" It was a turning point. Francis gets through each day by praying. "I pray and thank God that I'm still alive and can see the sun rise … that I can still be with my wife."
At Suliani's lowest point, a sister-in-Christ brought her to participate in praise dances. There, she was encouraged by a song, based on Isaiah 40:31, to fly higher and be strong like an eagle. Suliani went to bible college and is now a part-time pastor. She found a renewed strength after a trip to Israel last year.
Occasions such as Chinese New Year, birthdays and Christmas are still difficult – the couple spend them praying for God's comfort. 
"The pain will never get better," Francis said. "But it's about how you carry this pain to complete life's journey."
The couple cling to the hope of eternal life in Jesus, and believe that when their work on earth is done, they will return to heaven and see their children again. "This is only a temporary separation".  
Both are now able to say: "Looking back, God has constantly been by our side."
From F&B boom to bust twice – but now eyes are on God: Heman Tan
Chef Heman Tan, 51, used to own a restaurant/lounge business . It lasted for a year before being forced to close down – a casualty of the 2003 SARS (Severe Acute Respiratory Syndrome) outbreak.
His savings were wiped out, and he incurred a devastating six figure loss.
Faced with the prospect of being unable to buy milk for his newborn baby, Jesus' command to not worry about tomorrow (Matthew 6:34) seemed absurd – offensive, even.
"I started to blame God and asked why He was so cruel to me, why He would allow me to suffer like this," he admitted in an earlier interview with Salt&Light.
He withdrew from church and other social circles, afraid that others would find out about his failed business.
He started going back to church about a year later, where he "continued to build faith with God". He slowly rebuilt his life.
Then when COVID-19 struck late last year, he had a sense of dreaded deja vu. But this time, his response was different.
Tan said: "When trials come, people often ask me what my plan is. With these verses I have an answer – I don't know what to do, but my eyes are on God."
"Every day I just continue to do the work that I need to do, and believe that He will provide."
This verse encouraged him to press in deeper to the Lord, instead of running away from Him like before.
This crisis is just another training ground for the Lord to mould him in righteousness, he added. "Many times I've failed my test. But God is always very patient and loving with me. He wants to continue to grow and train me."
The Lord also sent employment his way when a company providing food for migrant workers in their dormitories hired him for consultation services.
This has allowed him to continue paying his bills and providing for his family. "God has always been very gracious to me. He is really wonderful," he said.
Though worries still come to Tan daily, he chooses to faithfully do his part while entrusting everything else to God.
"Every day I just continue to do the work that I need to do, continue to have joy, continue to look upon Him, walk faithfully with Him, and believe that He will provide," he said.
---
Read the full stories of these individuals below: 
"Nigel and Donavan, one day we'll meet again," say parents of boys in tragic Tampines accident
"If we don't exercise faith, we will never learn it": Ironman Chef Heman Tan on his riches to rags story
"He makes all things beautiful in His time": The journey from Sogurt to Kara
Raped by seven men at 15: Joy Tan-Chi Mendoza on forgiveness and hope in Christ
If you have enjoyed reading Salt&Light...
We are an independent, non-profit organisation that relies on the generosity of our readers, such as yourself, to continue serving the kingdom. Every dollar donated goes directly back into our editorial coverage.
Would you consider partnering with us in our kingdom work by supporting us financially, either as a one-off donation, or a recurring pledge?
Support Salt&Light