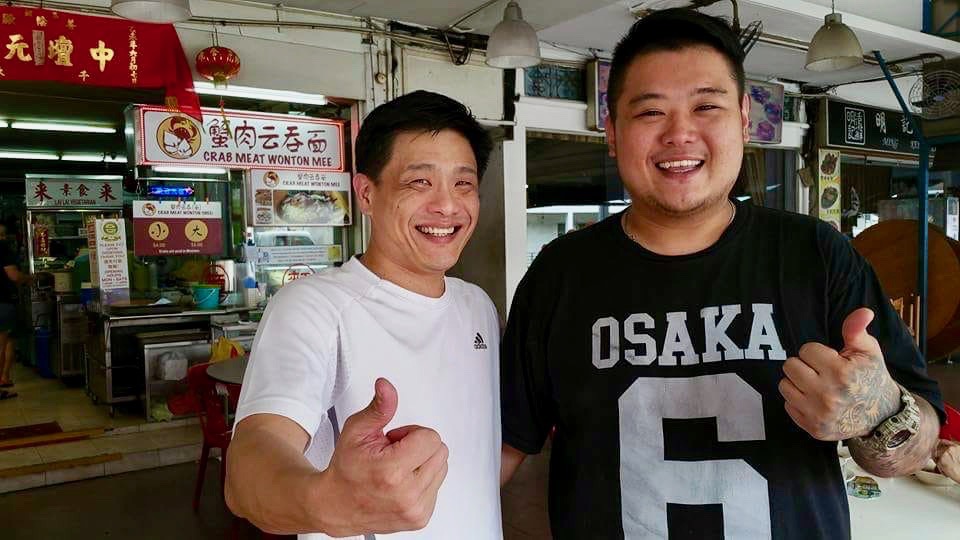 When Dr Leslie Tay (left) received an email from Raymond Tan to review his crab wanton noodles, he went to the stall straightaway, setting in motion a chain of events that would transform Raymond's life. Photo courtesy of Raymond Tan.
Augustine Hippo, possibly the greatest writer of the early Christian church, came to know Jesus because of someone who showed him kindness.
Yet we show love to people not just so that they will turn to the Gospel but because it demonstrates the character of God. (1 John 4:7-8)
"When we genuinely care for people, we're demonstrating something of the God who dwells in us."
"When we genuinely care for people, we are demonstrating something of the God who dwells in us," wrote Reverend Dr. Tan Soo-Inn, founding director of Graceworks.
"When people experience kindness, it awakens a memory of a Love they were created to receive. And so intellectual and non-intellectual alike respond to experiences of kindness.
"We pour so much energy in perfecting our evangelistic programmes… when we should be encouraging our folks to make simple acts of kindness a lifestyle."
As we celebrate World Kindness Day, here are some inspiring stories of those whose lives have been indelibly transformed because of an unexpected kindness.
A father figure
Deon Tan, wife of Chew Chor Meng and who was key to his coming to faith, was from such a poor family that a loan shark who came knocking on their door took pity on them and gave them money instead. Her sister took her to Hinghwa Methodist Church when she was 10.
"Many of the youth in the church came from single-parent families. The senior pastor, Reverend Ding Bing Hoe ( 陈平和牧师), was like a father figure to us, making sure we had food and applying for bursaries for us so that we could stay in school."
"I grew up in the church," she said. "There was free food, games, friends, I loved to sing and I joined the choir. After school every day, the children would hang out in the church, playing hide-and-seek. We had a youth mentor who kept an eye on us."
"From today you are my brother"
A workplace accident left migrant worker Rahman Mohammad Ataur with third-degree burns on 73% of his body. It was a long and painful recovery – three months in coma and three months of constant surgery to reconstruct most of his face.
People would be taken aback by his looks and he was left alone most of the time. But not a young volunteer at a non-profit organization that supports migrant workers. Kevin Ong went up to Rahman and introduced himself. After chatting for a while, Ong told him: "From today, you are my brother. If you need any help, just let me know."
"It's not like they just bought me dinner or gave me money. Anybody can do that."
Wary at first, Rahman ended up tagging along for dinners and shopping trips with his new buddy.
Ong said that he sensed God wanting him to show His love through the friendship. His church not only helped supplement Rahman's livelihood and medical bills, but they also took him to sightsee and opened their homes to him during Chinese New Year.
"It's not like they just bought me dinner or gave me some money. Anybody can do that," said Rahman, who came to Singapore from Bangladesh recently to attend Ong's wedding. "But they took care of my whole journey and treated me like their son.
A brand-new wedding suit
Senior Pastor Glen Lim of Elim Church was 22 when he met businessman Ronald Seet, who was a few years older, at a youth camp and became firm friends. "When I told Ronald I was going to Bible school, he put some money into my hands and said, 'I hope this will help.' He was one of those who helped financed my studies," recalled Ps Glen.
"When he heard that I was going to get married, he sat me down and asked, 'How much do you have?' I said $3,000. 'How are you going to get married with $3,000?' he asked.
"I am not even part of his family but he showed me what generosity is all about."
"He brought me straight to the tailor, an expensive one. I protested that I don't have money. Ronald said, 'I'm not asking you pay, just let him measure you.'"
Seet sent Lim down the wedding aisle in a brand-new tailored suit and packed Lim and his bride off for a honeymoon. All expenses paid, given out of love. That was 34 years ago.
"We are not related, I am not even part of his family. But he showed me love, care and what generosity is all about," said Ps Glen. "Ronald helped me see that's how we touch other people's lives. I have never forgotten that until today. That's how I live my life now."
"Like a queen"
When domestic helper Cyril Tito fell ill with breast cancer, instead of shooing her back to the Philippines, employer Siong-Lye Puat Fong asked her to stay put in Singapore for better care.
A day of so after Tito returned home following her mastectomy, a tube still attached to her body, Mum Puat – as she affectionately calls Siong-Lye – directed to sit in front of the sink and started washing her hair.
"Who am I? I'm just a helper, my boss is doing this for me?"
"Why are you doing this? You don't need to do this lah," Tito remembered insisting. "Who am I? I'm just a helper, my boss is doing this for me?"
In Tito's words, they treated her "like a queen" before her sister came over to look after her. She would wake up to a text in the morning telling her that breakfast and lunch were ready, while Siong-Lye's children would always check in on her, cups of water in hand.
It was the first time that Tito genuinely understood what divine love meant, she said, even though she often heard the phrases "God's love" and "God loves you" at church. "This time, He really put His love in Mum Puat and used her to let me experience it."
Cooking papa
Ex-convict Raymond Tan had gambled away all his money but he needed to support two young children. So he set up Crab Meat Wonton Mee stall with no experience in the food business at all. In fact, he just tweaked a recipe he Googled.
Despite working hard, business was not good. He emailed well-known food bloggers but none replied except – Dr Leslie Tay of ieatishootipost fame. Unknown to Tan, when Dr Tay, a Christian, received his email, he felt a strong prompting to help this particular hawker.
The next day, Dr Tay and his wife appeared unannounced at Tan's stall and gave him a few pointers. Seeing the cross around Tan's neck, Dr Tay invited him to church. "If I don't go to church, he might not help me," Tan thought to himself. So he went and ended up responding to the altar call. God also helped him to stop smoking, a habit he picked up since he was 12.
And the noodles? It was listed as one of the 15 best places for wanton mee in Singapore, before Tan traded it in for a vehicle recovery business.
If you have enjoyed reading Salt&Light...
We are an independent, non-profit organisation that relies on the generosity of our readers, such as yourself, to continue serving the kingdom. Every dollar donated goes directly back into our editorial coverage.
Would you consider partnering with us in our kingdom work by supporting us financially, either as a one-off donation, or a recurring pledge?
Support Salt&Light