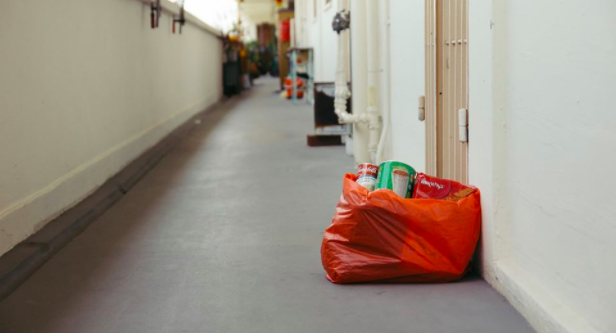 "We might not be able to help everybody but we can help. One Home At A Time – that's the heart of it," says Ps Norman Ng whose church is providing groceries to anyone in need. Photo courtesy of 3:16 Church."
When rumours of a lockdown surfaced early Friday, April 3, reports of panic buying reached Ps Norman Ng, from 3:16 Church. Someone had told him about having to visit three supermarkets to find what the family needed.
"We might not be able to help everybody but we can help."
Immediately, said Ps Norman, he felt a "deep pain" for the vulnerable whom, he knew, would struggle to get even the bare essentials.
He described it as a "sense of groaning", like in Romans 8 where "creation has been groaning" (Romans 8:22).
No grand plan was borne out of that, just a desire to help where we could, said Ps Norman. Referencing the text in Matthew about Jesus being amongst the hungry and thirsty, he said: "That's the privilege of us being able to serve Jesus Himself." (Matthew 25:34-46)
"We are a small church of about 160-170 people; we might not be able to help everybody but we can help.
With that, 3.16 Church began a heart project – One Home at a Time.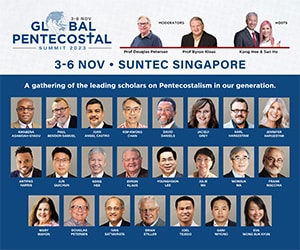 Thrown off balance
"One Home At A Time" was started after Circuit Breaker measures were announced on April 3 to deliver necessities to anyone facing physical or financial difficulties.
They have helped over 35 families who face food insecurity due to the sudden loss of income during this crisis, unsure whether they would even have enough food to last the week.
A wheelchair tissue-paper seller, an 18-year-old part-timer at a gaming arcade with a wife and baby, and the sole breadwinner of five who was a school bus driver before he lost his job are just three people who have received food.
The team arranged delivery of a basic list of necessities, such as canned food, eggs, rice, oil and instant noodles, explained 3:16's Debbie Ng and Alisa Choor, who are anchoring the effort.
"Being able to 'stock up' is a privilege," Ng said. "Not everyone has the finances to buy two weeks' worth of groceries."
Ng told Salt&Light that some of the people who contacted them were actually social workers on the ground.
"Not that the government is not doing anything. But inevitably, people fall through the gaps."
Thirty-six-year-old Narasimman, who works at Trybe, a social service organisation in Singapore, was one of the first responders.
Within one and a half days, One Home At A Time had committed to helping out 11 families referred to them by Narash, as Narasimman is called.
Pre-COVID, most of families were just barely getting by. But while they are in vastly different settings, the common factor is the sudden loss of income that threw their precarious situations off-balance.
One of Narash's ex-clients, Max* is an 18-year-old who lost his job as a part-time arcade attendant shortly after the coronavirus outbreak started.
Max, who supports his 18-year-old wife and a baby, reached out to Narash for help and was due to get employment support from Trybe. However, he was temporarily homeless after a falling out with his sister, following which his baby fell sick and had to be admitted to hospital.
In another case, it was a family of five whose father had lost his job as a school bus driver. The mother has chronic health issues and the couple, who has two sons of school-going age, also supports an elderly family member. The family, which was already on government support, had run out of cash and they had not yet received their monthly support from social services.
Responding to great need
Choor, who was doing most of the deliveries before stricter Circuit Breaker measures kicked in, shared about an "uncle" in a wheelchair who sold tissue-paper. His income had already dropped before the Circuit Breaker measures.
"If anything, this is the time for the Church to arise. There is no better time."
"He sounded very apologetic on the phone," she said. When she dropped the groceries off about three hours later, she found the uncle waiting for her at the void deck. She prayed for him before leaving.
"There are organisations (to help), but they might be unable to respond so fast," said Choor.
With family service centres (FSCs) and social services operating with safe-distancing measures and many on split team schedules, the already-heavy workloads are straining existing manpower.
"Many people have been impacted by the loss of income and government payouts take time to come in," Ng added.
"If anything, this is the time for the Church to arise. There is no better time."
The need is so great that Ng believes this is not a redundant initiative that duplicates government efforts.
"Not that the government is not doing anything. But inevitably, people fall into the gaps," she said.
"Initiatives like ours will take some of the load off (social service organisations)."
"One Home At A Time – that's the heart of it," said Ps Norman.
"The Gospel was given for times like these": Social enterprise in Philippines feeding thousands going hungry in lockdown
24-hour helpline and website launched to reassure migrant workers amidst anxiety
If you have enjoyed reading Salt&Light...
We are an independent, non-profit organisation that relies on the generosity of our readers, such as yourself, to continue serving the kingdom. Every dollar donated goes directly back into our editorial coverage.
Would you consider partnering with us in our kingdom work by supporting us financially, either as a one-off donation, or a recurring pledge?
Support Salt&Light