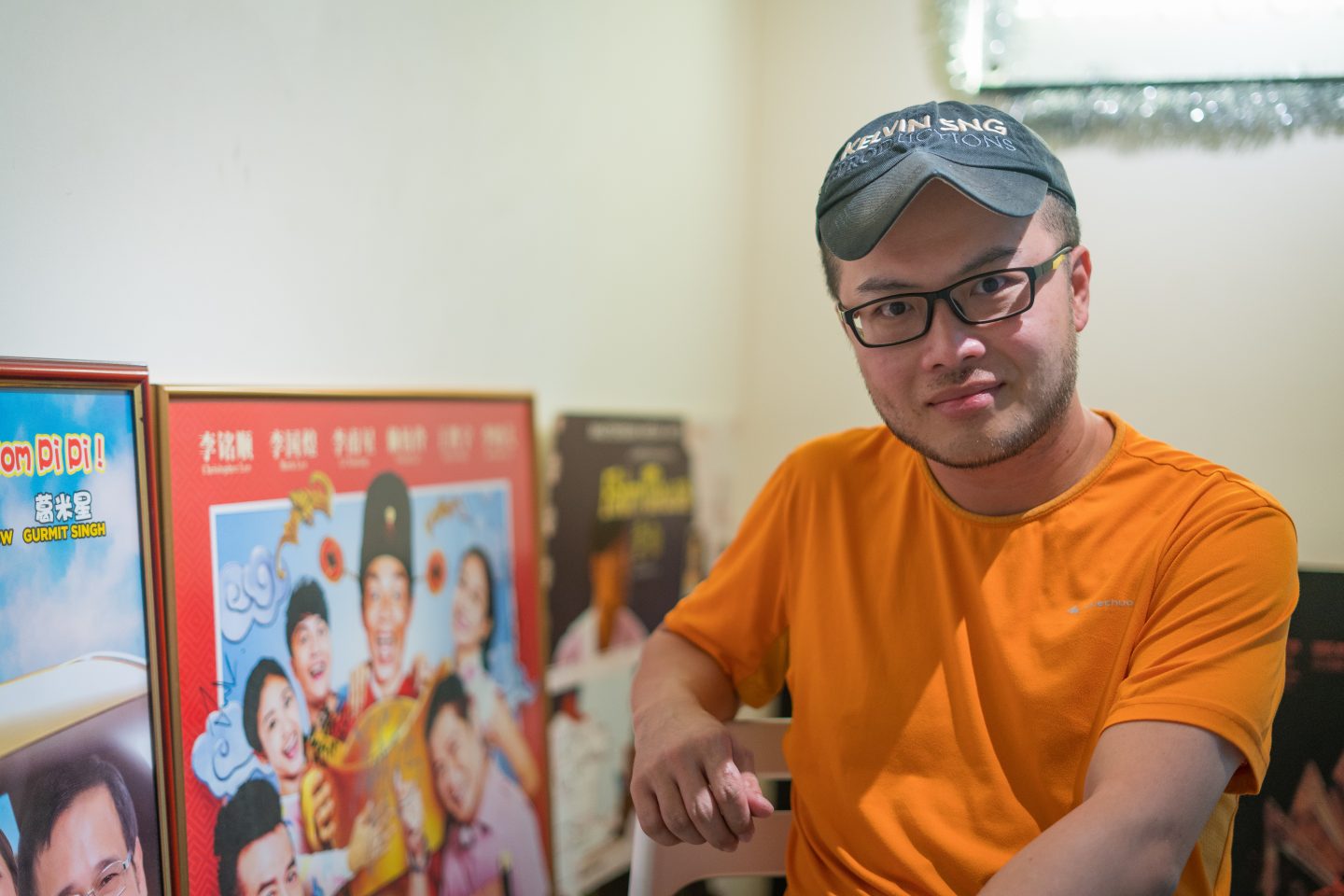 Local film director Kelvin Sng left his career as a primary school teacher to launch into the movie industry.
He did not know it then, but Kelvin Sng was already professing faith before his conversion.
In 2004, the local filmmaker known for crowd-pleasers Taxi! Taxi! and The Fortune Handbook left his previous career as a Chinese primary school teacher to pursue his passion.
He was 30 years old, a head of department and on his way up the principal route, when he forsook the safety net to enrol in film school at Ngee Ann Polytechnic.
It was the moment to take the plunge. Any later and he would get too comfortable, his dream fading out of reality.
The self-proclaimed risk-taker did not like it either that he was telling bright-eyed students to go after their ambition while he was leaving his behind. 
Fourteen years later, Sng says he has never looked back, instead honouring the desires God placed in him (Romans 12:6-8) and using the screen to shape audiences' view on life (2 Timothy 2:20-21).
Stories have power 
Sng's interest in cinema started when he was 16, after he picked up a copy of Wong Kar-wai's Days Of Being Wild. He had seen pictures of the movie in a newspaper, and was intrigued. 
Sng uses the screen to shape audiences' view on life.
The impressionable young student dragged his classmates over to his house to watch the arthouse flick about a womaniser subconsciously undone by his birth mother's abandonment.
At the end of the screening, Sng was the only one still awake.
He was fascinated by the way the auteur developed the narrative – a series of moody vignettes rather than a straightforward love story. The movie's message of familial loss and loneliness riveted him.
The medium, Sng says, is usually regarded as a bad influence. Parents tell their children: "Don't watch so much television." It is either considered a waste of time, or one that inculcates the wrong values in the viewer.
But Sng's experience unveiled to him how films can move people to reflect on, and improve, their lives.
A more recent example is Jack Neo's Money No Enough 2, which Sng says spoke to him about filial piety.
There was a scene when Henry Thia's character sends his mother to the old folks' home. The character and his two onscreen brothers, played by Neo and Mark Lee, had lied to their mum about where they were taking her.
Thia's character was so guilt-ridden he ran away with his eyes closed immediately after he left his mother at the entrance. The thought struck Sng: Had he been taking his own parents for granted?
"There's no point in just telling people what they should do. When you have a good story that speaks to the heart of the masses, it has the power to change the world."
God on the set
The 44-year-old Catholic has always acknowledged the power of film to transform peoples' sensibilities. But it was only after his baptism eight years ago that he has been increasingly intentional about weaving in positive – and Christian-influenced – messages into his tales.
God has better plans for us than we can ever imagine (Romans 8:28).
Released in 2013, Taxi! Taxi! is a film about a retrenched professor who is forced to become a taxi driver to make ends meet. Soon, the academic finds himself feeling more fulfilled behind the wheel than in the lab.
Sng says the movie is essentially about the fact that God has better plans for us than we can ever imagine (Romans 8:28).
The Lord also left an explicit mark on set, Sng adds. There was a rooftop scene when Gurmit Singh's character was giving a suicidal character a pep talk.
In the editing room, Sng saw that because of the way the shot was composed, there was a blue cross in the background when Singh was speaking.
"It was accidental, but I believe it's a sign that God was always watching over us."
Sng was initially reluctant to pick up The Fortune Handbook, a 2017 Chinese New Year comedy he directed. But then he realised he could use it to explore the idea of what true blessings look like (Matthew 5:1-12).
The main character, played by Christopher Lee, is a greedy and conniving ne'er-do-well who attempts to steal his brother-in-law's famous cake recipe and sell it off.
He realised he could use The Fortune Handbook to explore the idea of what true blessings look like (Matthew 5:1-12).
However, as the film progresses, Lee's character learns not to covet but to give, and finds satisfaction in other intangible benefits.
"Not all my films have to talk about Jesus, otherwise there is no connection with the wider audience," Sng clarifies.
Living out his faith in an industry known for its liberal attitudes has been surprisingly smooth, and he says he has been vocal about his stance on controversial issues on social media before. Some of his posts eventually drew the ire of a close friend.
Sng has since learnt to temper his rhetoric. "It made me see that this is not the way to reach out to people".
The filmmaker attributes his boldness to his age, a personality that is indifferent to what others think of him, and his six children.
Sng says he has to "think about them before I make any decision", particularly their spiritual development. (Proverbs 22:6, Deuteronomy 11:19)
Two loves
As the head of his own outfit, Kelvin Sng Productions, Sng says he strives to emulate what led him to church in the first place – the kindness of Christians (1 Corinthians 13:13).
He thinks back on a former boss who constantly provided him with work when he first started out in 2008 and was at his most apprehensive.
The team was kind enough to give him time to set up his own production house, designing educational content using film, while working for the firm.
And every time a project came, his supervisor would credit God for the offer.
Sng says he tries to practise grace among his employees at his own company. He remembers a disinterested staff member whom he kept around despite her apathy. She later acknowledged her behaviour and resigned, and is now much happier and productive freelancing for him.
He never fired her because "we are so lousy, but Christ still loves us. So we should do the same towards others"(1 John 4:19), he says. 
What irritates us could also be a reflection of the flaws deep inside us, Sng adds. Relational conflicts can be for the purpose of "self-sanctification" (Acts 14:22).
Which is why it makes sense that the optimist's life verse is 1 Corinthians 13:13: "And now these three remain: faith, hope and love. But the greatest of these is love."
Sng has faith that everything is done and given by God for a greater purpose. And on our part, we respond out of love for others, and for Christ. 
If you have enjoyed reading Salt&Light...
We are an independent, non-profit organisation that relies on the generosity of our readers, such as yourself, to continue serving the kingdom. Every dollar donated goes directly back into our editorial coverage.
Would you consider partnering with us in our kingdom work by supporting us financially, either as a one-off donation, or a recurring pledge?
Support Salt&Light