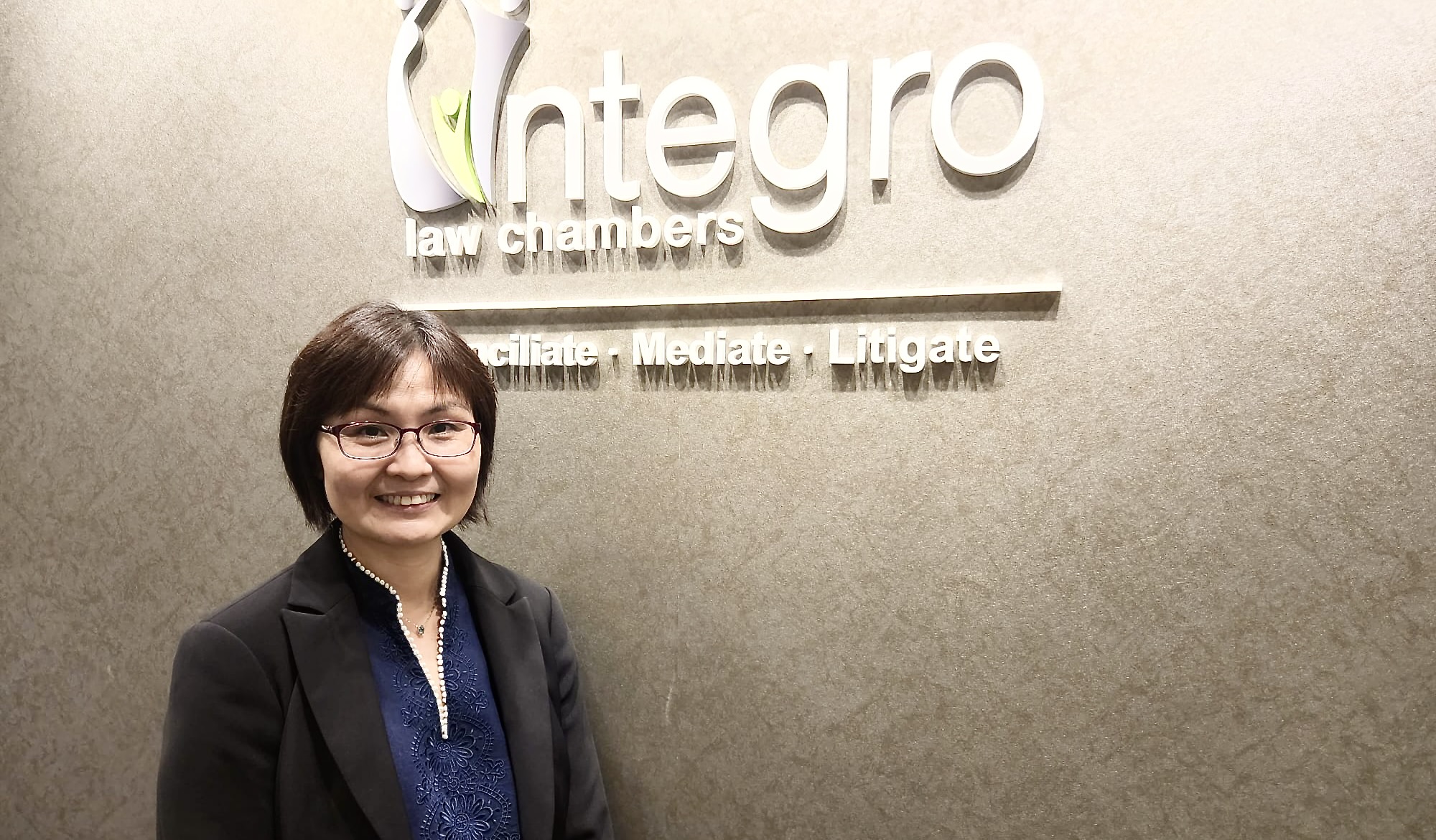 Angelina Hing's law firm, Integro, seeks first to "conciliate" and "mediate" between divorcing couples, before resorting to litigation. All photos courtesy of Angelina Hing.
She was an established litigator who handled high-value corporate disputes.  
Promotions and pay increments came fast and furious. At a time when young lawyer Angelina Hing was doing well in her career, her civil servant husband was offered a three-year posting to Washington DC in 2002.  
"After much discussion and prayer, we both felt it would be good for the family and it was where God was leading us," said Angelina Hing, who then quit her job. She thought she was prepared to take a break to be a stay-home mother to her two pre-schoolers over there.  
Shortly after the family moved over to the United States, Angelina had to fill in a form to convert her driving licence to a local one. She found herself struggling with what to fill in under the "Occupation" section.  
"It was tempting to write down 'Chief Domestic Officer'. That was when I had the first inkling as to what my sense of identity was hinged on," said Angelina, now 51. 
"I assumed that being a good lawyer meant that, surely, I am able to be a good homemaker. How wrong I was."
She realised she was no longer a lawyer. At official functions, she was known as her husband's wife. At her children's school, she was known as her children's mother.  
Worse still, she struggled with keeping up with the responsibilities of a stay-home mum.  
"I assumed that being a good lawyer meant that, surely, I am able to be a good homemaker," said Angelina with a laugh.  
"How wrong I was. Doing the cooking, cleaning the toilets, without being able to take sick leave made it a round-the-clock operation. Now I have such deep respect for homemakers," she added.  
The plan from the outset was that she would return to the law practice when the family returned to Singapore after three years.  But her husband was asked to consider extending his term for another three years.  
The couple prayed, talked about it and, finally, agreed to the extension.  
Who am I? 
Angelina came up with another plan this time. She would study for the New York Bar Exams, get herself qualified to the New York Bar and then she would find a part-time job. 
The first two items on her checklist went without a hitch. She also managed to find an ideal job that was project-based, giving her the flexibility to work half days while her children were in school.  
"If it pleases You that I don't return to the workforce, and just stay at home and rot, so be it."
"I was very excited about the prospect of working in the US as it would give me the experience and add value to my resume," said Angelina.  
Bureaucratic red tape, however, threw a spanner in the works. Her interviewers told her that they would be happy to offer her a job if she had a work visa, but the embassy would only issue a work visa if they had evidence of a formal job offer. It was a frustrating chicken-and-egg situation. 
After getting nowhere with the issue, she threw a huge tantrum, confessed Angelina.  
 
"If it pleases You that I don't return to the workforce, and just stay at home and rot, so be it," she told God. 
She borrowed a Cantonese serial drama from a friend and immersed herself in the drama for two weeks. She did the bare minimum at home to keep the family going in the cold winter, but she was glued to the television most of the time. 
It was during this time that the her family planned a ski trip with a few of their close friends. Unable to coordinate leave dates with everyone in the group, her husband went ahead to book their own accommodation first.  
 
A few hours later, her friend texted her to inform her that she had managed to find a multi-bedroom chalet for everyone to share and that most people had gotten their leave dates approved.  
Angelina told her to go ahead with the booking and promptly called her husband to cancel the booking of their hotel room. He informed her that there was a non-refundable deposit of US$100 for any cancellation. She urged him to try anyway, thinking it would be unlikely that the deposit would be forfeited since the cancellation was done on the same day. 
She then whispered a prayer to God, asking Him to preserve their US$100 as it would be a waste to have the money forfeited.
"In times of need, even in the midst of a tantrum, the insolent child in me would have no qualms asking for help from Dad," Angelina admitted.  
At that very moment, Angelina felt the gentle chiding of the Spirit, "Don't you take credit away from Me. This was My doing."
That evening, her husband returned from work and told her: "Dear, you wouldn't believe this. I called to cancel our reservation and asked if our deposit would be forfeited. They told me it would. However, when the staff asked for my reservation number, they couldn't find it …" 
"So, our deposit wasn't forfeited?" she interjected. Clearly, it was her only concern. 
"It wasn't," he replied. 
"I told you it was unlikely they would forfeit the deposit especially when the cancellation is done on the same day," she replied triumphantly. 
"No, in fact they told me that it is a matter of policy that US$100 is forfeited for all cancellations. They surmised that I must have made the booking just when their computer server crashed, which was why they were unable to locate my booking number. Our deposit wasn't forfeited because they didn't receive my booking!" her husband said.  
At that very moment, Angelina felt the gentle chiding of the Spirit, "Don't you take credit away from Me. This was My doing. I answered your prayer to preserve your US$100." 
"My child, don't you think I would be concerned about your career and how you would spend the rest of your life?" 
She froze for a minute, then stopped cooking and left the kitchen. 
 
She found a quiet corner in a room and repented, apologising for her past weeks of insolence and asking for His forgiveness. As she started worshipping Him at the piano, she felt the Lord saying: "My child, if I am concerned about your US$100, don't you think I would be concerned about your career and how you would spend the rest of your life?" 
Angelina crossed a spiritual milestone that night.  
"From then on, I no longer doubted His plans for me. I also surrendered what I held dear to me – my career – which I realised was what gave me a sense of identity and value," she said.  
During her six years spent in the United States, Angelina did not work but enrolled herself in a Community Bible Study group in Maryland. There, she served in Children's ministry – with duties that included changing diapers and taking care of young kids – as well as led a group of mothers who were keen to grow in the Word during the hours when their children were in school.  
Angelina's time in the US was a spiritual oasis for her; her mind was renewed and she acquired a better grasp of what it meant to identify as a child of God.  
From homemaker to district judge 
One evening while getting ready to crawl into bed, Angelina began asking God what she should do once the family returned to Singapore in 2008.  
She heard a voice telling her that she would be a district judge.  
Not sure if she heard God rightly, she told her husband about the impression she received and left it at that.  
In Singapore, she caught up with a good friend and found out that she had left her private practice as a family lawyer to become a district judge.  
So, Angelina began telling her about the divine impression she received and her friend excitedly asked her for her resume so that she could pass it on should there be any vacancies.  
"I have learnt from personal experience, and not head knowledge, that God fulfils His promises."
Shortly afterwards, she was called up to have tea and an interview with a principal district judge.  
One month passed, and then two, and she still did not hear back about any job offer.  
"I struggled and wondered whether it was my imagination, or it was God, who had spoken to me. Everything seemed to fall in place, and then there was just silence," said Angelina.  
While driving to pick up her daughter one day, she remarked to her sister who was sitting next to her: "It doesn't matter whether I heard God rightly or wrongly. He is good and I will surrender this to Him."  
Lo and behold, on the same car ride back after picking her daughter up, her phone rang. It turned out that the principal district judge was calling her to inform her that she had gotten the job.  
"I have learnt from personal experience, and not head knowledge, that God fulfils His promises," said Angelina.  
Weight of responsibility
She was glad to be a district judge, presiding over domestic violence, divorce, maintenance, asset division and adoption cases. In the past, she would not be caught dead handling family law cases. They were just "not sexy" enough.  
Such cases were simply too troublesome, involving messy emotions of people fighting over maintenance issues and relatively small sums of money, compared to her former days of representing companies with contracts of millions of dollars at stake.  
"But my experiences in life now enabled me to be more empathetic to the issues that families face, whether it is the struggles of a working mum juggling her career with home responsibilities, or the sacrifices that a homemaker makes, or of time-strapped couples who both work," said Angelina.  
She found the work fulfilling being able to hear cases and, in the case of divorcing couples, help them find closure and forge the best way forward for the children and family.  
Yet she also felt the heavy weight of responsibility on her shoulders.  
Family court judges are given some of the widest discretionary powers in the orders they can make, simply because family dynamics and circumstances are fluid and there are many considerations to take into account. Often, there is no cookie-cutter solution.  
"I would not only take no credit if it was a good decision, but also no blame if it was a bad decision."
"With the range of powers given, what do I do with it? What sort of orders should I make to help the parents stop fighting and move on?" Angelina mused.  
There were times when a party appealed to the higher court regarding the order she gave and the higher court disagreed with her decision. 
"I would take it very badly. I realised then that it was pride, because it became more about me. After doing my best, I learnt to put every decision before God – I would not only take no credit if it was a good decision, but also no blame if it was a bad decision," she said.   
Often, the orders she gave would have to be detailed, down to which primary school the child should attend if there was a dispute, or drawing out the nitty gritty details of living arrangements, such as which parent would get the child on public holidays or which parent to have the child in the first half of the school holidays, and which to get the second half.  
"There were tough cases like one where a father alleged that the mother had a personality disorder and applying for an order so that she would not be able to see the kids at all. Who am I to decide whether a child can see his mother or father, or not at all?" she said.
Such cases often resulted in her having many sleepless nights, and she would be on her knees praying for wisdom.  
Painful toll of divorce
She saw first-hand the impact of acrimonious litigation on the parties and on their children.  
She recalled a case where the parents were fighting for custody over a bubbly three-year-old child. Each time the child spent time with one parent, he or she would grill the child on what the other parent did and examine the child's body for bruises. Even when the child turned seven, the parents were still filing court applications against each other. By that time, the child needed therapy.
She saw first-hand the impact of acrimonious litigation on the parties and on their children.   
In another case of contested custody, the child lied to his mother that the father was seeing someone and all three of them were sharing a bed. Upon hearing the lie, the father thought his ex-spouse was being vindictive and tension escalated.  
"Often, the child is so disturbed by the fighting between parents that he may tell Dad what he thinks Dad wants to hear and tell Mum what he thinks she wants to hear because they may always be asking the child how bad the other parent has been. It was extremely painful to witness all these," said Angelina.  
In 2011, the Women's Charter was amended to make it compulsory for parents who are divorcing to attend mediation or counselling. Angelina was part of the team which set up the Child Focused Resolution Centre that provides counselling or mediation early to help the parties focus on the best interests and welfare of their children when making decisions on parenting and care arrangements.  
As Angelina began taking up more and more mediation cases, she saw how the process of mediation was more productive, less destructive and so much more effective in resolving disputes.    
"So long as the parties have an open mind, and truly place their children's interest in the forefront, the chances of successfully reaching a settlement are high. Since the parties themselves consent to the terms, there is a greater sense of ownership as opposed to a judgement being foisted on them. This meant that chances of the parents abiding by the terms are a lot higher," she said.  
"As a mediator, I get to speak to the parties, hear their concerns and bridge the gap between the parties."
She found great satisfaction mediating cases.  
"As a judge, I only hear what the lawyers want me to hear, and I am bound by the evidence before me. You see the affidavits and they are all just words in front of you.
"But as a mediator, I get to speak to the parties, hear their concerns and bridge the gap between the parties. They are empowered to make decisions regarding the children and financial issues by themselves, instead of having a judge, who is a stranger, wade into their family affairs," she said.  
In the seven years that she was serving on the bench, Angelina heard and handled thousands of divorce-related cases and applications. Towards the latter part of those years, she began to move towards doing more mediation instead, and would handle at least four mediation cases a day.  
Divine vision
In 2012, she began to feel a tug in her heart about setting up her own practice, so as to change the way family law is practised.  
 
She was on a holiday in Hua Hin, Thailand, and swimming laps in the resort pool when God gave her a vision of setting up a firm that provides an environment conducive to mediation.
"I had a lot of excuses. I was too old to start all over again, I told God."
"What was impressed on me was that family law cannot and should not be practised in the same manner as the other areas of law – cold, strategic, lots of legal manoeuvring. Instead, the client should be advised not only on the law, but on how to deal with tension at home, feelings of distrust, how to navigate the complexities of the dynamics at home, how to de-escalate tension and protect the child as much as possible," said Angelina.  
 
"In short, a family lawyer should be aware and equipped with some knowledge of counselling and psychology. The advice given should be holistic and not legalistic. The writing of legal letters also need not be nasty," she added.  
After ruminating on the vision she was given, she parked it aside and plunged back into the busyness of life. 
"I had a lot of excuses. I was too old to start all over again, I told God. I enjoyed and found the work I was doing at the courts meaningful. I thought I would do that till retirement," she said.  
She knew she was not the entrepreneurial type who would enjoy running a business. She hated networking or marketing for business. Rather than worrying about paying for overheads, she preferred being a happy wage earner.   
"As we talked about how to move families forward towards healing, I remembered the vision that God had placed in my heart."
Yet God was patient with her. The gentle nudging she felt from Him became stronger and stronger over time.  
In 2014, the Family Courts was restructured to exist as a separate judicial body known as the Family Justice Courts. As part of the pioneering team for Family Justice Courts, Angelina contributed to many discussions in shaping the vision and mission of the Family Justice Courts.  
"As we talked about how to move families forward towards healing, I remembered the vision that God had placed in my heart two years ago. The gnawing in me about obeying what God had shown me grew stronger until finally, it reached a point when I felt that if I did not take the leap of faith, I would regret it on my dying bed." said Angelina.  
In late 2016, she incorporated the law chambers, Integro, which in Latin means to heal, start afresh and make whole. Its aim is to integrate its expertise in law, mediation and counselling to offer a multi-disciplinary service to its clients.  
Invisible bridge of faith
It was not an easy step to take. Apart from forking out the initial investment to rent and renovate office premises, her moving from a judge back to becoming a lawyer meant that she had no ready clients on hand.
She was also not allowed to represent clients whose cases she had presided over in the courts in the past.  
"I felt like Harrison Ford in the movie, Raiders of the Lost Arc. He was a treasure hunter following clues to the lost treasure when he found himself on the edge of a cliff, with nothingness in between, and he needed to get to the cliff opposite," said Angelina, who has two children, aged 24 and 22. 
"We remember that Jesus is the ultimate Mediator, mediating between God and mankind."
"He gingerly took a first step, to the gasps of others. It was then that he and those around him realised there was an invisible bridge connecting the two cliffs and he could take another step. Similarly, as I stepped out in faith, the second step became less scary than the first," she added.  
One major difference between how she handles divorce cases in her firm compared to others is the practice of sending out a friendly letter to invite the other party in to discuss divorce terms on a without-prejudice basis, so as to avoid having lawyers from both parties fighting it out in court. This means that communication in such meetings cannot be used as evidence in court; but it  allows parties to negotiate privately in good faith to resolve disputes.  
"The Bible is clear in such principles. It says peacemakers are blessed for they shall be called the children of God. We also remember that Jesus is the ultimate Mediator, mediating between God and mankind," said Angelina.  
Her office is also designed to encourage mediation and counselling before couples decide to go through with divorce. Angelina is passionate about offering marital mediation for couple who are contemplating divorce but have not quite decided about it.  
She assists both parties to crystallise the issues which have plagued the marriage, and allows them a safe platform to articulate their thoughts and decision as to whether each of them is still committed to working on the marriage, or not. If they are, and counselling support is needed, she works with a counsellor to ensure a smooth transition. In an unusual move for a law firm, Integro provides a counselling room in the office for such purposes.  
If the couple wishes to part ways, marital mediation evolves to divorce mediation, where she would facilitate the discussion on what the arrangements post-divorce would look like, so as to facilitate an uncontested divorce. As a last resort, she also offers litigation services.  
"There may be the impression among business owners that if I settle all the cases, how do I make enough to cover all my overheads? But such a business plan does make sense," said Angelina.  
"Would you rather have acrimonious divorces that chalk up $50,000 bills but would land individuals in bad debt and likely in bad relations with you? Or resolve things with a $5,000 bill that a client can pay and would be happy to tell five more people about your services? I have never had to pay for advertising," she added.  
Therapeutic justice
When Angelina started her law firm with such a divinely inspired vision five years ago, she was ahead of the curve. Many of Integro's aims align with what was later termed in the legal scene as "therapeutic justice".  
"I realised how deeply blessed it is to walk in obedience with Him."
In 2020, Justice Debbie Ong outlined in the Family Justice Courts workplan that it would focus on therapeutic justice, which is a non-adversarial process that seeks to solves problems and help parents manage their conflicts and engage in co-parenting. This is in contrast to the traditional, often acrimonious, approach where each party pursues his or her interests single-mindedly.  
Said Justice Ong in the workplan brief: "The role of the family lawyer has changed. Some family lawyers may even look to becoming full-time family mediators. Parties should not think that the lawyers' fees are only for litigation services; instead, a family lawyer who helps parties avoid litigation and reach a harmonious outcome is giving them the invaluable services that they need most." 
 
The many grateful testimonies of Integro's clients on its website point to the impact of the work done by the firm over the last five years.  
"All of us, including Christians, are not spared from marital woes. Even if the couple were to make the hard decision of parting ways, my hope is to help them restore relationships, start afresh on a firm footing and renew their commitment to co-parent their children," said Angelina.   
In witnessing God's guiding hand in her own life, Angelina's view of God has shifted dramatically.  
"I used to think He is a righteous God who sits way up there and makes us do what we don't like to do. But in taking the step of faith out of my comfort zone and following his leading, I realised how deeply blessed it is to walk in obedience with Him," she said.  
"He loves us so much, He will give us the grace needed to walk in our calling."   
---
IF YOU LIKED THIS, READ: 
Josephus Tan: Prodigal son who defends murderers in the courtroom of grace
From lawyer to "kopi lady", why this millennial gave up the corporate life
If you have enjoyed reading Salt&Light...
We are an independent, non-profit organisation that relies on the generosity of our readers, such as yourself, to continue serving the kingdom. Every dollar donated goes directly back into our editorial coverage.
Would you consider partnering with us in our kingdom work by supporting us financially, either as a one-off donation, or a recurring pledge?
Support Salt&Light