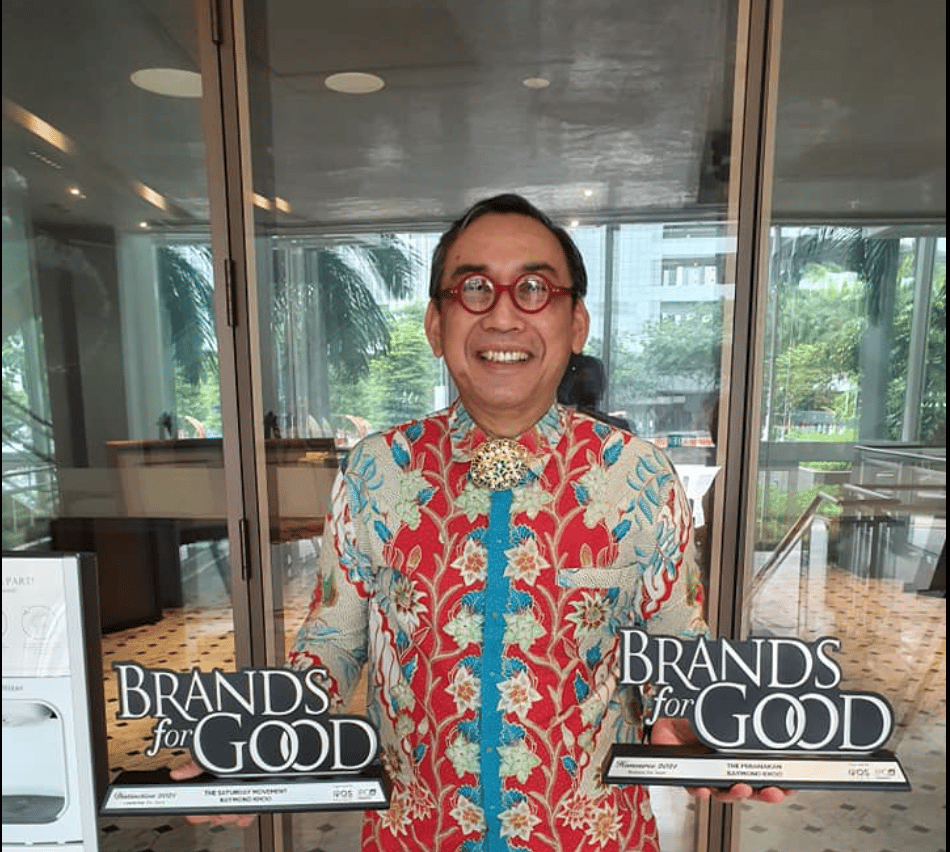 For charity's sake: Raymond Khoo received the Brands For Good awards for both The Saturday Movement and The Peranakan in the 2021/22 season. All photos from the Facebook pages of The Saturday Movement, S17 Community Kitchen, The Peranakan. Used with permission.
From being pictured on Health Minister Ong Ye Kung's Facebook page, to being featured on Channel 8's Heart Warmers programme, restauranteur Raymond Khoo seemed to be everywhere during the pandemic.
In the midst of the Circuit Breaker in 2020, he distributed food to healthcare workers in hospitals and polyclinics – frontliners and back-enders alike. At the same time, he doubled up his efforts to care for needy elderly living in rental flats in Lengkok Bahru. They received packed meals delivered to their doorstep, twice a day.
There was also his restaurant, The Peranakan, to take care of. Business fell by 80% and it was "almost impossible to make ends meet", but none of his staff was laid off.
Every one pulled through, except the restaurant. After a hugely successful run of five years, The Peranakan closed at the end of November 2021.
Unconditional love has been the message from the day he started, for the simple reason that "Jesus loves me unconditionally".
But Raymond didn't shut down.
He transitioned his Saturdays@Lengkok ministry into The Saturday Movement (TSM), a registered charitable organisation, and after a pandemic-induced hiatus of two-and-a-half years, TSM held its first in-person lunch last Saturday (August 27).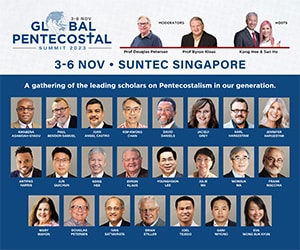 More than 180 people descended upon the open space alongside Block 57A Lengkok Bahru, grateful to resume their weekly gathering. Everyone was well-dressed for the occasion, and carefree laughter rang out above incessant chatter.
Volunteers wheeled in those who were not so mobile, and everybody had lunch together, eating the same food, sharing the same joy.
As before, Town Council approval for use of the space came with the condition of no proselytising, but that did not stop Raymond from living out the Gospel.
Unconditional love has been the message from the day he started, for the simple reason that "Jesus loves me unconditionally".
For the least of these
From its modest beginnings nearly 12 years ago with 20 households, TSM now serves 500 beneficiaries scattered among eight blocks in the Lengkok Bahru neighbourhood.
They are aged 65 and above and generally retired from low-income jobs. Some are supported by their children, others are managing on their own – though barely. Those receiving government aid get some $420 a month, a sum that is to be stretched across rental, utilities, food and amenities.
"Most importantly, they actually get out of the house to come down and get their food. So, there's reintegration back into society."
The majority are lonely. Disoriented by the long periods of isolation as a result of Covid-19 restrictions, they feel even more left behind now that society has opened up and life has moved on.
Raymond fears the financial strain brought on by the recent spike in inflation will tip them over into depression and suicide. In its most recent statistics, Samaritans of Singapore charted a new high in 2020 of 154 suicides among elderly aged 60 and above, a 26% increase from the year before.
Mindful of the risks among its beneficiaries, TSM has upped its ante against mental and emotional distress by doubling the number of meal vouchers it gives out. Now, instead of 2,000 it gives out 4,000, which equates to free meals twice a week at its S17 Community Kitchen on the ground floor of Block 57 Lengkok Bahru.
Each of its meal vouchers redeems an Indonesian-style nasi padang set of a meat (choice of beef, chicken or fish) and two sides that a paying customer would fork out $6.50 for. It feeds a two-fold purpose.
"They can come down and eat, they can have their food warm, they have a selection of food," Raymond explains.
"But, most importantly, they actually get out of the house to come down and get their food. So, there's a bit of reintegration back into society, because everybody has been cooped up in their houses for so long."
More than delivery
Meanwhile, the long-established routine of Saturday distribution of bread and fruits has continued.
"Bread because it's sustenance. That's something you can eat when you're hungry, when you don't have enough, or when you're not feeling well.
"When you have so little, you rarely buy fruits. And I thought that's an interesting thing that we should add in for everybody."
Volunteers from New Creation Church, Planet Shakers and Mt Carmel help out, with each group assigned to designated blocks. Before heading out, there's a prayer walk: "We claim that territory, and then we deliver to each one of the houses," Raymond declares.
Now that the communal lunches will again be held every Saturday, everyone can "come and spend time together". Their work is not just about delivering the bread and fruit.
"The idea is to get to know each other better – the volunteers and the beneficiaries," Raymond shares.
Circuit breaker lessons
It was during Singapore's Circuit Breaker that TSM's work took on a whole new dimension.
What had started as "simple acts of providing a meal or dry rations and a listening ear" in the Saturdays@Lengkok days ballooned into the much-needed permanence of a truly caring community.
To get the residents to stay home during those April to June 2020 months, TSM delivered food cooked by The Peranakan. It also catered halal meals from Orchard Hotel, which provided these at "a very special rate".
"We delivered door to door, 500 for lunch, 500 for dinner – 1,046 packs per day. We did this for three months daily, including Saturdays, Sundays and Public Holidays.
"I'd never worked so hard in a long, long time!"
"Nobody caught Covid and all our seniors had money in their pockets, because they didn't have to spend any money on food."
Raymond and his team would start their days early at The Peranakan, preparing the food and packing it before loading it all onto a van. They'd drive over to Orchard Hotel to collect the halal portions, then head to Lengkok, unload everything at a void deck and sub-distribute the food packs for the different blocks.
Only then would the door-to-door delivery begin.
"By the time we finish it's 12.30pm. We have a quick lunch and then we start the same process for dinner. By the time you get home it's 9 o'clock."
He remembers being bone-tired but says with satisfaction: "Nobody caught Covid and all our seniors had money in their pockets, because they didn't have to spend any money on food."
Months later, when vaccination became easily accessible, Raymond made his rounds to find out why there was resistance.
"They said it's not because we don't want to go because we're afraid of death. What they're afraid of is: If we're sick, who's going to look after us?"
In two days, he put together a programme of two free meals per day for three consecutive days after the jabs, adding: "We'll deliver it to your doorstep, just to check that you're okay."
Very quickly, 158 signed up. "It was very successful."
The meals were sponsored by one of Raymond's companies, Professor Guard, which distributes natural health supplements and plant-based food from the UK.
Hot meals
The feedback received on these two Covid-prevention initiatives was the seedbed for the Community Kitchen.
Besides getting to eat, those inclined get to work, too.
Raymond laughs. "They said the food is not hot; can be hotter or not? Can I have chicken chop on Wednesday instead of Saturday? Can I have macaroni instead of rice? Can you send it slightly later?
"We were praying about how best to do it. And one of the best ways was to start a community kitchen. So, we rented a space in the neighbourhood and started the S17 Community Kitchen."
Furthermore, besides getting to eat, those inclined get to work, too.
"Why nasi padang? Because we wanted to employ the residents there. Most of them cook nasi padang as a daily thing. So I said, 'That's something we can do.'
"We also employ the elderly, who work four hours a day so that they can get supplementary income. We have many that come to us who say, 'Just give me food, two meals, and I'll work for you for free'."
Tough times
The community kitchen is not self-sustaining as yet. Its robust beginning was hurt by the double blow of Covid spread among Bukit Merah hawker centres and a season of mandatory mass testing in three Lengkok blocks (including block 57).
"Business nosedived. We hope to improve that, but there's still a bit of stigma."
However, inflationary pressures mean the outlook is decidedly uncertain. "The F&B (food and beverage) business has been very challenging. Cost of everything has gone up – our raw materials by 30%, our utilities by an additional $1,000 every month."
"Most of our beneficiaries have been abandoned. Some have a maid but they never see the son or daughter, just see the maid."
Raymond digs into his own pocket to keep it all afloat. Rental alone for the Community Kitchen's space "is close to $9,000 per month".
"I put in an average of $15,000 to $20,000 a month to run this programme," he says.
Fundraising is hampered by TSM's lack of IPC (Institution of a Public Character) status, but organisations like the Tan Chin Tuan Foundation, Trizon Legacy Foundation and Tan Ean Kiam Foundation are among a small handful that have come alongside "because they've seen the work we've done".
"It's a very strange situation in Singapore. Everybody wants to give. But if you have no IPC status, whereby I cannot provide you income tax rebate, everybody just walks away," says Raymond.
Nonetheless he is determined to "continue to do good".
"Why? When the economy is worse, I think you need to do better. Always at the back of my head is the thought that I don't want these elderly to go and do anything silly."
In the works is the S17 Community Café a few doors away. Slated to open mid-September, this indoor, air-conditioned place will employ up to 20 elderly persons.
Besides much-needed extra income, the aim is "also for them to feel worthy, because most of the people feel 'I'm old'."
He acknowledges the root cause: "Most of our beneficiaries have been abandoned. Some have a maid but they never see the son or daughter, just see the maid. It's very sad."
Dementia prevention
To Raymond, however, the problem of low self-esteem pales in comparison to the larger problem of dementia, and the Café will pilot a programme aiming to delay its onset in this population segment.
About 10% of our population aged 60 and above suffers from dementia.
"We see a huge problem," he says. "One example: There's this lady that comes down to the Community Kitchen five times, 10 times a day and we feed her. Then she joins the queue and wants to get food again. We say, 'No you just ate', and she's just very upset and sometimes creates a ruckus.
"Those who are in the queue will ask, 'Hey why don't you give her the food? Why don't we pay for her?'
"But she ate already! Now every time she comes we give her half a portion, so she eats twice."
She is but one of many. According to statistics cited on healthhub.sg, 10% of our population aged 60 and above suffers from dementia. In 2018, this worked out to some 82,000 people. By 2030, it is projected that the number will increase to 152,000.
To do its part in the Lengkok neighbourhood, TSM will pilot a multi-faceted programme for the at-risk elderly and seek to improve their:
Diet: This is already ongoing, by way of the Saturday distribution of bread and fresh fruit, as well as the free meal vouchers;
Physical activity: Community dance and daily exercise;
Socialisation: Weekly befriending sessions at S17 for TSM beneficiaries, as well as "Music Reminiscence Therapy" by ukulele group, the MerryUkers;
Mental activity: This will entail mindfulness training by psychologist Philip Ang, and cognitive language learning by educational materials provider, Elecate.
"Research has shown that cognitive language learning stimulates your brain cells a little bit, and that's something we want to try to put together for our elderly," says Raymond.
He is also looking to incorporate a working partnership with a play school after a trial run of intergenerational interaction was positive for both the elderly and the preschoolers.
"We want to teach the little kids to care for the elderly as well. We don't have multi-generational living like in a kampong any more."
"When you bring kids to the elderly, somehow or other you just lighten up their mood, their spirit," he notes.
"We want to teach the little kids to care for the elderly as well. We don't live in the same household anymore, not multi-generational living like in a kampong. We hope to inculcate that spirit and also to teach them to spend a bit of time with the elderly. Most of the time they will meet their grandparents during events or sometimes over the weekend only."
The activities will run five days a week for six months, preceded by a month of screening and followed by two months of impact testing and reporting.
Although there are 285 seniors eligible (as of May 2022, 57% of TSM's beneficiaries were above 65), the project will screen and take in only 30 seniors, due to limited resources.
"We're no scientists, we're no researchers. We've talked to some professionals who have said there's not enough research (into this) for Asians although it's proven in Europe and America. We have no way of measuring it, but these are programmes which we've tried and found effective." 
Cosy café
Raymond does not dismiss the suggestion that God closed The Peranakan to launch him full-time into a ministry that He used the restaurant to advance. His eyes see a need the Lord has shown him how to fill.
"Until today, there is poverty in Singapore – I must emphasise it," he says soberly. Along with it, there is social stratification and, often, discrimination.
He shares: "Look at all the rental flats, they all look very nice. They look like ordinary flats.
"But those who have purchased flats call themselves the 'purchase flat people'. And they compare: 'Oh, you are rental flat people? I am purchase flat people.'
"We'll be happy to have fellow believers to come and spend time to befriend and say just a little prayer."
"So, imagine that feeling that you're living in the same community, you get to face people like that. Any problem and 'Oh, you rental flat people make so much noise and disturb the community and all.'
"At the end of the day, what they don't want is the rental flats there, because their property cannot appreciate as much as everyone else's. So it's not one of the best communities to live in.
"Purchase flat people kind of shun you."
In such a circumstance, the Community Kitchen and the Community Café are safe havens. The Café will come under different licensing rules, and "we can actually minister and pray as well".
"It is a different area altogether. It's air-conditioned. We will serve artisanal coffee, cakes and pastries."
Smiling, he adds: "We're hoping to do our first Alpha course in Chinese there" and invites: "Any volunteer who wants to come and spend time to chill out, please come and join us.
"We'll be happy to have fellow believers to come and spend time to befriend and say just a little prayer."
---
RELATED STORIES:
Business down by up to 97%, yet these restaurant owners are still giving to the community
Support The Saturday Movement and S17 Community Kitchen!
S17 Community Kitchen is at Block 57 Lengkok Bahru, Singapore 151057. It serves halal nasi padang by day and Peranakan food by night (5pm to 9pm). Corporate bento and delivery orders may be made via WhatsApp to 8023-4345. The Kitchen is closed on Sundays.
There are 80 families on The Saturday Movement wait list. At an average of two per household, that's another 160 that have requested for help. "It's quite a huge load to carry for myself," Raymond says, "but we're looking into other business areas to help support what we do here."
You may support TSM's work with a love gift to: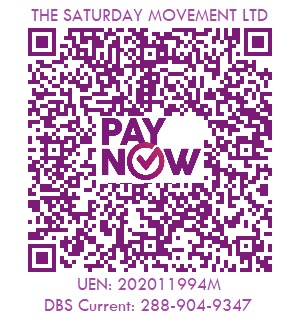 If you have enjoyed reading Salt&Light...
We are an independent, non-profit organisation that relies on the generosity of our readers, such as yourself, to continue serving the kingdom. Every dollar donated goes directly back into our editorial coverage.
Would you consider partnering with us in our kingdom work by supporting us financially, either as a one-off donation, or a recurring pledge?
Support Salt&Light