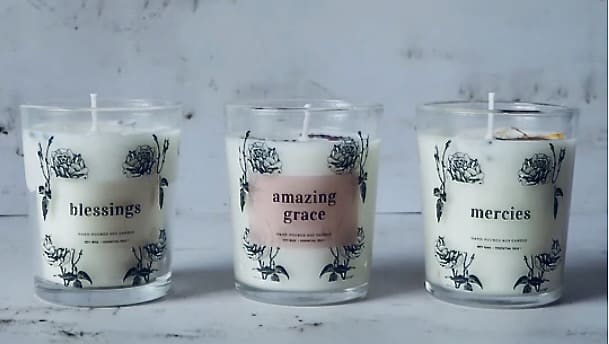 Grace by Elohim, a Singapore-based social business born out of empathy for the struggles of those in depression and anxiety, designs its aromatherapy range to bring calm to the home and spirit. Photo from gracebyelohim.co.
This Christmas, we picked out gifts for you not just to share with friends and family, but also to celebrate the greatest gift God has given us – His Son's birth.
For Families: Faith at Home books, calendars & activities
Since Singapore couple Esther and Elvin Foong launched The Treasure Box (TTB) in 2018, TTB has become local parents' go-to for family Christian devotional materials with a familiar tone. 
So convinced were Elvin and Esther of the need for children's discipleship at home, that they quit their civil service jobs to launch TTB.
While there is often a temptation for parents to outsource spiritual growth to the church, the Foongs want to make it as easy as possible for families to get into the habit of having family devotions. 
The result is a range of engaging activity books, family devotionals, one-minute testimonies by children, baby flash cards, calendars and even online children's programmes and Faith at Home workshops.
Salt&Light's Pick: The 2023 Family Devotional Wall Planner on the attributes of God
Who is God? What is He like? How should we approach Him? These questions and more are answered in the colourful and practical planner that features adorable artwork by children aged 6-12, encouraging families to see through the eyes of children.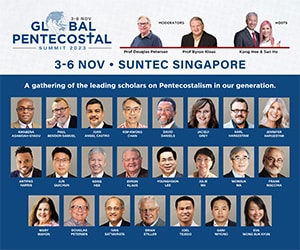 Keep track of family events and milestones with the 474 stickers, including emoji stickers that help family members express how they feel so that the rest can offer support or encouragement, or celebrate the good moments!
Explore meaningful reflection questions and prayer guides each week.
If that's not enough, the effervescent Foong family (including son Nathan and daughter Phoebe) will be releasing talking points on the Treasure Box social media for the weekly devotional guide included.
There will also be a family programme video released monthly based on the theme of the month. Look out for TTB@Home on their Instagram.
TO BUY: Shop online here. Or drop by their pop-up at the Jurong Point Christmas Bazaar from December 16 to 22. SPECIAL FOR SALT&LIGHT READERS: Use the special promo code "FRIENDSOFTTB" on the webstore to receive $5 off, with a minimum spending of $50. 
---
For Families: Little books of dreams to read together
Life is a journey of ups and downs, of broken and found dreams, of adversity and resilience. 
That is what Kitesong Global founder and humanitarian doctor, Tam Wai Jia, hopes to capture in her picture books that appeal to both adults and children.
"My hope is that these stories will inspire those who dream of making a difference to others to take that first step."
In 2005, at the age of 18, Wai Jia travelled to Nepal, where she encountered a heart-breaking reality: The abuse, abandonment and eviction of young girls.
Despite the harsh circumstances, they were still filled with hope for the future, and that joy inspired her to write her first book, Kitesong.
"My hope is that these stories will inspire those who dream of making a difference to others to take that first step," she said.
Since then, the mother of two, speaker and doctor, has not only written three other books – A Taste of Rainbow, I Love You, and Savour – but started Kitesong Global to offer humanitarian aid and hope to the less fortunate. 
The books, as well as accompanying toolkits, create inspirational platforms for therapists, educators, social workers, parents and community leaders to lead conversations of healing and growth.
Salt&Light's Pick: Kitesong
A sweet and colourful picture book that parents can read with their children, Kitesong follows a little girl losing her kite to a storm and chasing it down. Despite challenges, setbacks and criticisms, she pushes on to retrieve her kite.
Meant as an allegory for not giving up on dreams and to push through adversity, the book represents the dreams of every individual, and inspires us to help others "achieve their kitesong".
Kitesong conversations around the dinner table or at bedtime will continue long after the last page is read.
TO BUY: Shop online here.
---
For your Home: The scent of grace 
Grace by Elohim's soy wax candles and essential oil wax sachets in scents like London Red Roses & Lychee or Christmas Fireside are a treat for the senses.
A Singapore-based social business born out of empathy for the struggles of those in depression and anxiety, Grace by Elohim designs its aromatherapy range to bring calm to the home and spirit.
Describing itself as a faith-based business that aims to share the great redeeming love of Jesus, the founders "believe in the divine inspiration and the Lord as our potter, us as the clay, the work of His hand" (Isaiah 64:8).
The verse, 2 Corinthians 2:15, is particularly meaningful to them: For we are to God the pleasing aroma of Christ among those who are being saved and those who are perishing.
"We hope that the intersection of creativity, beauty, and faith will provide you with the grit and grace to experience His goodness and promises for your lives," say the founders on their website.
Names like "Blessed Christmas Morning" and "Amazing Grace" make these candles good presents for faith-driven friends.
The candles are hand-poured and handcrafted in small batches and all-natural essential oils are used to ensure quality. Soy wax has been chosen as it provides a significantly cleaner burn and lasts up to 50% longer than any other wax available.
Names like "Blessed Christmas Morning", "Amazing Grace", "Blessing" and "Mercy" make the candles and gift sets good presents for faith-driven friends.
Proceeds from their annual curated Christmas charity box go directly into supporting mental health charities such as Clarity Singapore, a Caritas endorsed enterprise that empowers persons with mental health conditions to lead meaningful lives through support, therapy, acceptance and recovery.
This year's Christmas Charity Gift Box ($59.90), co-curated with Sunday Rain, includes full- and travel-sized body scrub, bath soak, pillow mist and lavender candle in a reusable drawstring bag. 
Salt&Light's Pick: Verse candles
The Blessed is She cherry blossom wood wick candle ($39.90, with a burn time of 25-30 hours), has Luke 1:45 inscribed on the label, and is meant to be lit during prayer time as a reminder to women that they are God's beloved.
The Do Not Fear cotton wick candle in pine sage ($39.90, with a burn time of 25-30 hours), inscribed with Isaiah 41:10, reminds the user of Jesus' words to Jairus: Do not fear; just believe.
(The candles are made to order and require 4-7 working days for production.) 
TO BUY: Shop online here.
---
For your Home: Teak wood furniture that offers hope to its makers
It is said the hardest part of coming out of prison is rehabilitation.
Whether it is the stigmatising of ex-offenders or the lack of opportunities for re-assimilation, ex-offenders often struggle to return to society.
Those are issues that halfway house The Helping Hand (THH) hopes to address with solutions.
Started in 1987 by Robert Yeo, a former heroin addict, the mission of THH is to "transform ex-offenders to live a Christ-centred life" by adopting a holistic approach of spiritual, work, social and physical therapy to re-absorb former offenders into society.
To this end, THH offers a host of home-baked goods, plants and orchids and teak furniture for sale, the proceeds of which go into their programmes. 
Teak furniture professionally handmade by THH residents includes folding picnic tables ($120-$580), shoe cabinets ($550-$920), cushioned two-seaters ($640), writing desks with drawers ($500) and more.
Salt&Light's Pick: Adirondack chair
The classic adirondack chair with footstool ($580) looks perfect for lounging on balconies or decks.
TO BUY: Shop online here, or visit THH at: 819 Upper Serangoon Road Singapore 534678.
Operating hours are Monday–Saturday, 9am–5pm. This Christmas, the furniture items are on sale at 50% off. Donations can also be made here.
---
For the Aesthetically Inclined: Stationery, bags and accessories with a message
In 2016, Mdm Ho Ching was feted in the international press for toting a dinosaur motif pouch to The White House on an official visit with Prime Minister Lee Hsien Loong to meet then US President Barack Obama and First Lady Michelle Obama.
The dinosaur pouch that made news headlines was illustrated by Seetoh Sheng Jie from The Art Faculty.
A social enterprise by Autism Resource Centre (Singapore), The Art Faculty is a retail outlet chockablock with gifts featuring unique art and local motifs, like Peranakan houses and hawker food, by artists on the autism spectrum. 
For every sale of artwork and product, the differently-abled artists earn royalties to learn the value of work and financial independence.  
The talented artists are members of Pathlight School's award-winning Artist Development Programme (ADP), where professional artists are engaged to work with talented students to nurture their talents.
The Art Faculty's collaboration with professional brands, retailers, organisations, social enterprises and art practitioners shows in the quality, design and range of gifts including thermo water bottles, face masks, umbrellas, picnic mats, beeswax wraps, tiffin carriers, laptop bags, artwork and more.
Drop by the flagship store at Enabling Village for your Christmas shopping – volunteer "elves" are on hand to provide free gift-wrapping service with a minimum spend of $20. When your shopping's done, have a break at the cafe which serves great cakes and coffee.
Salt&Light's Pick: Tiffin Set
Newly launched this season, the Scandi Red Tiffin Set of two ($120) is gorgeous with its eye-popping red and black design by artist Ng Li Jie. Choose from two ceramic designs that are scratch and chip resistant. Each set comes packed in a champagne coloured gift box that makes gift wrapping unnecessary. 
The well-made tiffin set is made in collaboration with established Singapore ceramic tableware company, Hiap Huat Holdings.
TO BUY: Shop online here, or visit the flagship store/gallery/cafe at Enabling Village, 20, Lengkok Bahru, #01-07, Singapore 159053.
CHRISTMAS CARNIVAL THIS WEEKEND (DEC 16 & 17) ONLY: Bring your friends and family to the flagship store at Enabling Village for live musical performances and a pop-up smorgasbord of makers and social enterprises. Spend $100 in a single transaction to win a prize on the Sure-win Spin-the-wheel.
---
Across the city in King Albert Park is another gift shop full of fun and aesthetically pleasing stationery, apparel and homeware and art.
For The One, newly opened this month, is a Christ-centred gift store at #01-70 KAP Mall. 
"Our vision is to be the go-to Christian gift store in Singapore by creating a community of like-minded businesses that are passionate about sharing the faith thoughtfully through the gifting ministry," said Joanna Theng, who co-founded the store with her mother.
"Our mission is to bless and encourage the community through gifting, by curating and offering a wide range of quality Christian merchandise made affordable."
Inspired by verses like 1 Corinthians 10:31, Luke 15:41 and Psalm 23:4, the gifts at For The One are an expression of love and care.
"Choosing a gift for some is letting them know they are on your mind," said Joanna. 
Inspirational and faith-based themes and messages are inscribed on pencil cases, school uniform name labels, badges, jewellery cuffs and more. 
TO BUY: Drop by the shop at #01-70 KAP Mall, 9 King Albert Park, Singapore 598332. Or visit the fortheonegifts instagram account for updates.
---
Think The Commandment Co, and witty stationery, quirky notebooks, inspirational posters and Jesus jewellery come to mind. 
The ultimate contemporary Christian gift shop for design-savvy shoppers, The Commandment Co began in 2014 with a collection of postcards with calligraphed gold-lettered Bible verses set against landscapes of mountain ranges, fields and roses. 
Founder Edwin Lim had been a designer with an advertising agency who had trouble finding quirky yet practical and inspirational gifts locally for his young Christian friends. So he took matters into this own hands, he told Salt&Light.
From postcards, Edwin's offerings would grow to include bags, homeware, apparel and accessories that he would sell under the banner of  The Commandment Co. Its best-known range features verses and encouragement wittily placed on designs that echo the packaging of supermarket provisions such as luncheon meat cans, chocolate wrappers and detergent bottles. 
If you are looking for quirky and cute Christian gifts, check out their cup noodles door mat, Child of God journalling stickers, crown of thorns ring, Jalan-Jalan with Jesus passport cover, leather key organisers inscribed with Bible verses, Scripture enamel mugs and more.
Salt&Light's Pick: Flourish & Thrive 2023 flower vase calendar
The idea behind the colourful paper flower vase calendar design: "Every new year is a fresh beginning – though new challenges await, so do new opportunities to grow! God desires for us to flourish and thrive, just like the flowers of the field when they are in full bloom. No matter what comes your way in the year ahead, we pray that this little addition to your desk will encourage you to stay rooted in Christ, and bloom with grace – meeting every circumstance with peace and fixing your eyes on your loving Father who guides you through each day."
From now till December 31, The Commandment Co is donating 10% from every purchase of a flower vase calendar to Homeless Hearts of Singapore in their mission to blossom the lives of the homeless through purchasing necessities, food and making urgent hostel bookings for those in need. In total, The Commandment Co aims to sell 1,000 calendars to raise $1,390 for Homeless Hearts of Singapore.
TO BUY: Shop online here, or visit the shop at 231 Bain Street (Bras Basah Complex), #04-41, Singapore 180231.
---
For the Fashion inclined: Apparel and jewellery inscribed with His promises
Christian accessories brand Jacob Rachel seeks to remind Christians to focus on God, to remember His Word and to live out His promises amidst the busyness of life and the constant diversions from God.
In fact, the very name was drawn from co-founder Rachel Ang's own experiences. After experiencing heartbreak and betrayal in her darkest days, she received Christ through prayer and devotion.
"I surrendered to God and told Him He can mend the broken pieces in my life and use me to have a direct impact on other people's lives," Rachel recalled.
"Jacob wasn't the best character in the Bible, right? He was a supplanter, grabber and deceiver," Rachel recalled. "It shook me. But when I read Genesis, I saw how God was using the broken, the unqualified."
The story of Jacob inspired her to leave her comfort zone of finance and start her business.
For Christmas, Rachel and her co-founders – husband Edwin and former colleague Adelyn – have designed infinity crosses in white gold and rose gold, a King of Kings cross pendant necklace, zirconia "mustard seed" earrings, "Blessed Child of God" and "Fresh from Heaven" baby onesies, and tote bags inscribed with Bible verses.
Salt&Light's Pick: Couple cuffs
The stylish couple collection cuffs come in sets of two ($110) in a male and female size, in silver, rose gold and black stainless steel. The cuffs are adjustable for size.
In the "I AM" collection, couples can choose cuffs with the words "I Am" on the inside, and "Worthy", "Fearless", "Chosen", "Deeply Blessed" and more, on the outside.
Choose from verses such as Jeremiah 29:11, Proverbs 3:5 and Isaiah 40:31 in the Bible collection.
TO BUY: Shop online here.
---
Michelle Ng, owner of fashion store, The Kin Thread, believes in products that are made by artisans in a "very slow, careful process". 
From leather sandals and canvas espadrilles to 100% linen tops and tailored shorts, The Kin Thread's fashion is thoughtfully designed and handmade.
"The choice of 'kin' was for the human warmth element we want to introduce into our brand, especially the relationships behind the scene," said Michelle.
"It's a humbling thing but it helps us to remember that we are all servants (of God)."
She also takes a humble approach in her business. 
"We want to help our customers try on their shoes, stoop down to put on the footwear for them. It's a humbling thing but it helps us to remember that we are all servants (of God)." she said.
On the products side, she also inscribes products such as shoes with Bible verses, a small way of celebrating God.
Salt&Light's Pick: Blanc leather sandals
Leather sandals are an investment, but your feet will thank you. The Huarache Blanc leather sandals ($149) originate from Mexico and are carefully handwoven by a small team of local artisans made up of primarily stay-at-home mothers. 
The sandals are made of full-grain, untreated leather, with a leather-lined footbed and rubber outsole. 
TO BUY: Shop online here.
---
MORE STORIES:
5 ways to bless those beyond Singapore's shores this Christmas
"We wanted to remind people of God, but didn't imagine it would speak so powerfully": Accessories brand Jacob Rachel
If you have enjoyed reading Salt&Light...
We are an independent, non-profit organisation that relies on the generosity of our readers, such as yourself, to continue serving the kingdom. Every dollar donated goes directly back into our editorial coverage.
Would you consider partnering with us in our kingdom work by supporting us financially, either as a one-off donation, or a recurring pledge?
Support Salt&Light