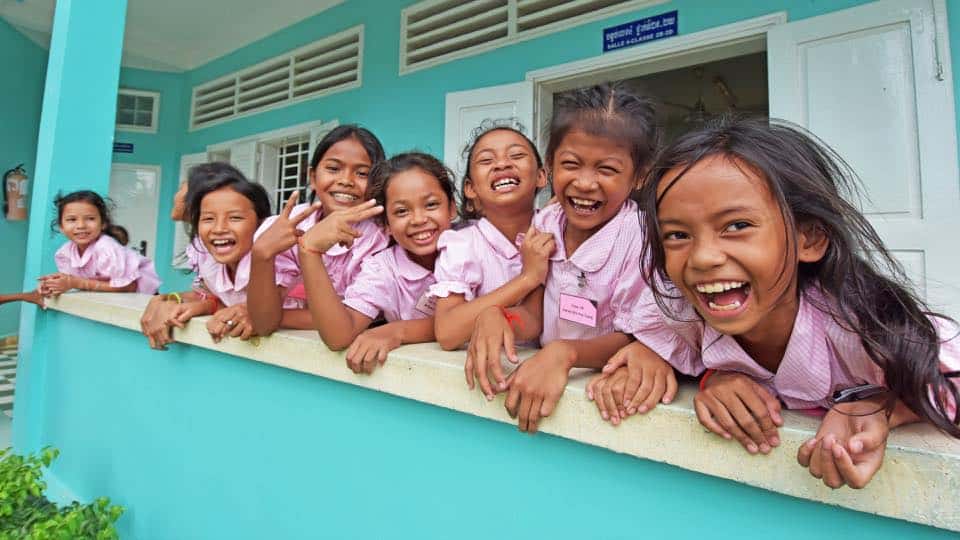 International Justice Mission seeks to end modern-day slavery. Photo from IJM's Facebook page.
While we may be looking forward to spending Christmas in the comfort of our homes with our loved ones, there are many others all over the world who are facing this season in fear, loneliness or poverty.
This season of giving, here are five ways we can bring hope, warmth and joy to these people as we shine Christ's light into the world.
1. Free those in modern-day slavery: International Justice Mission
Ruby (not her real name) was just 16 years old when she was tricked into the online sex trafficking trade. 
Locked inside a dark house with about a dozen other girls, she was forced to perform demeaning sexual acts eight hours a day in front of computers and cameras, for the pleasure of men watching and directing her virtually from all around the world.
Ruby, a Filipino whose story was told on Salt&Light in October, is a survivor of the online sexual exploitation of children (OSEC), a modern form of human trafficking.
There are no reliable estimates on how many children are trapped in the industry, but the United Nations estimates that at least 750,000 sexual predators are online at any given time.
The median age of victims is just 11 years old, with some as young as two months old. 
After the sex den that Ruby was held captive in was raided, International Justice Mission (IJM) volunteers journeyed with Ruby through the process of healing. One of its lawyers also represented her in the trial against her perpetrators.
OSEC is one form of modern slavery that Christian non-profit organisation International Justice Mission (IJM) is out to fight.
Aimed at putting an end to the exploitation and the abuse of women and children, it partners with local authorities in 29 program offices in 17 countries to combat trafficking and slavery, violence against women and children and police abuse of power.
This Christmas, IJM has put together a Christmas gift catalogue which includes gifts from funding a slavery rescue operation to helping a widow start a small business.
If you'd like to give the gift of freedom to someone, click here.
2. Create safe spaces for refugees: Habibi International
Millions around the world this year will not be able to celebrate Christmas at home with their friends and family. According to the UNHCR, there are about 103 million forcibly displaced persons worldwide, 32.5 million of whom are refugees, as of mid-2022.
This includes a large proportion of the Yazidi population in Sinjar that was displaced because of a genocide by ISIS in August 2014, as well as more than 13 million Syrians because of Syria's ongoing civil war. More than half a million of these refugees currently reside in refugee camps in the Kurdistan Region of Iraq.
This is one community served by Habibi International, a non-profit organisation that journeys with forcibly displaced communities in the Middle East. Its staff and volunteers support these forcibly displaced individuals and families by running clinics and providing counselling, emergency relief education and skills development.
Habibi International was co-founded by Singapore-born Willy Tan in 2017 after spending two weeks with a friend providing medical aid in a Yazidi refugee camp. Before they left, the Yazidi leaders pleaded with them to bring more help.
Today, the organisation has mobilised many around the world to help, including Singaporeans. Last June, it set up a base here and has since sent out at least four Singaporeans into the field. 
One of them was Heidi Tan, who responded to the call to serve full-time after spending some six months in Iraq in 2020.
As she saw the situation of the refugees and heard their stories, she decided that she had to do something for them, many of whom she has come to regard as friends.
"I met a lot of young refugees, young IDPs (internally displaced people) who were very keen, very excited that they were being engaged. They had a lot of ideas. That was quite exciting to me, to see what they wanted to do and journeying with them on that," she told Salt&Light.
If you'd like to help Habibi International create safe spaces for refugees this Christmas, click here. 
3. Gift a mini miracle to vulnerable children and communities in Asia and Africa: World Vision 
In the 40 years that World Vision has been in Zambia, it has made great progress in improving the levels of education and sanitation. It is also big on sustainability, which empowers communities to flourish on their own.
This is what World Vision ambassador Felicia Chin saw firsthand during her trip to the country to visit her sponsored children, Liness and Mwansa.
"For example, to provide access to clean water, they don't just build a well and say 'there you go'. Before they build a borehole, they will test how clean the water is and ensure that the village has systems in place so that the clean water is used properly," she shared in a reflection.
"At weekend reading camps, which helps to equip children with reading and writing skills before they go to school, ink is made out of sugar and charcoal so that the locals are able to make their own markers."
This Christmas, join World Vision and Felicia in tackling root causes of poverty and injustice. In World Vision's Mini Miracles Gift Catalogue, you can chip in to provide a pig farm in Vietnam or adequate nutrition for children in the Philippines.
If you'd like to contribute on a regular basis, you may also do so through the Chosen programme, which flips the script and allows children to choose their sponsors instead of the other way around.
4. Bring warmth and hope to war-torn Ukraine: Love on Ukraine 
This winter is expected to be the hardest one for Ukrainians since World War II.
With their energy infrastructure compromised through attacks by Russia, many without adequate housing, food and money may find themselves in dire situations as temperatures plunge to -20 degree Celsius.
To help alleviate this, married couple Rudy Taslim and Lam Baoyan, who run an architectural firm in Singapore, have been designing and building some 500 emergency homes in Ukraine for the upcoming winter.
Rudy and Baoyan, who shared their experience in the war-torn country with Salt&Light in June, are the ones behind Love on Ukraine, which serves the displaced and disabled in Ukraine by building homes, providing food aid and creating long-term employment opportunities.
They also run a rehabilitation shelter that offers medical, social, psychological, educational and therapeutic services to pregnant mothers who have lost their husbands, children with special needs and their families.
"To my Ukrainian family, I thank God for the chance to be able to come alongside with you and to be with you. Thank you for sharing your lives with us. I know this is a hard time, it is difficult, but I just want you to know that we will always be here, loving you, praying for you, and that you are not alone," said Baoyan.
"Remember God is always with you and that He is the one who is able to turn all things around. We will always be here for you whenever you need us, and may you rise up again."
According to Love on Ukraine's website, you can help feed a person for about $45, provide basic necessities for a family of four at $170 and build a home for a family at $5,700.
If you'd like to contribute, click here.
5. Support disadvantaged children in India: JET Shelter India
Heah Yong Chian and Brenda Chong were just newlyweds when they decided to support not one but eight underserved children in India. 
They had been moved to help after meeting Pastor Raja and his wife from Tamil Nadu at a conference and learning about the shelter they run for disabled children, orphans, abandoned children or those whose families cannot take care of them.
"Their hearts are so big, they can't turn away any child. Whatever kid they can take in, they will take in, even though they are always in debt," Brenda told Salt&Light last November.
The shelter is funded primarily by a nearby school and church, but the uncertain economic situation there means that their income stream is not stable. Each child's expenses come up to $50 a month, which covers food, school uniform and school books.
Moved to help, the Heahs also thought of ways to raise funds. During the pandemic, they conducted three exercise classes on Zoom which helped to fund the shelter's electricity and water needs.
Now, the shelter is now planning to grow coconut trees so that its fruits can serve as a source of income. The trees will mature in four to five years and will hopefully continue to bear fruit for the next four decades.
Each plant costs about $130 and the shelter is planning on getting 225 plants. If you'd like to sponsor a coconut tree, click here.
---
RELATED STORIES:
"Do not be afraid to do what is good": Homeless Hearts appeals for people to open up empty spaces for the homeless
If you have enjoyed reading Salt&Light...
We are an independent, non-profit organisation that relies on the generosity of our readers, such as yourself, to continue serving the kingdom. Every dollar donated goes directly back into our editorial coverage.
Would you consider partnering with us in our kingdom work by supporting us financially, either as a one-off donation, or a recurring pledge?
Support Salt&Light