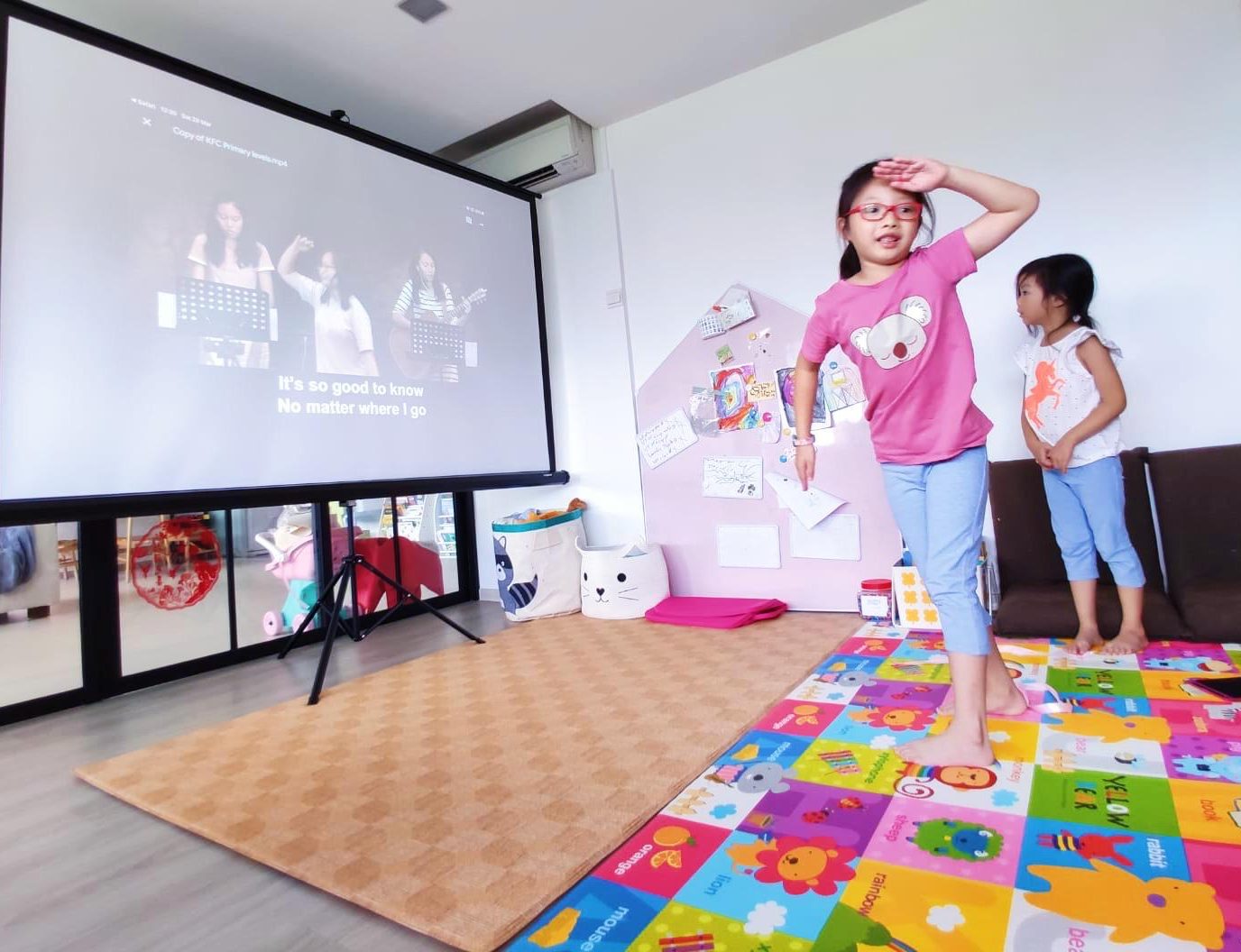 Isabelle Pang, 7, and sister Emma, 4, enjoying Sunday School at home. Photo by Trisa Qi.
Seven-year-old Isabelle Pang has not seen her Sunday School friends for nearly two months. But she still gets to see her Sunday School teachers – thanks to lessons on YouTube every week. 
"She gets very excited when she sees the familiar faces from church on screen," said Isabelle's mother, Trisa Qi, 39. "My daughter loves the videos. She sings and dances along with them."
All religious services and congregations in Singapore were suspended on March 26 as part of measures to tackle COVID-19. Though many churches and Sunday Schools had earlier chosen to stop meeting physically. 
Most services and cell groups adapted and moved online. But Sunday Schools have taken on more varied forms.
Paya Lebar Chinese Methodist Church started by sending out PowerPoint slides as well as mailing materials to parents. So lessons could be done at home. Live Zoom classes have since been added to the mix.
"Don't expect things to be how they are at Sunday School. We are at home."
Other churches have been recording lessons for each age group, for viewing when the children have the time.
"This allows families to attend the online services together before going for the virtual Sunday School classes," explained Liza Khew, Children's Ministry staff at Grace Methodist Church.
"If they choose to, they can attend the Google classes on Saturday. This gives them more time to do the work allocated and submit it."
However Sunday School classes have morphed, parents have found that because lessons are now done at home, they are required to be more involved. And some are understandably nervous.
Salt&Light asked families for tips on how they have been making home Sunday School work for them.
1. Don't try to replicate Sunday School
Perhaps what intimidates many parents is feeling that they have to recreate Sunday School at home – complete with action songs, puppets and dynamic story-telling.
"You don't need to run an hour-long service for your kids. Keep it to a 10-minute discussion. That's a good enough start," says Elvin Foong, 38, who co-founded Christian resource site for parents, The Treasure Box SG, with his wife Esther.
"No one is supposed to take over the role of anyone. The church and the home each play a different role.
Eda Lee, 36, who has two children aged seven and four, added: "Don't expect things to be how they are at Sunday School. We are at home. They're sure to be more at ease to behave rowdily."
2. Cut yourself some slack
So, if home Sunday School does not turn out like the church model, parents say: Don't be too hard on yourself.
"Don't aim for perfection or for everyone to be at their best behaviour in the beginning. Start wherever you are at because God's grace is sufficient for the journey," said June Yong, 40, who has three children aged seven to 11.
Lee agreed: "If they only listen to one part of the story, or run off instead of praying, don't yell for them to come back. Don't be stressed; lower your expectations."
3. Turn failures into talking points
Being asked challenging questions and the fear of being called out for not living the truths taught are reasons why parents are nervous about doing Sunday School at home.
"Don't aim for perfection or for everyone to be at their best behaviour in the beginning."
"We once did a survey with over 300 parents. Among the different reasons why parents don't do family devotions is because they don't want their kids to know what they don't know," said Foong.
Lee offered this encouragement: "We are all inadequate. The good news is, if I fail and make a mistake, I can humbly go before God and ask for help.
"So often when I react sinfully, I wonder whether what I teach them will come undone. But those are the times when I think we can model grace and forgiveness. Those are the real teaching moments."
As for the uncomfortable questions, Yong advised: "It's good that they ask deep questions like: 'How do you know God is real?' 'How do you know the bible is real?'"
In fact, home should be the safest place for them to explore these issues, said Foong. "And if you don't know the answer, admit it and find the answer together as family."  
4. Schedule the time, don't leave it to chance
While there should be flexibility in the how, there should be a schedule in place for the when.
Said Qi: "We make it a point to be disciplined and keep to the usual Sunday School time. Maintaining a regular routine tells the children that this is important enough for us to dedicate time to it.
"So, for that hour, we sit through the class with them. That's when we find out some of the questions they have and we talk things through."
Magdalene Chong, 40, who has two children aged 10 and eight, agrees on the importance of dedicated times. 
"The Circuit Breaker has given us more time with the children. We put it in our timetable to read one chapter of Matthew a day for 28 days," said Chong.
"Having a timetable that we can work on together helps us sustain things. The kids are excited about it and have been chasing us to read with them."
5. Seize the opportunity
These are unusual times. Never before has the church entered our homes quite this much and for quite this long. For some families, this season is a reminder to be more active in their children's faith.
Said Qi: "I'm reminded that it has always been my responsibility as a parent to not just provide the material stuff for my children, but also to feed their spiritual needs."
"There is comfort knowing that you are not alone."
Lee agreed: "I think we need to realise that we have always been the main teachers in the formation of our children's spiritual worldview."
For Yong, having Sunday School at home has given her an opportunity to see her children like she has never seen before.
"In the past, we took a backseat because we could send them to Sunday School.
"Now that Sunday School is done at home, we get to see how our kids behave when they are there. We see attitudes we don't usually get to see."
It made her realise that her oldest child was beginning to be self-conscious about singing aloud.
"It gave us an opportunity to talk to her about it and encourage her.
"I told her how I felt the same when I was young, and reminded her that we are in a safe place. And that singing is an act of worship to God, not a performance for anyone else," said Yong.
6. Take time to build relationships
Even if the Church has ready-made videos, this period where Sunday School is experienced at home can be a time for family bonding.
"Watch it together with your kids. You can continue the conversation after the lessons are done. This is the mentoring portion that Sunday School teachers can't always do," said Foong.
"What is lacking isn't the content. What is lacking is the discipleship, the talking points, the discussions, the action points."
7. Get help from other parents
Both Lee and Foong also believe in sharing resources (see below).
"Having a timetable that we can work on together helps."
"Get help from like-minded parents. There is comfort knowing that you are not alone, that there are others struggling like you, trying to build faith at home.
"They can tell you what has worked or what hasn't, and what not to bother trying."
Lee added: "In our church, we try to create resources to support parents during this time.
The videos aren't perfect but we are keeping it real for the parents. We are teaching the parents that it's okay to be a bit chaotic."
Making #WFH and #HBL work for your family: Three dads share their Circuit Breaker strategies
Cooped up with the kids? Focus on the Family offers stay sane tips
Useful resources for parents
Minute Gospel is a website focusing on creating and curating simple, faithful Gospel stories and songs for children.
Give Us This Day is the children's version of adult devotional material Our Daily Bread. It comes packed with stories and illustrations to engage those between seven and 12.
The Treasure Box SG provides localised resources and services dedicated to helping Christian families discover God through prayer, worship and studying His Word.
If you have enjoyed reading Salt&Light...
We are an independent, non-profit organisation that relies on the generosity of our readers, such as yourself, to continue serving the kingdom. Every dollar donated goes directly back into our editorial coverage.
Would you consider partnering with us in our kingdom work by supporting us financially, either as a one-off donation, or a recurring pledge?
Support Salt&Light