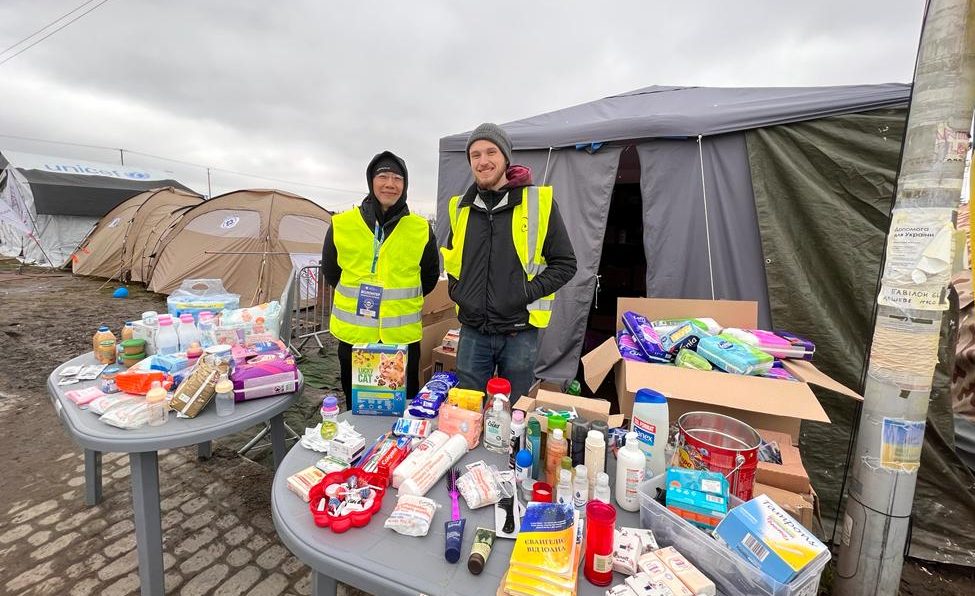 Since last Tuesday (March 29), Steve Loh (left), a volunteer with YWAM Singapore, has been offering aid and relief to refugees at the Ukraine-Poland border, where temperatures can dip to -2 degrees C. All photos courtesy of Steve Loh.
"God has answered every prayer. Every time we ask the Lord for something, He provides."
These are not words you would expect to hear in a war zone, but this is what Steve Loh, a volunteer with Youth With A Mission Singapore (YWAM), said he has experienced in the week he has been at the Polish border offering aid to Ukrainian refugees.
"I have never experienced the peace and presence of God in such a tangible way as I have in a war zone or a disaster zone."
Steve is just one of a number of Singaporeans whom Salt&Light understands has flown to the border of Ukraine to offer relief to distraught refugees streaming into Poland, Germany and other neighbouring countries. 
Steve, the founder of Rescue Relief International (RRI), has offered aid to disaster zones since 2004. Yet this one stands out.
From housing for volunteers and refugee tents, to Polish translators and vans to transport supplies into Ukraine, needs are being met in unexpected ways, Steve told Salt&Light from Poland.
He has seen God's "amazing favour" and provision in the midst of a war which has caused massive destruction and displaced more than 10 million Ukrainians, he added.
"The Lord really is our ever-present help in time of need. I have never experienced the peace and presence of God in such a tangible way as I have in a war zone or a disaster zone, and that's been a repeated occurrence in my life," he said.
"As we walk with the suffering and help people with the pain, I think that's our great reward – experiencing God, encountering God. And our deepest prayer is that the people that we assist will also experience God in some way."
Going where the need is greatest
Steve, who flew from Singapore to Poland with YWAM Singapore missionary Hudson Kim, has been on the frontlines of the crisis since last Tuesday (March 29) after the duo spent time with God in prayer and worship.
"As we went deeper with the Lord, we literally felt His heart break for what has been going on and just the suffering that has been experienced by the Ukrainians. We felt in our hearts not just to pray from a remote distance, but to physically go," he said.
"They come to the border area not knowing where they're going to go next, not knowing what lies ahead of them."
His work with Rescue Relief International (RRI) has equipped him well to render aid, as he has been trained in relief and rescue work. RRI is a rapid response agency that deploys professionally trained rescue personnel and medical staff immediately into disaster zones.
With a kitty of funds from friends and family, Steve and Hudson decided to fly to where they felt the need was greatest. Poland has received more than half of the 4.2 million Ukrainian refugees so far, making the Ukraine-Poland border one of the busiest crossings.
"There are a lot of traumatised refugees who have been travelling for 10, 12 hours. They come to the border area not knowing where they're going to go next, not knowing what lies ahead of them … It's also -2 degrees and snowing. We thought what better way to serve them than to provide a place of shelter, a place of refuge, a bit of guidance?" said Steve.
Carrying physical and emotional loads
In partnership with YWAM Europe, Steve and Hudson have spent the past week assisting YWAM staff in Ukraine by procuring urgent supplies like bulletproof vests, helmets and tactical eyewear. They also help to gather funding for food, transportation and medicine.
Steve added that his own decision to help was fuelled by the courage of these staff members who have refused to evacuate the country so they can serve and help the vulnerable in their city.
"Seeing such courage and conviction from the Lord, we felt very compelled that we were to assist them," said Steve, who served at YWAM Singapore for 12 years before becoming the chief executive officer and general secretary of YMCA Singapore.
As they availed of themselves to serve and looked to God for help in prayer, they have seen how He has miraculously provided time and again.
A house that can accommodate 50 volunteers. Vans from donors to transport supplies. Translators to help ease communication. Tents to shelter refugees.
"It's like John 14:14 that says, 'Ask anything in My name and I will do it'. We've never quite experienced it until now," said Steve.
Apart from helping with logistics, the pair have also been helping refugees carry their bags, serving them warm cups of tea, bringing in heaters and blankets, and simply offering them a hug or a listening ear.
"They just need someone to carry their load, both physically and metaphorically," he said.
As he chats with the refugees in tents, Steve, who has experience in trauma debrief and counselling, will also weave in some questions to help them express what they have been through.
If the opportunity presents itself, he also shares that he is there because of the love of Christ and offers to prayer a blessing upon them. "As we pray for them, we often see them weep," he said.
Looking to the Rescuer 
When asked how Singaporeans can pray, Steve, who will be returning to Singapore on April 11, said: "Of course, pray for the war to end. Pray for peace."
He has seen firsthand the atrocities of war and the extent of human suffering that has been caused in the past month of the conflict.
He recalls a particularly heart-wrenching episode where he helped to repatriate a Ukrainian mum and her two young daughters, after the woman's boss threatened to fire her if she did not return.
With Hudson, he helped to lug about 150kg of her belongings across the border into Ukraine, which proved to be "a bit of a harrowing experience".
"There were a lot of people with guns and high security. Everyone's on edge. There was an air raid siren that went off while we were crossing," said Steve.
"We felt deeply for the kids. We looked at them and, yes, they gave us a few polite smiles but you could see that they were completely confused about what was going on, and no child should have to ever experience war. Yet they were walking right back into it."
He also asked for prayers that he and Hudson will have "divine appointments and open doors" as they procure equipment, transportation and supplies for those inside Ukraine.
But even as he puts his hands to the plough, he is remembering that God is the ultimate Rescuer.
He said: "Pray that out of the ashes, the Lord will bring joy in His miraculous ways. Pray that He will rebuild lives, hearts and homes."
---
RELATED STORIES:
"Even war cannot stamp out love": Ukraine pastor conducts wedding, leads Lord's Prayer, as fighter jets zoom overhead
From Ukraine to Germany, the crisis is flinging hearts open to the Gospel
Poland seeing solidarity like never before over Ukrainian refugee crisis, says pastor as churches, NGOs, authorities rise up to help
If you have enjoyed reading Salt&Light...
We are an independent, non-profit organisation that relies on the generosity of our readers, such as yourself, to continue serving the kingdom. Every dollar donated goes directly back into our editorial coverage.
Would you consider partnering with us in our kingdom work by supporting us financially, either as a one-off donation, or a recurring pledge?
Support Salt&Light