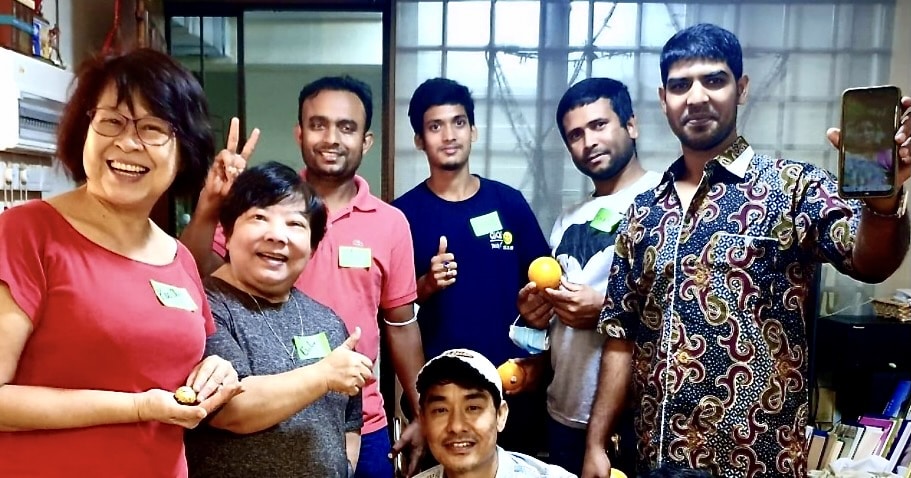 In 2021, Wong Kae Chee (left) decided to take her friendship with her migrant friends up a notch by inviting small groups of them into her home for dinner together with her own friends. Photo courtesy of Wong Kae Chee, taken when eight visitors were allowed.
It could be a little,  or it could be a lot. 
It could be finances, time or a talent. Or even the home that you live in. 
If we see ourselves as stewards of the blessings God has entrusted to us (Matthew 25:14-30), how can we best use them to bless others?
Salt&Light looks at five different groups of people who give us ideas on how we can use the resources at our fingertips to build relationships and open doors.
1. Sharing your home: She invites migrant friends for dinner
It started with simple everyday gestures – saying hello to the migrant cleaners in her neighbourhood, learning their names, making small talk and passing them snacks whenever she saw them around. Eventually she went on to buy them meals on special occasions.
Wong Kae Chee, a private piano teacher, who has lived in the Holland estate for two decades, is friends with all 21 of the migrant cleaners in her HDB neighbourhood.
In 2021, the 65-year-old decided to take their friendship up a notch. She started by inviting small groups of them to her home for dinner, along with a couple of her friends.
Fuelling her way of life is Matthew 25:34-40, where Jesus teaches the importance of simple yet radical hospitality in God's Kingdom.
During these meals, they sit on the floor of her living room – she does not have a dining table – and chat about work, their families and their dreams. 
When Kae Chee hears that their family is sick or in need, she offers to pray for them. Sometimes, they are the ones who ask for prayer.
Every now and then, she and her friends find creative ways to share the message of God's love. Once, a friend painted the fruit of the Spirit on the shells of hard-boiled eggs, and Wong took the time to explain to them what each one meant. 
Inspiring her way of life is Matthew 25:34-40, where Jesus teaches the importance of simple yet radical hospitality in God's Kingdom.
"I cannot do anything for the construction workers as I don't work at any construction site. I cannot take care of the cleaners in other estates. But I can do something for the people who are at my doorstep," says Kae Chee.
2. Using your talents: He shares testimonies over tasty feasts
Once $100,000 in debt, Bernard Kee, 53, was led to rent a home in Kelulut Hill. He would soon see why. The space was large enough for him to turn his talent into a business and mission field as a private chef.
In the cool of the pergola in the compound he calls the KeeHive, Bernard offers five-course meals omakase-style, with a complimentary glass of bubbly.
Along with his signature dishes that feature influences from his travels as well as inspiration from his mother and grandmother's Hokkien cuisine, guests also get to hear Bernard share about how God has worked in his life.
"Every diner will hear a testimony from me or from my wife Kathleen. We never fail to share because this is our mission field. Their response to our stories is usually, 'Wow'!
"I'm praying that, one day, in our dining area, someone will receive salvation. If that happens, I will cancel the bill and offer the person a free meal."
3. Leveraging your hobbies: She exercises with friends who have special needs
During Circuit Breaker, undergraduate Eunice Chua started watching fitness tutorials on YouTube and fell in love with interval workouts using one's own body weight. Over time, she started inviting her friends from her cell group to meet on Zoom to do these workouts together. 
Then she wondered: "Who else would benefit from this? What would Jesus do?"
She connected her newfound passion with an earlier volunteer project on making the arts accessible to people with special needs.
She wondered, "Who else will benefit from these exercise classes? What would Jesus do?"
The idea for a fitness class specially tailored for people with intellectual disabilities was born. Eunice roped in fellow fitness enthusiasts from church to help, and sought advice from members of disability communities.
The group brings fitness and friendship over Zoom to participants who come from different walks of life: Students, delivery riders, cleaners, their caretakers and more. 
The sessions include games and chit-chat, for the participants to get to know each other, and for the instructors to bond with the participants.
When one participant offered to pray for the instructors, it opened the door for the team to share a little about their faith outside these exercise sessions – as friends, not instructors. Over WhatsApp and social media platforms, participants also share with instructors what video clips they enjoyed on YouTube, and troubles they are facing. Eunice has noticed non-Christians starting to request for prayers for their struggles.
"We simply want to love the community," says Eunice. "But it's nice to see that we are also able to slowly share where this love comes from."
4. Giving your time: They became family to a homeless tissue seller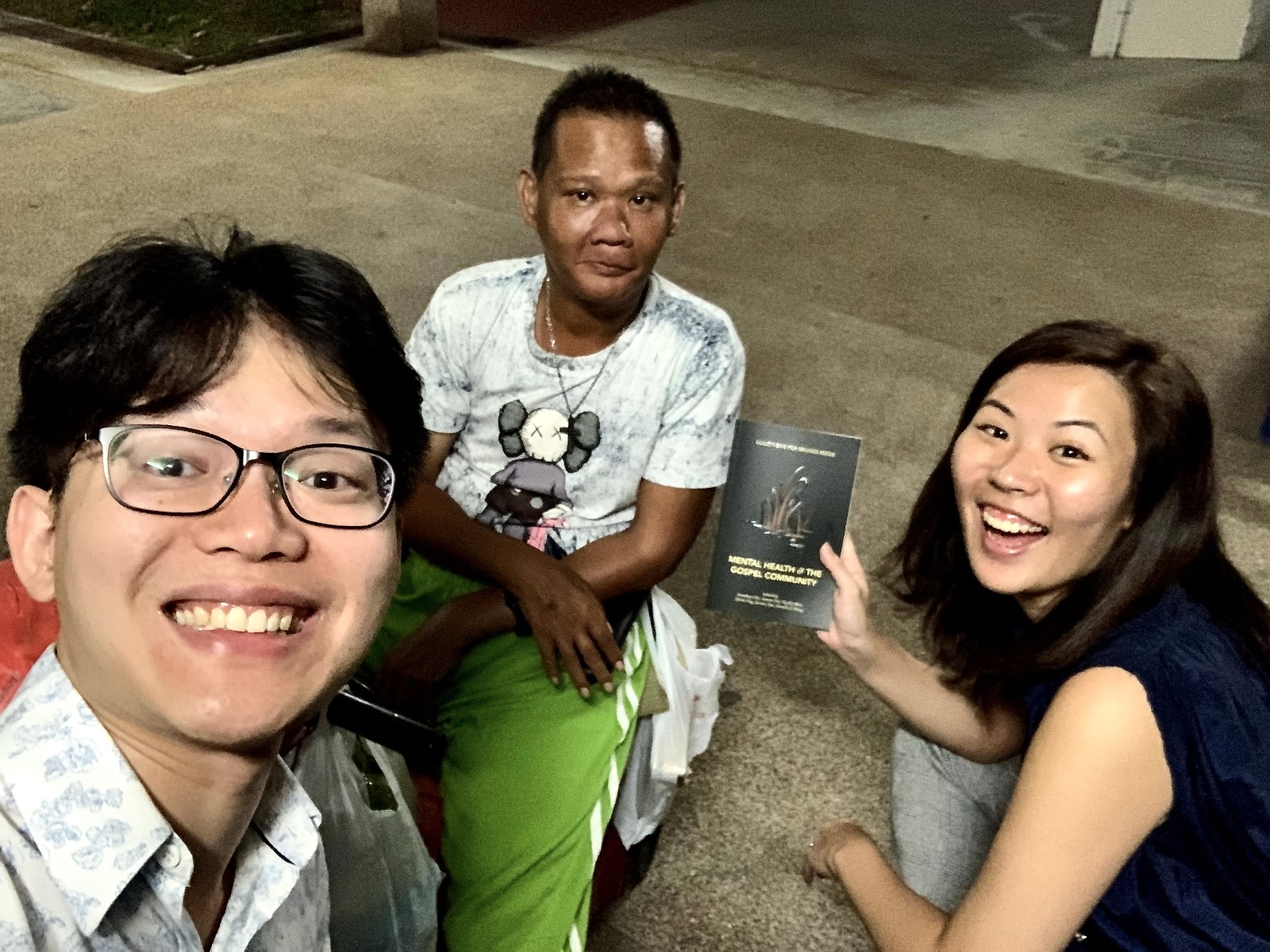 One day, Abraham Yeo, a stay-home dad and co-founder of Homeless Hearts of Singapore, felt a prompting to start a fellowship with a Holland Village tissue seller Hui Chew, who had no family and, later, no home.
Happy Life Group started organising block parties on special occasions in answer to Hui Chew's desire to bring joy to the rental block in which he lived.
He felt far from qualified, and asked God to send help. God brought on board a mental health specialist, an art therapist and others.
In May 2015, the Happy Life Group (Happy LG) had its first meeting in a basketball court. More and more people would come to join them – people from different churches, different faiths, different stages of life. Friends would bring friends and each meeting was attended by random people.
The group started organising block parties on special occasions in answer to Hui Chew's desire to bring joy to the rental block in which he lived.
Opportunities always came up to share Jesus through one-on-one interactions. There were Christians seeking a safe place for authentic fellowship, and non-Christians curious to understand what prompted this motley crew of people to set up shop in their block with no agenda.
It also answered Hui Chew's yearning to evangelise through his singing, which he did at these parties. 
When Covid hit, Happy LG continued to meet within safety regulations to feed Hui Chew spiritually and emotionally. They also helped some of his neighbours apply for the Covid Temporary Relief Fund.
In the last stretch of his life, Abraham and his wife took Hui Chew into their home so that he would spend it with the family that God had set him in. 
5. Using your finances: They empowered Christian workers to continue God's work
The New Life Christian Centre (NLCC) –  a 200-strong church of Myanmar nationals working in Singapore –  has always given generously to needs in Myanmar: Financial help, food rations, as well as scholarships for individuals to attend Bible school.  
But needs ballooned during the Covid pandemic in 2020, followed by the military coup in February 2021, and the brutal crackdown on civilian protests that followed. 
Two pastors, the co-founders of NLCC, realised that the ones with little or no support were the Christian workers in "frontier" villages with no known Christians. Together, they launched an ambitious fundraiser – one they believe is God-directed – to raise funds to feed 1,000 Christian workers in Myanmar, so that they, in turn, would be empowered to continue the work of the Gospel.
In Myanmar, there are many Christian ministers who do not draw monthly salaries but rely on support from other Christians who give as they can. Usually this would be enough for the minister's basic needs. However, the ministers are seeing scores of people fleeing from violence who are turning to them for food and shelter. 
Among the 1,000 supported by NLCC are Christians like Htay*, who distributes whatever support she receives.
NLCC has a network of trusted contacts on the ground who survey the needs and advise them accordingly.
"We want to make sure that our support goes to the most needy, that we don't just contribute another packet of grain to the warehouse," Pastor Chua Lian Hui of NLCC pointed out.
"The aim is to provide for God's workers and feed their stomachs, so that they experience His care for them. Then they are strengthened to go share the Gospel."
---
Read their full stories below:
This woman learnt the names and dreams of all 21 migrant cleaners in her estate
From S$100,000 debt to private dining chef: The story of the hidden inspiration behind KeeHive
How a 20-year-old student came to start a free online exercise class for people with intellectual disabilities
God is in the byways: A homeless tissue seller finds "church" in the streets of Holland Village
Myanmar Christians here raise funds to support church in their struggling homeland: "No more crying, we have to do something"
If you have enjoyed reading Salt&Light...
We are an independent, non-profit organisation that relies on the generosity of our readers, such as yourself, to continue serving the kingdom. Every dollar donated goes directly back into our editorial coverage.
Would you consider partnering with us in our kingdom work by supporting us financially, either as a one-off donation, or a recurring pledge?
Support Salt&Light