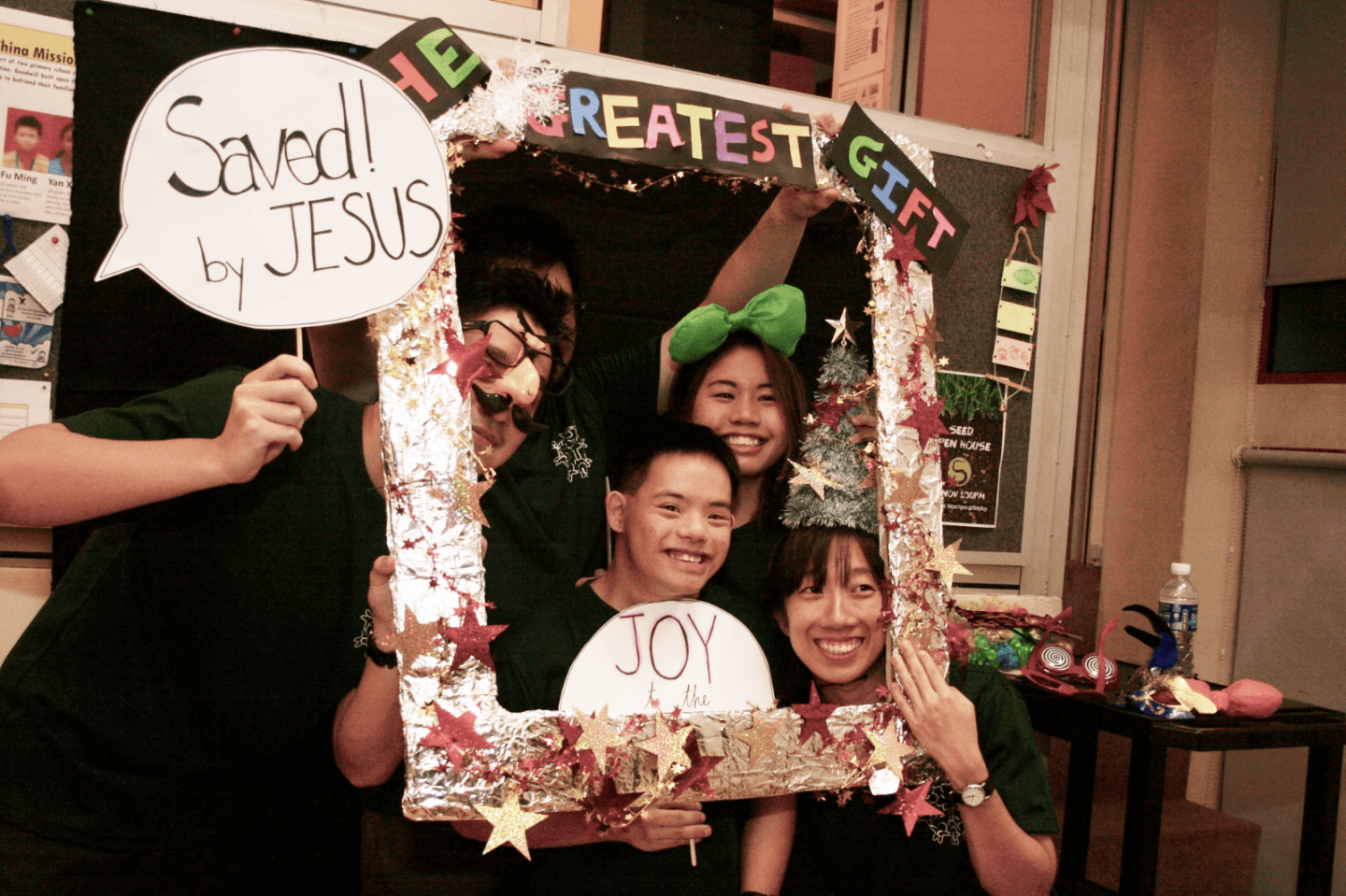 It is only when we accept and embrace persons with disabilities that the Church can grow into the kind of Church God wants it to be, said Leow. Pictured here are members of Jesus Club, a ministry to adults with intellectual disabilities. Photo courtesy of Jesus Club.
Every Christmas we are reminded of how God gave Christ, His only Son, to the world that we might be reconciled to Him. It is no wonder then that Christmas is known as the season of giving.
As we remember God's precious gift of baby Jesus some 2,000 years ago, will you, too, reflect His generous heart to a broken world?
From supporting injured and vulnerable migrant workers to coming alongside those with unsupported pregnancies, here are six ways you can bless Singapore this Christmas.
1. Support injured migrant workers: The Salvation Army's Sojourn Programme 
When Chinese national Han Hongli suffered a severed finger, a blinded left eye and more than 40 slash wounds to her body after her estranged husband attacked her in April, volunteers from Salvation Army rallied around her in support.
Since August, The Sojourn Programme has provided Hongli with not just friendship but a roof over her head, counselling, physiotherapy, traditional Chinese medicine treatments and daily meals as she recovers.
They have also encouraged her in her walk with God. Hongli told Salt&Light: "Through my interaction with (volunteer manager) Eric and the other volunteers at The Sojourn Programme, I found my way back to God's family."
Under this programme, volunteers journey with injured migrants by providing them with temporary shelter, physical therapy rehabilitation sessions, counselling, meals, mental wellness programmes and support for their medical expenses. 
In the first half of 2022 alone, there were more than 10,400 workplace injuries in Singapore, according to the Ministry of Manpower (MOM).
The leading causes of these injuries were slips, trips and falls, followed by falls from height and machinery incidents.
MOM noted that the construction industry, which is made up predominantly of migrant workers, was the biggest contributor of major injuries, with a six-month injury rate of 19.1 per 100,000 workers.
Most of these injured workers have little resources and support to recover well from these mishaps, and this is where The Sojourn Programme hopes to help.
If you would like to support injured and vulnerable migrant workers, click here and reference "Sojourn" in your donation. Donations are tax-deductible.
2. Fulfil the wishes of the dying: Ambulance Wish Singapore
As she reached the end of her 34-year battle with breast cancer, Madam Chin Lie Choo had just one final wish: To have a photoshoot with her family. But she never expected to get much more than that.
With the help of volunteers from Ambulance Wish Singapore (AWS), Madam Chin was able to also have a reunion with her siblings and be baptised before slipping peacefully into her heavenly home.
AWS is an offshoot of Ambulance Wish Foundation, which was established in 2006 in the Netherlands. With a strong belief in the meaningful act of wish granting, the organisation seeks to fulfil the last wishes of patients who have less than 12 months to live. 
The Singapore chapter was started by Carol Wee, who in 2016 saw a Facebook post of an article on terminally-ill patients living out their final wishes. The article tugged at her heart and she wondered if she could do something beyond just "liking" the post.
Three years on, AWS has fulfilled the last wishes – including celebrating last wedding anniversaries, organising family reunions and taking family portraits – of more than 100 terminally ill beneficiaries from different backgrounds and religions. 
"We want to help patients and their families see that, even at the end stage, their life is worth celebrating," she told Salt&Light.
On wish-granting day, curious patients have asked her: "Why do you do this?" to which Carol would reply: "It's to spread the love which God has given us."
If you'd like to help AWS grant the last wishes of the dying, click here.
3. Come alongside those with unsupported pregnancies: Heartbeat Project
When Sarah (not her real name) found herself with an unplanned and unwanted pregnancy, her partner threw her out of the house and pressured her to terminate the pregnancy.
Unwilling to abort her child yet running out of options, Sarah turned to Heartbeat Project for help in an email. The recipient of Sarah's email was Pastor Debbie Ng, who started Heartbeat Project with her husband, Pastor Norman Ng, Senior Pastor of 3:16 Church.
Pastor Debbie told Salt&Light: "I kept on encouraging her, 'You are going to be a great mum. The Lord is your strength, the Lord is your refuge.' I kept praying for her, praying over her."
Pastor Debbie also linked her up with partners like Safe Place, which supports women in crisis pregnancies. She found a Christian family willing to open up their home to the woman as well. Together, they rallied around her, giving her a community of help.
The woman decided to keep her baby, and in January this year, Pastor Debbie finally got to hold the baby girl whose life she helped to save.
Believing that every life matters, Heartbeat Project has a mission to support a culture of life through telling real and empathetic stories. This includes raising awareness and support for women facing unplanned pregnancies, single mothers, children-at-risk and the special needs community.
The ministry believes that through your support, more people will be enabled to choose life in difficult situations.
"Let's be a Church that provides an ecosystem that gives life, and life to the fullest," said Pastor Norman.
If you'd like to help others to choose life, click here. 
4. Share Christ's hope with those who do not yet know Him: Alpha Singapore
At the peak of his life and career, Jay Ng saw his life take a dramatic turn. 
First, he fell very ill with a condition called complex fistula. Then, he nearly lost his three-year-old son to an auto-immune disease.  
Broken by the end of these trials, Jay agreed to attend an Alpha course with his friend even though he had once been against the exclusivity of "the Christian club". It was there that God met him and changed his life.
"Before they could even pray for us, I was already crying. I kept running to the toilet because I was wondering: Why am I crying? A man cannot cry so much. It was the Holy Spirit working in me," he told Salt&Light.
"I was repenting. Then, I started to laugh. It was the joy that I'm a real sinner yet God can forgive me. Wow, a sinner like me."
Jay is just one of many who have come to know Christ through Alpha, a 12-week course that creates a safe space for questions and conversations about life, faith and God.
Attended by more than 25 million in 140 countries and in over 100 languages, the free course explores the basics of the Christian faith and address questions like "Who is Jesus?", "Why and how do I pray?" and "How does God guide us?"
In Singapore, Alpha has run its programme in churches, cafes, workplaces, homes and online. It also runs training sessions to equip churches and Christian communities to further The Great Commission.
If you'd like to share the gift of the Gospel this Christmas, click here.
5. Embrace those with special needs: Koinonia Inclusion Network
Did you know that only about 5% – or approximately 25 – of the 500 Protestant churches in Singapore have a ministry serving those with special needs or disabilities? 
Hoping to help build a stronger culture of acceptance and service in churches is Koinonia Inclusion Network (KIN), a Christian non-profit with a firm conviction that people with disabilities are valuable individuals who are integral to the Church.
Set up in 2019, it aims to educate, equip and train Christian communities in Singapore to better embrace persons with disabilities, believing that the Church will be stronger for it.
Its three-module training programme, the Certificate of Christian Disability Ministry, run in collaboration with Scripture Union Singapore and the Biblical Graduate School of Theology, teaches participants learning more about how to include children with special needs in Sunday School, as well as provide pastoral care for persons with disabilities.
It has also released a locally-written handbook, Enabling Hearts: A Primer for Disability-Inclusive Churches, that explores different aspects of disability ministry, such as how to disciple the differently-abled into disciple makers, develop an inclusive liturgy and build churches that are accessible to all.
Apart from providing these resources, KIN also runs customised workshops with churches who are interested in setting up a disability ministry, such as St James' Church which recently launched enABLE.
Leow Wen Pin, founder and president of KIN, told Salt&Light: "We always think that to include people with special needs, we need special training. But what we need is a special love – God's love."
If you'd like to help build a culture of love and acceptance in our churches, click here.
6. Offer ex-offenders, single parents and vulnerable girls a future: HCSA 
Samuel Wong knows all too well the cycle of addiction so many drug abusers go through.
Since he took his first puff of marijuana at 13 years old, he has lived through four decades of desperately wanting to change, making good progress and plunging right back into the lifestyle he swore to keep away from.
Many had given up on him. Even he had given up on himself. But it was at halfway house HCSA Highpoint that he experienced strong friendships, support and encouragement that set him on the path towards true freedom.
Today, he is a programme manager at Highpoint as well as a recovery coach and trainer in the Singapore Prisons, where he journeys with other men through their addictions.
With the mission of giving the vulnerable in society a future and a hope, the charity serves recovering drug addicts, abused teenage girls and single parents by providing them with a safe place to stay, friendship, counselling and practical skills.
Currently heading the organisation is Kim Lang Khalil, who has spent more than a decade creating a safe space for the rejected and abused. "For me, it is about adopting a posture of love and care for them," she told Salt&Light.
This Christmas, HCSA is running a campaign to raise support for their work. In their online Christmas Wall of Giving, you may make your contributions and leave words of encouragement to their beneficiaries.
If you'd like to support these vulnerable groups, click here.
BONUS: Help Salt&Light continue publishing peace in the digital space
Have you been encouraged, equipped or edified through an article, video or social media post by Salt&Light?
If you have, we are grateful. It has been our joy and privilege to serve you in this way and we hope that we can continue to inform and inspire you over the years.
For those who may not know, Salt&Light is part of the Thirst Collective. The Collective first launched in 2016 with next-generation platform Thir.st, before kickstarting Salt&Light for faith-at-work conversations in 2018.
Over the pandemic years, we've added Stories of Hope and 还好吗 hhm.sg, websites publishing stories which share the Good News of Jesus Christ beyond church walls. We're also beta-testing Find A Church to help seekers identify the most suitable churches to visit and settle in.
As you can tell, we are passionate about digital outreach and discipleship, and having conversations within the church and beyond. 
If you'd like to help us continue publishing Christ's love and peace in the digital space, click here.
---
RELATED STORIES:
Banking head honcho now works with villagers and ex-convicts
Feeling the loss of a loved one this "merry" season? Remember the Christ of Christmas
If you have enjoyed reading Salt&Light...
We are an independent, non-profit organisation that relies on the generosity of our readers, such as yourself, to continue serving the kingdom. Every dollar donated goes directly back into our editorial coverage.
Would you consider partnering with us in our kingdom work by supporting us financially, either as a one-off donation, or a recurring pledge?
Support Salt&Light